This article is a continuation and a reproduce of my recent blog post series were I was trying to give my own view on the major currency pairs for this year but I never got the change to finish it, so I though it may be a good idea to write an article were to cover this subject. Keep in mind this is just my personal opinion and my own plan for this year, it may or may not work out,
flexibility is key
, because things can change very fist in today's market.
I'm going to give out my
Fx Market Outlook
for this year and I'm going to start with my favorite currency pair:
Japanese Yen
. I want to take the time to go through all the major currency pairs and give my personal outlook for 2014.
We know that currently the YEN pairs is all about
Abenomics
market policies. The "Abenomics effect" have had a huge impact to revive Japan's economy, strengthening consumer consumer spending. Although many have doubted the market policies of Japan's new Prime Minister Shinzo Abe are working very well: stock market is booming, real estate prices are rising, and retail sales are also rising. So far "Abenomics" has been a huge success, and this is very supportive for the current
USD/JPY bullish trend
. In
Figure 1
you can see the USD/JPY quarterly chart, and being able to see the bigger picture it gives you another perspective that USD/JPY has not gone up as much as you would have thought, and that it's just the beginning of a multi year bull market.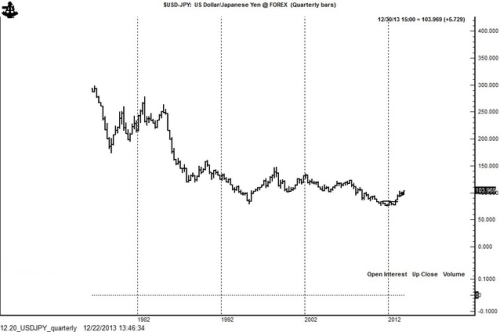 Figure 1. USD/JPY Quarterly chart.
But at the same time we must look at
price action
as well so you may ask yourself what's next for USD/JPY as you look on the price action. Yen is already down 17% versus the dollar so far just for this year. In Figure 2 you can see how current price action is following the
1989 USD/JPY fractal
. This suggest that we may see a big
correction
before to continue upwards, but you must be very flexible and let the price guide us. If you don't know what a fractal is don't worry I already wrote an extensive article about this subject:
"How Fractals can Explain Market Movements"

Figure 2. 1989 USD/JPY Fractal guide for today price action.(click to enlarge).
If you're trading only the
Forex Exchange market
don't make the mistake of not watching others market for more clues, like the equity market or the Interest Rates market which are having a big impact on forex exchange fluctuations. The world is much more complex and everything is interconnected so that's the reason why we'll have a look to the
Nikkei index
which is a stock market index for the Tokyo Stock Exchange, in order to make our analysis on USDJPY. We know that in order for the yen to go down the Nikkei index must go up this will be our confirmation. So basically we must have USDJPY going up and Nikkei Index going up as well. Having confirmation from related market can give you more conviction in your trading ideas.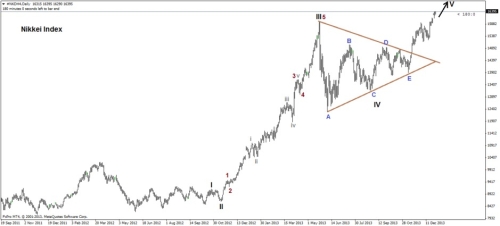 Figure 3. Nikkei Index daily chart.
In
Figure 3
you can see how perfect this market are correlated and we can see that at the same time as Nikkei goes up the Japanese Yen is moving very aggressively to the downside.Nikkei index has finishes 2013 with an staggering increase of +56.7%, which is the largest % gain since 1972 (+91.9%).
Just a quick reminder, USD/JPY it may or may not behave as I'm forecasting in my blog post, what is more important is to have a plan and be flexible enough if the market doesn't follow your forecast to abandon your bias and go with the market instead.
After
RBA
cut its benchmark interest rate to a record low in an attempt to stimulating borrowing thus the overall economy, a
ussie dollar
was on pressure and has kept pressing lower for the most part of the last year. Also RBA has also kept the door open for another round of interest rate cut if the economic sentiment is predominantly negative, so RBA has some room to move if it wants to cut its
benchmark interest rate
. There where many other structural factor that put pressure on Aussie like:
IMF which suggested the Aussie dollar is10% overvalued and recommended RBA to maintain easy policy settings.

With US Fed beginning to taper AUD/USD is at risk.

Above all this reasons we have a clear advocacy for lower Aussie coming from
RBA's Governor Glen Stevens
who no more than a month ago he said that Australia needs AUD/USD closer to an 0.8500 exchange rate. Basically this was an aggressive
verbal intervention
from RBA governor who said that lower aussie is preferable to rates to help the economy. The only reason why he wants lower aussie is so he doesn't need to lower rates again, which are already at historic low point. My personal opinion is that RBA maybe worried that aussie will get to strong with global growth next year.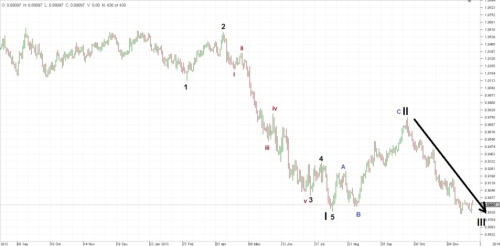 Figure 4. AUD/USD Daily chart.
Even the technical are favoring lower AUD/USD and based on
Elliott Wave
we are in the stage of wave 3 where the market should start aggressively move to the downside. Although we have completed a 5 wave cycle since we break to the downside from the 1.0580 high (
Figure 4)
this is just the first wave of higher degree. The reason why we may assume this is the first wave of higher degree is because of the structure of the recent up move, which is an abc formation, corrective in his nature. This abc formation should end the next wave of higher degree, wave II.
Figure 4
show exactly how we should count the waves and what to expect to happen next. Now we're in the first stage of wave 3, this only suggest lower price in coming months.
Remember don't fight
Central Banks
, just look at at the FED and BOJ when they want to get something they more likely will drive the market in their desire direction.
I don't know how many of you are aware the GBPUSD is on the verge to
make/or not make
a big advance in price. The weekly chart displays a possible
bullish triangle
(see
Figure 5
)which recently was broken to the upside. If we manage to close above 1.6350, on a weekly basis, there is a high probability that cable will see a dramatic upside movement. However the most important point is the last swing high 1.6738 which is a critical point in order for cable to experience a really big move. Since the 2007-2008 crisis cable was trading within a frustrating
trading range
, and if you take in consideration the sell of that GBP/USD experienced at beginning of the year and where we stand right now you can see the bigger picture.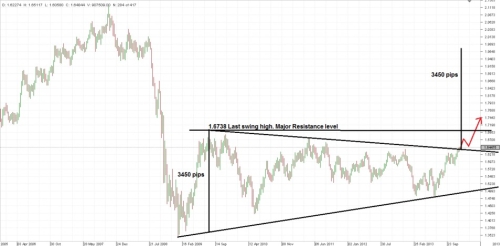 Figure 5. GBP/USD Weekly bullish triangle pattern.
At the beginning of the year after that massive sell of everyone was
calling for a crash,
and yet cable was able to not only consume the entire sell of but to surge to new levels not seen since 2011.The best conclusion you can draw from here is that you have to consider
both sides
of the market and never rule out the possibility of the market to do the unexpected. Also if we want to
projec
t the length of the next upside move we can measure the trading range and project it to the upside see (
Figure 5).
Fundamentally
speaking, UK is set to grow faster than any other Western economy. This year the economic data where very strong and supportive for GBP. The UK's GDP has shown the fastest growth for three years and rose by 0.8% according to the last figures.
For now I'm definitely looking for a good spot to enter and ride this new trend, but timing the market is key as you don't want to be stuck with a position that does nothing, so patience is key as well. The only reason why I'm not going to look over EUR/USD is mainly because I don't have enough space left in the article, and partially because I'm building quite a big position in EUR/USD and I'm quire reluctant to give my view as this will put a lot of pressure on me and I just don't want to mess it up at this point
Best Regards,
Daytrader21