The EUR / USD currency pair shifted us quite a bit in the week to the recent multi-year highs above 1.2500 levels. Long position from the 1.2200-1.2300 shopping area I closed at Profit-Targets.
The rate for several years, the last days mostly very good data from the US, soothing on the stock markets, and surely the ECB's dissatisfaction with the development of the euro favor me in the next days rather price correction back to 1.22-1.23 bands. Also current technical bear signals indicate a possible downward correction.
After closing the Eurodolar long positions of the week, Wednesday's accumulated smaller short positions. Even the foundation, and the ECB would still be holding the euro for a while.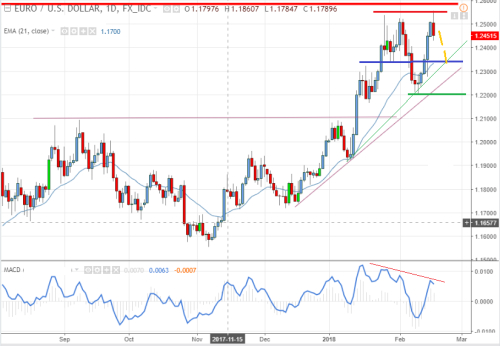 The currency pair USD / JPY has fallen sharply over the past few days to a medium-term strong support area. This was due to the exaggerated but short-term weakening of the dollar over the past 8-9 days, as well as to the fall in stocks and thus the preference of a safe Japanese yen.
However, the situation may seem to stabilize today. For the further strengthening of the Japanese yen, I still do not see a serious reason, and the correction of the weakening dollar should bring this currency pair back to levels of 107.50-108.00 +/-.
Technically upward correction currently supports both the completed second Equal leg and the lower swing time-frame chart and the bull divergence on the momentum indicator..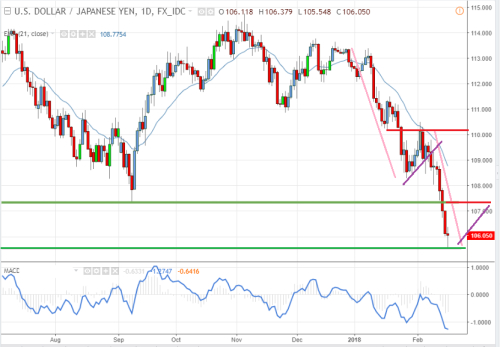 Larger than the base situation corresponding to the oil drop in the week before, has probably stopped oil (WTI Crude) and is beginning to correct the losses suffered. Cards are now playing a weak dollar and lower US oil weekly reserves.
In the last few days, nothing of a major geopolitical nature has had a significant impact on the price of oil over the coming weeks (Syria, Iran, Turkey, ...). I'm holding a long position from higher levels with a second buy at $ 59. In the coming weeks, I expect, like the EUR / USD, to return oil back to multi-year highs.