GOOD MORNING ALL.
Hi all my friends this month I have decided to analyse the NEW Zealand Dollar as I saw it has witnessed a free fall against all its counter parts. I am trying to find out what are the possible reasons and and from here what are the prospects for its future growth.
In the fundamental factors let's have a look at
GDP, INFLATION RATE TRADE BALANCE and UNEMPLOYMENT RATE
which affects currency value.
GDP OF NEW ZEALAND:
In the first quarter of 2018 New Zealand GDP has shown a growth of 0.6% which is same as 0.6% of last quarter of 2017.
In the contributing factors breakdown is as follows.
Service industries shown a growth of 1.1 percent, driving economic growth.
Primary industries weakened, down to 2.4 percent.
Capital goods also shown rise thus lifting investment.
GDP per capita shown a rise of 0.1 percent.
Real purchasing power of New Zealand's income rise up to 1.4 percent.
Pie Diagram representation of contributing factors.


Year-on-Year and Quarter-on-Quarter comparison of GDP numbers.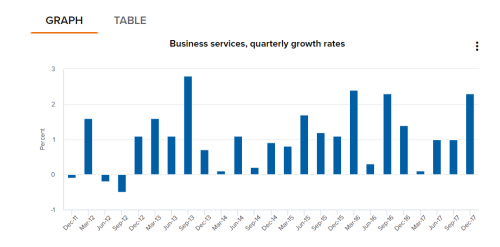 Breakdown of GDP components.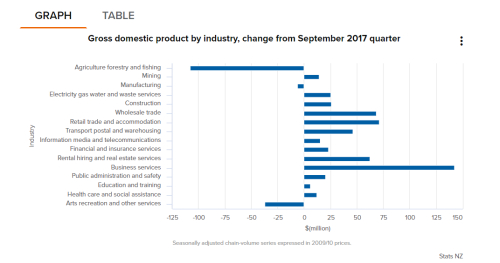 INFLATION IN NEW ZEALAND:
In first quarter of 2018 CPI in New Zealand fell to 1.1% from 1.6% of last quarter of 2017. In the components housing and other household utilities made to the upward contribution in the CPI which is added by construction and rent prices. Newly built houses also increased the dip in inflation on account of decreased education prices, transport cost and slower rise in food prices. Which is not a factor of much worry.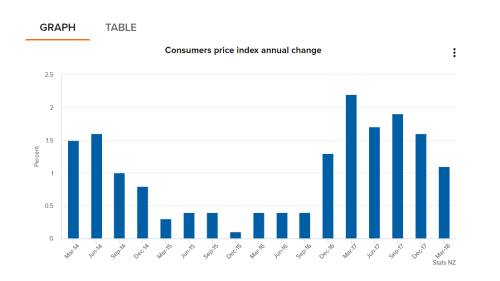 Sector wise contribution to the inflation is shown in graph below.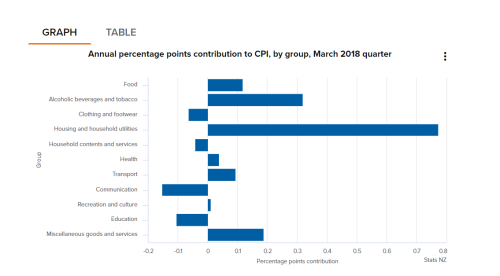 UNEMPLOYMENT RATE:
In the March quarter of 2018 unemployment rate fell to 4.4% down from 4.5% of December quarter of 2017 which is 7 year low.
The unemployment rate fell to 4.4 percent, down from 4.5 percent in December 2017.
The under-utilization rate fell to 11.9 percent, down from 12.2 percent from previous quarter.
The unemployment rates for men and women fell to 3.9 percent and 4.9 percent, respectively from last quarter.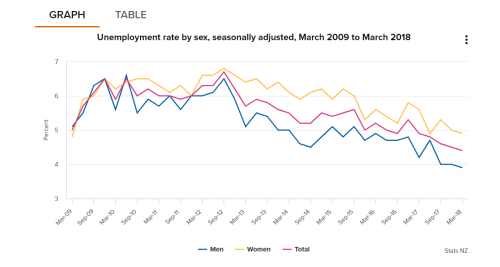 INTEREST RATES:
Key Points in Statement of recent policy meeting of Reserve Bank of New Zealand.
1. GLOBAL GROWTH SUPPORTS NEW ZEALAND ECONOMY

Reserve Bank of New Zealand said World economy is growing strongly and economic growth in United States also strengthened and growth in their other major trading partner is expected to remain strong. This is benefiting to growth in New Zealand exports. This extra demand at oversees benefiting business growth in home as they can invest more and hire more staff to increase output to meet demand.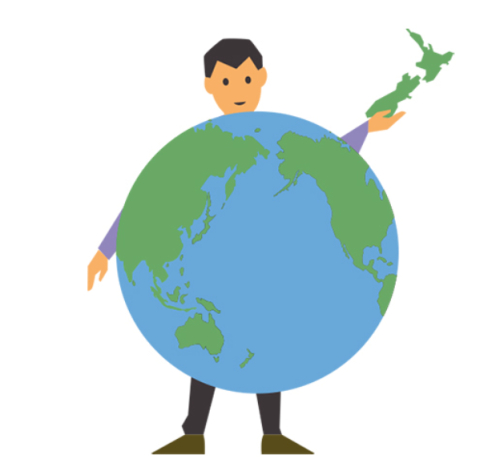 2. UNEMPLOYMENT RATE FALLING AND EMPLOYMENT GROWTH IS STRONG.

New Zealand economy is in expansion mode since 2015. This growth has prompted businesses to hire more and invest more which has supported unemployment rate to fall. In this period labor force participation also high as women and older people have also entered into workforce but job grown has been even faster which has kept the unemployment rate low. This is a plus point for New Zealand economy. In the coming year New Zealand economy expected to remain strong this is expected to encourage businesses to hire more.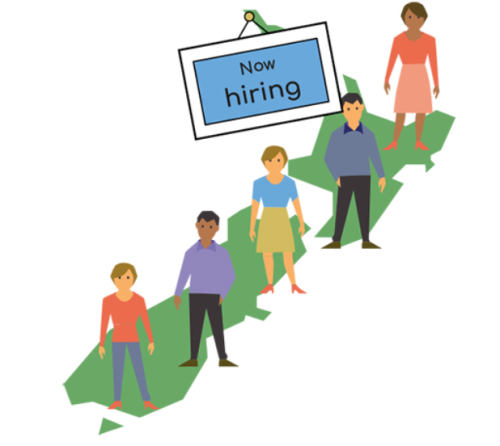 3. LOW IMPORT PRICES HAVE KEPT INFLATION LOW.
Recently New Zealand Dollar has depreciated against many other pairs so local businesses and households have been able to purchase goods from oversees at low prices and in addition to this oversees inflation is also low so this has kept the inflation low.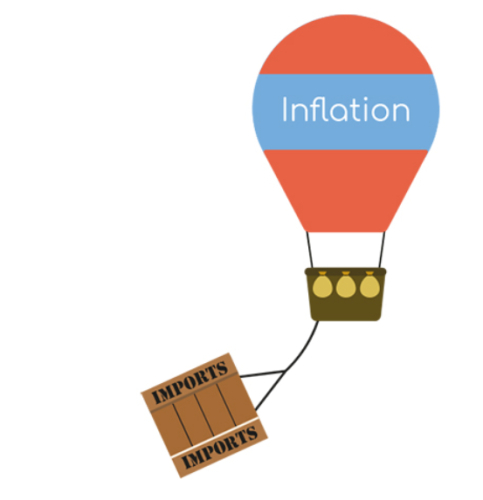 4. LOW INTEREST RATES TO SUPPORT EMPLOYMENT AND RAISE INFLATION.
Low interest rates to support generate employment and keep inflation close to 2%. Reserve Bank New Zealand said at the moment they want to boost economy little faster, to help build pressure so that inflation will return to 2%. That's why they are expected to keep the interest rates at the current rate for a considerable period.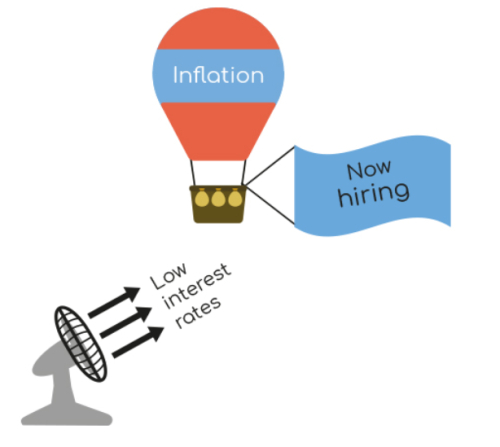 So in a nutshell New Zealand economy is broadly balanced on front of growth and employment. As the inflation picks up Reserve Bank of New Zealand might think about raising interest rates.
TECHNICAL PARTNZD/USD AT A GLANCE.
NZD/USD is currently at 0.69. It has strong support in this area around 0.68. I think it will consolidate here for some period. And if USD weakens NZD/USD can bounce back to 0.73 level. RSI is in oversold territory. But Bollinger Band is still in expansion mode. So I will prefer to wait for consolidation.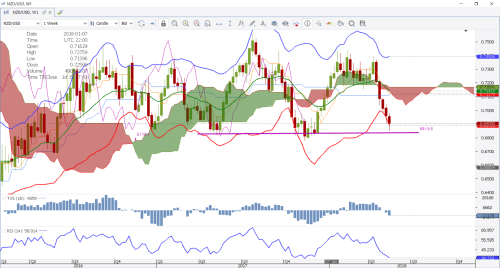 EUR/NZD AT A GLANCE.
Recently Eur got weakened against other pairs but we see some rise EUR/NZD on account of NZD's weakness. EUR/NZD is nearing resistance. Which is around 1.75. Bollinger Band is shrinking and when this happens it will break to either side. After breakout or breakdown only I will suggest a trade in EUR/NZD. As currently it is in sideways trend.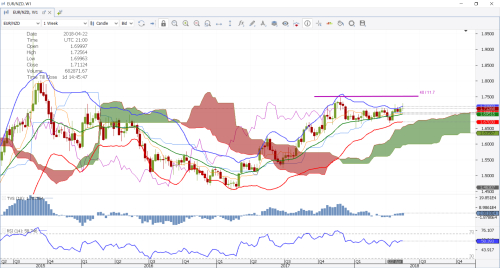 GBP/NZD AT A GLANCE.


GBP/NZD is trying to break upward as NZD has experienced a fall these days and GBP has got benefit of that.
RSI is heading upward and this pair has resistance quite far. As GBP has witnessed a free fall during Brexit referendum days. I will look for breakout or breakdown then only enter into trade.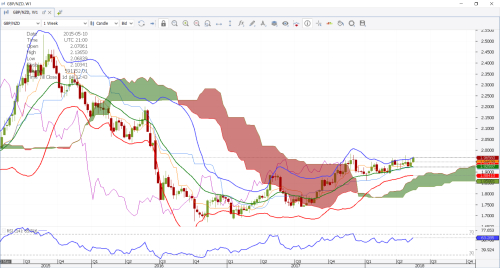 AUD/NZD AT A GLANCE:

AUD/NZD has reached its support level at weekly chart and from their it has in uptrend. On a broader perspective AUD/NZD is in sideways trend. From last two months it has got benefit of NZD weakness and has reversed its trend. I expect AUD/NZD to reach its resistance and from their it will reverse its trend.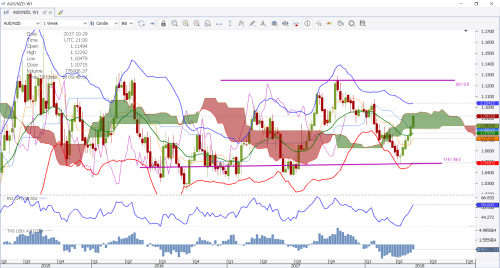 I mostly prefer trading near support or resistance or as everybody knows there is fall after rise and rise after fall. Whatever goes up it comes down and whatever goes down it comes up. And in currency trading there is advantage it never goes to zero. It reverses its trend at some point of time, we just need a watch and knowledge at what point it could reverse its trend. That's why I keep reading fundamental factors.
In reference to Zealand Dollar, I have analysed economic growth is in good pace, employment growth is fine, just concern is about inflation. In a global reference energy and fuel prices picking up, this may add to rise in inflation and if inflation picks up New Land Dollar will reverse its trend.
I have shared fundamental as well as technical analysis of New Zealand Dollar
Hope you all like it. Kindly leave your comments below in comments box.
Thanks to all my friends.
SOURCE: NEW ZEALAND STATS WEBSITE AND RESERVE BANK OF NEW ZEALAND WEBSITE