FX 2017 highlights
Euro was the strongest performer last year on dissipating geopolitical risk, strong economic growth and ECB tapering.Pound,
Aussie and Loonie also did well.
Dollar Index down by 10%. The reason for this big move is that other CBs will likely tighten following FED.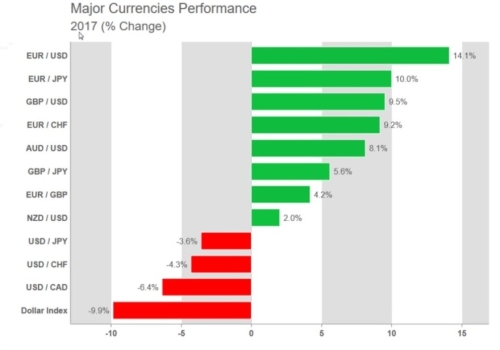 FX year to date

Sizeable movement for short span of time.
Dollar still is the punching bag.
Pound outperformance on Brexit optimism.
Aussie, Kiwi outperformed on better global economic prospects and rising commodity prices.
Yen is not as bearish as expected.
United Stated Economy

Annualized growth topped 3% in Q2 and Q3 but Q4 GDP growth missed the expectation to grow by 2.6%. However growth to return above 3% after tax rate cut effect.
Headline Inflation for December 2017 was 2.1% y/y, below the 2017 high of 2.7% hit in February. Core PCE came in at 1.5 % y/y in December.
And Unemployment rate was at 17 years low at 4.1% in December However Average hourly earnings have trended lower in 2017.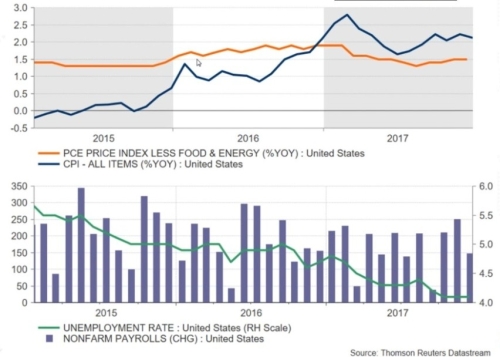 United State Politics

Donald Trump achieved his first major legislative victory with passing of Republican Tax plan bill.
Tax cut of up to 1.5 trillion dollar risk ballooning the US federal deficit.
Trump toughens stance on trade. Serious concerns about NAFTA as March 30 deadline loom for renegotiations. Trump also slaps Tariffs on some products.
More government shutdown also a risk as Democrats and Republicans eyes Mid-Term elections.
Federal Reserve

Fed raised rates for 5th time in December taking them to 1.25-1.50%. Fed on course for 3 more hikes in 2018.
Low inflation still a concern but Fed is confident that wage growth will push up.
There is risk of faster rate hikes from Trump Tax cuts,
Fed Governor Jerome Powell has taken over as Fed Chair from February 2018.
EuroZone Economy

Eurozone growth reached 6 year high of 2.8% y/y in Q3 2017(2.7% in Q4 2017),
Headline Inflation has steadied at 1.5% y/y in recent months (1.3% in January 2018). Core Inflation in January was at 1.2 % Headline inflation likely to get boost from higher oil prices in 2018.
Impressive drop in the Euro Area Unemployment rate (8.7% in December 2017) but so far little risk of wage pressure taking off.
Eurozone Business surveys points to strong start in 2018. Data such as PMI rising to multi-year high(HIS Markit at 12 year high at 58.6 in January). Manufacturing activity eased in January but PMI has hit all time high in December.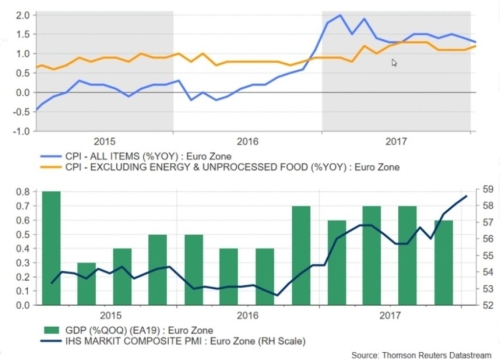 European Central Bank

ECB extends AAP until September 2018 and beyond, cuts asset purchases to 30 billion EUR (effective January 2018).
Change in forward guidance soon (maybe in next meeting in March 2018). And that could spark more gains for euro.
Most economists expect the end of QE by end of the year and for rates to start rising in 2019.
Political risks in Europe

Germany Angela Merkel avoids snap election as SDP agree to grand coalition talks, Merkel remaining chancellor seen as crucial for Germany backing EU reforms being proposed by Macron, as well for advancing Brexit talks. Some uncertainty still.
Markets not too concerned about Spain and Catalonia
Italy is Europe's biggest risk, General elections due on March 4. Five Star movement expected to win most votes. However, a coalition by former PM Silvio Berlusconi's Forza Italia Party could form the next government.
Japan Economy

Japan's economy its longest run of uninterrupted growth since 1990 Q3, with GDP expanding at annualized rate of 2.5%. Stretch of growth expected to continue in 2018.
Inflation (CPI ex Fresh foods) has been rising albeit at snail's pace. It hit 0.9% y/y in December, highest since March 2015. BOJ expected to meet its 2% target during fiscal year starting 2019.
Unemployment hit 24 year low at 2.7% (edged up to 2,8% in December) in November. Wage growth remains below 1%.
Exports rose for 13th straight month in December, rounding off a strong year (up 11.8% in December.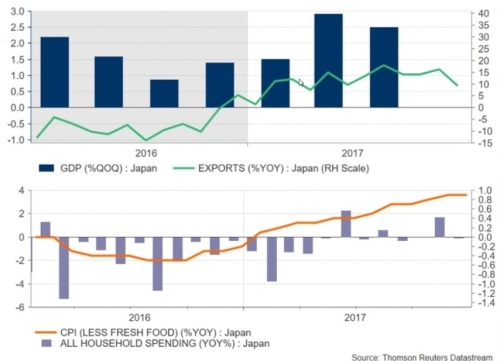 Bank Of Japan

BoJ lagging other central banks in starting to wind back its ultra easy monetary policy,
In January meeting, BoJ signaled it is too early to start discussions on exiting QE.
BOJ slightly more confident about inflation expectation, but wages remain a key concern. Pay growth remains flat.
However, BoJ might be forced to raise yield curve target later in the year because of rising global bond yields
United Kingdom Economy


UK economic growth defies Brexit to beat expectations in 2017.GDP up by 0.5% in Q4. However it still falls to bottom of G7 growth .
Inflation hits 3.1% y/y in November before easing to 3.0% in December.
Some signs of slowdown in job market Unemployment rate steady at 4.3% since June 2017 and wage growth risen steadily since late spring 2017.
UK manufacturers benefiting from strong export demand on upturn in global growth.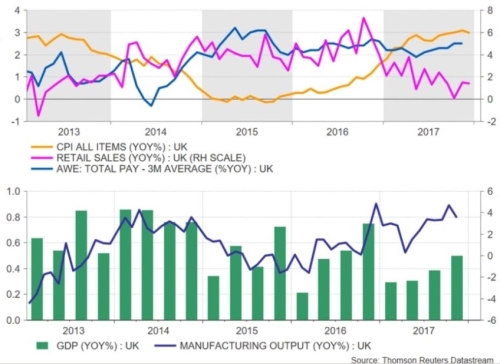 Bank Of England


BOE raised rates first time in 10 years in November.
Markets pricing in one more rate hike by end of December 2018.
Strength of job market could keep MPC on hawkish side even if inflation starts to ease.
BREXIT


After disastrous elections, UK PM Theresa May achieved success at the end of 2017 by clinching initial Brexit divorce deal(funding, status of EU/UK citizens, Northern Ireland) with the EU.
Transition deal expected to be reached by March 2018.
UK hoping to conclude trade talk by October 2018.
New sense of optimism since divorce deal was stuck. EU appears to have softened its tone.
Other Main Assets and their performances

Chinese economy grew by 6.8% y/y in Q4 17 –growth in 2017 averaged 6.9%. As such Australia's GDP growth at 0.6 % in Q3 17, inflation at 1.9% in Q4 2017 and unemployment rate fell is at 5.5%.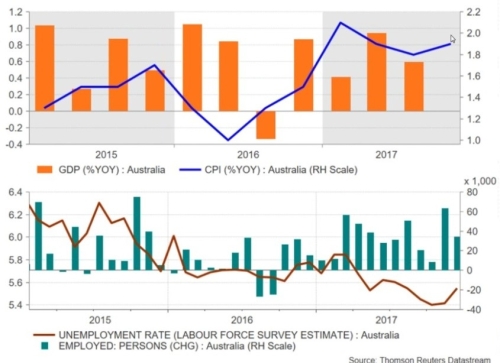 WTI oil gains 12.5% in 2017, while brent is up 17.7%.
Gold was surprise winner and gained 13% in 2017.
Summary of Currencies.

Despite some seemingly bullish developments ( rate hike, tax cuts, good data), USD not doing well.
Euro is becoming a favorite with investors on positive growth prospects.
Pound is volatile, but market less fearful of Brexit after December deal. Economic data are OK.
Yen not as weak as BoJ would suggest, Japanese economy doing very well on trade surpluses, Safe haven appeal.
Aussie, Loonie, Kiwi , commodity currencies underpinned by global growth prospects but each has own issues.