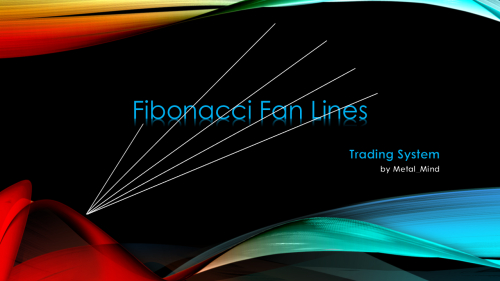 Introduction.


After publishing my first article two months ago,which was quite popular by the way ,I wanted to make a significant contribution to the community and started to search for brand new subject that has not been approached yet in the contest. To find that I searched all 66 pages of article library ,which has none less then 15 articles per page totaling to a mind-blowing number of 990 articles.
Although it took a while I found tha the subject which hasn't been approached yet is my
Fibonacci Fan Lines
based
Trading System
which I have been using for years.
"Sometimes the things you are looking for, are right in front of your eyes."

Fibonacci Fan Lines Trading System.

1.System Description


This system works by crossing Fibonacci Fan lines with Fibonacci Retracements (were possible) and can be used to estimate support & resistance levels, potential reversals, breakouts and can help you predict future trend movements , being one of the few instruments of it's kind that can help you achieve that.
Also the system is a very good weapon for long term technical analysis and has outstanding results on 1 Day , 1 Week and 1Month time frames. Tests carried on lower than 1 Day time frames had posted very weak results and proved beeing inefficient ,so I highly recommend sticking with these 3 time frames ,even though you are a short-term trader or long-term one.
This system can be applied on all currency pairs especially exotic ones, stocks and commodities of all kind from energy ,metals,livestock to agricultural sectors.I initialy developed this system while trading commodities & CFD.


2.What are Fibonacci Fan Lines and how to draw them?

Fibonacci Fan lines are trend lines based on Fibonacci retracement points.
There are 2 types of fan lines:
Rising Fan Lines extend up from a trough (support) and passthrough retracement based on the advance (trough to peak). These fan lines can then be used to estimate support levels or potential reversal zones.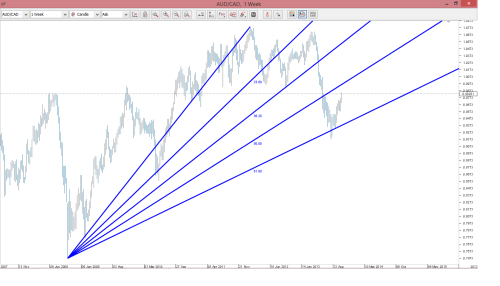 Falling fan lines extend down from apeak(resistance) and pass through retracements based on the decline (peak to
trough). These fan lines can then be used to estimate resistance levels or potential reversal zones.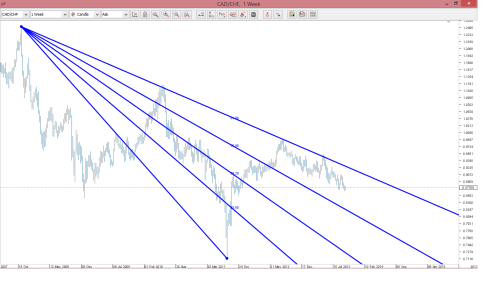 In order to draw Fan Lines you have to select them from the Retracements categorie which you would find right next to the Pattern Analysis Widget in JForex Platform .
After selecting with your mouse :
Place your cursor on a trough (support) and swing highto the peak for Rising Fan Lines

Place your cursor on a peak (resistance) and swing low to the trough (support) for Falling Fan Lines.

3.Trading Setup
TimeFrame:
Best time frame for drawingfan lines & retracements is 1 Week.It can be draw on 1 day or 1 month also and make a cross between 2 fan lines of 2 distinct timeframes if want to predict future price movement and make long term technical analysis.

Instruments :
All currency pairs expecially exotic ones; stocks ;metals ; commodities ; CFD.
Elements:

Fibonacci Fan Lines

Fibonacci Retracements

MACD Ext with basic settings

Exponential Moving Averages with values 12,26,50,100


Chart Examples: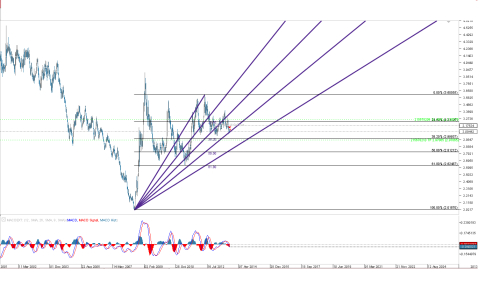 4.System Interpretation


The following chartis how my usual trading chart looks like. It's made of at least of a Fibonacci fan lines, Fibonacci retracements, MACDEXT indicator with basic settings and EMA 12,26,50, 100 values.Each one of this 4 key elements if take alone is unreliable , unstable and give a lot of false entries.
Fan Lines and Retracements are used to determine potential support & resistance levels, potential reversal and determine trend directions. EMA is used to help making entries/exists more easily and MACDEXT indicator can help filter each trend strength .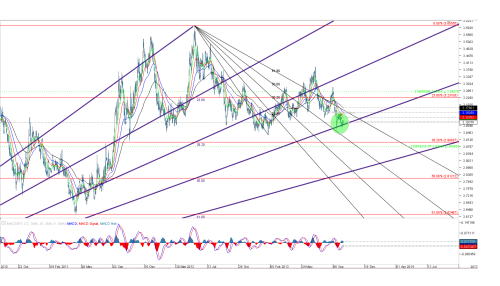 Above and below is a USD/PLN chart on which I have added beyond regular elements another 1 Day Fibonacci Fan Lines making the cross between 2 fan lines of 2 distinct time frames that I was talking about in trading setup section.
I made the decision to add another fan line while trading this pair because the polish zloty was struggling to break lower 50% 1 week fan line and the attempt was unsuccessful. My first thought looking at chart was that it would break lower easily continuing
through the 38.20 Fibonacci Retracement Level.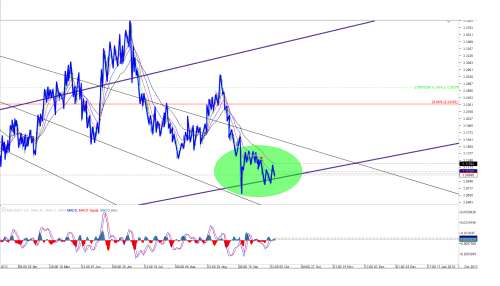 When I sow that it didn't breaklower even if the MACD as seen on previous chart showed otherwise I added another 1 Day Fan line and sow that the trend encounter a support zone between the 1 W & 1 D fan lines from which it pullback and retested the 50% fan line level again several time as can be seen very well in the highlighted green zone.
The moral here is that I should have closed the trade and take the profit when the price reached 50% fan line rather than expecting to break lower. As can be seen the pullback was quite significant erasing most of the profit.
'' A pips saved ,is a pip earned ''

5.Important Tips


Use no lower than 1 Day Time frames to draw fan lines .

Erase and redraw fan lines if the trend make higher peaks or lower trough.Same applies for Retracements.

Try trading between fan lines &retracements and close your trades when you see the trend approaching a fan line or retracement, these way you will minimize potential losses that may occour from reversal in case you are a short-term , intraday trader.

Use all strategy elements combined andanalyze very well starting from higher time frames like 1 Month and go down until 30 Minutes or what time frame you may be trading on.
Conclusion.

The hole idea of this system is to use all elements combined to help you be one step ahead of all that is happening in the market and help plan your entries/exists , stop loss & take profit levels more accurately and easily possible while avoiding to enter in a blind spot as the my example above mentioned.
I hope this system will give you an edge in your daily trading. I expect your oppinions or improvements that you find neccesary for a higher accuracy & profitability .
--------------------------------------------------------------------------------------------------------------------------------------------------------------------------------
Disclaimer: Even though this system tested for a 3 year period proved to be successful for me ,results may vary from one person to another depending on each ones level of experience .It is highly recommended to test this system on a demo account for a while , and if you consider the results are promising enough for you ,only then use it on your live account.
--------------------------------------------------------------------------------------------------------------------------------------------------------------------------------