Forex Market Overview:
With the NFP report many think that september interest rate hike is out of the picture, but there appears to be slightest of chance that FED may increase interest rates this month. Rosenberg a top FED official said that "risks to the forecast are becoming increasingly two-sided". "That means that while a slowdown overseas remains a concern, the U.S. economy has proven resilient and could even overheat if Fed policy remains unchanged for too much longer." He also stated that the "modest" wage pressures so far this year mean the labor market is tightening and could well exceed "full employment" next year. For the rest of this year, U.S. GDP growth will likely rebound and run above a 2-percent rate over the next two quarters.
On the other hand, Minneapolis Fed President Kashkari said, "There doesn't appear to be a huge urgency to do anything," implying that the problems facing the economy cannot be solved by monetary policy so there is no pressing need for action from the central bank. He also pointed out that he wanted to see "more movement" in core inflation, which he said was "stuck" at a 1.6% annual rate.
Following the comments, the US markets plunged lower with all three major indexes posting their worst day since Brexit anticipating that Fed will raise interest rates as soon as this month. While, USD Index which measures the strength of greenback against a basket of major currencies shot up to 95.58 before ending the day at 95.53.
While, the yield on the benchmark 10-year Treasury note sat higher at around 1.681 percent, while the yield on the 30-year Treasury bond was also higher at 2.3976 percent. The US Debt prices traded lower as debt prices move inversely to bond yields.
This means that the market has not ruled out the interest rate hike just yet, and we might see greenback get higher against currencies like AUD and NZD in about few weeks. So here is my tecnical analysis of AUDUSD.

Technical Analysis :

AUDUSD

Australian Dollar fell lower about over 120 pips against dollar last week. It posted a high of 0.77318 and fell to 0.75357. This sharp decline might signal bearish reversal as we see in the image.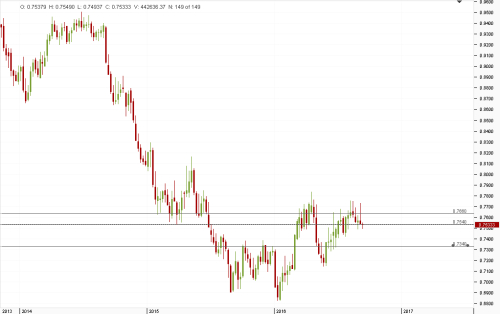 So I think the pair should head down and an entry for sell would be at 0.7540 with a take profit of 0.7340 and a stop loss of 0.7660. With keeping the bond yields increase and hawkish comments from FED members in mind, my prediction is Janet Yellen comments will be hawkish and it will act as a catalyst to bring other major currencies including Aussie lower against Greenback.