ECB decided to leave rates unchanged in its last meeting in January. Reporting Fergal O'Brien [1],
ECB President Mario Draghi has said the Governing Council will review its stimulus in March amid signs that falling
oil prices will push the euro region's inflation rate back to zero.
Euro unemployment rate decreased from 10.5% to 10.4% last December, bringing tiny signs of relief for ECB Governing Council. Unemployment rate dropped in Germany to 6.2%, the lowest level since 2013. In the opposite side Finland sees its unemployment rate jumping to 9.5%.
Reporting Chris Williamson [2], Chief Economist at Markit, January's
Rates of growth continued to diverge markedly, (...) Italy's growth rate looks to have slipped to just 0.3% and France,
once again the laggard, has returned to stagnation,
while Spain lead the gains with PMI signalling 0.75% growth rate.
Although some Euro zone economies are delivering a sustainable growth, other ones are still providing signs of concerns with steady growth, narrowing stagnation.
Facing a mixed economic environment, markets will sharply watch ECB next meeting, holding for super (Mario) stimulus, levelling expectations into a supplementary purchase package.




The Fed kept rates unchanged in January matching markets expectations. Global economic uncertainty, financial markets turmoil and low energy prices are bouncing Fed's potentials rate hikes this year.
Labour market is showing healthy signs, tracking a solid path to full employment, highlighted by ADP January's data pointing out to 205,000 jobs added in the private sector. January's payrolls rose 151.000, underlying 190.000 expected by analysts, nevertheless it was in fact enough to cause a fall in jobless rate to 4.9%, the lowest level since 2008 financial crisis.
27
th
of January Federal Reserve press release [3] signalled that,
Household spending and business fixed investment have been increasing at moderate rates in recent months,
and the housing sector has improved further; however, net exports have been soft and inventory investment slowed.
January's Markit survey browsed moderate services activity, unveiled by the fall of Services Purchasing Managers Index (PMI) to 53.20 points from 54.30 points in December.
Fed raised the federal funds rate in last December waving that furthermore four hikes could take place during 2016. Growth in US economy has been restored since the financial crisis and mid-term employment is reaching its limit, though a recent weaker global economic outlook is stressing markets, questioning the gradual path of the federal fund interest rate hike(s) this year.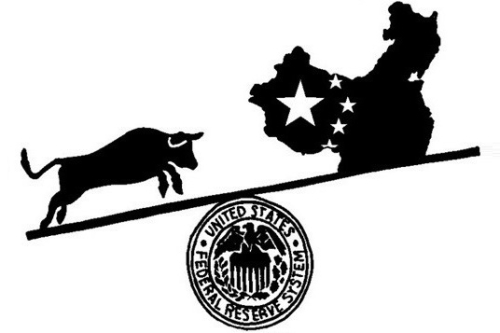 Markets are still looking for the right balance to accept the new path of Fed's economic policy. In the previous years the Fed has been backing-up US economy with successive Q.E. programs, meanwhile growth in China was whispering confidence into a global economy.
Recent volatility in markets can find an understanding matching these two major vectors absences, an absence of a confident growth prospect for China and an absence of Fed's easing policies.
A tighten labour market, bolstered by wages gains as shown in January's US employment report, diverges with lagging equities, strong dollar crushing exports and US economy growing less than expected.
Reporting Ambrose Evans-Pritchard [4],
Fed governors do not like being bounced by markets, which move to a different rhythm and have conflicting interests.
But they also have their own human failings.

While Yellen and Fed's Committee are in surveillance mode, even in a case of rate hiking delay, markets need to enhance "the mood" and prepare the shifting.




Kuroda's battle against deflation is on the run, supported in his own words [5],
I am convinced that there is no limit to measures for monetary easing.
BOJ President surprised the market moving interest rate into negative territory. Sharp declines in energy prices and the drop in household expenditures are pressuring Japan's inflation, still far below BOJ's 2% target.
Asian markets answered positively after the announcement, with some of its major indexes edging higher more than 2%.
The Central Bank decreased its inflation expectations, curbing the timeframe to reach its targets from the end of 2016 till the mid of 2017.
Reporting Mie Sakamoto [6],
The new easing measure, which one analyst likened to a "powerful drug," could have both positive and negative
effects. It gives the central bank more room to ease but also runs the risk of turning into a poison and harming
financial institutions.
Even after watching scepticism among Japan's financial industry, fearing investment capital exodus into far more attractive spots, still BOJ President reinforced that [5],


it is possible to further cut the interest rate from the current level of minus 0.1 per cent.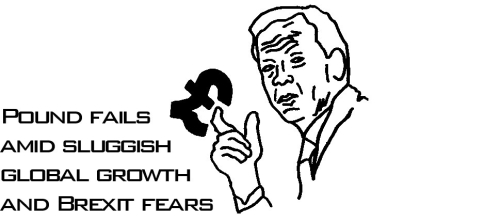 BoE left key interest rate at 0.5% with unanimous voting at 4
th
February MPC meeting. Since the beginning of the year, the pound has been smashed against some of its major rivals. Being pressured by China's low growth prospects, uncertainties over Brexit and low commodities prices down warding inflation forecasts, lead pound into seven year's low against US dollar.
Governor Carney argued [7] the decision for holding rates unchanged,
amid a sluggish global growth, turbulent financial markets,
deceleration in emerging economies and unexpected low growth in US economy.
Britain's prospect for growth are still solid, provided by the
resilience of UK financial system and its private domestic demand,
Carney added [7]; though, UK gross GDP increase for 2016 has been revised to 2.2% from 2.5% predicted in the past November.
During the following months, BoE will still have to face uncertainties over Brexit referendum – until it is reached an agreement, or at least it is clarified Britain's place in the EU, the pound will have to endorse a few more punches.
Reporting Jeremy Warner [8],

Brexit fears may have something to do with (...) last month's shift in monetary stance by the Bank of England,
from a tightening to a neutral or even loosening bias. Mark Carney, Governor of the Bank of England, seems to
have embraced the idea of competitive currency devaluation as enthusiastically as any. (...)
We should perhaps be careful not to jump the gun. (...)
For Europe, the Brexit threat is, in any case, only a comparatively minor part of a much wider crisis of
legitimacy.

[1] available on:
http://www.bloomberg.com/news/articles/2016-02-03/euro-area-price-cuts-intensify-pressure-on-draghi-to-act
[2] available on:
https://www.markiteconomics.com/Survey/PressRelease.mvc/77432d4febf8431284502ffe264667e7
[3] available on:
http://www.federalreserve.gov/monetarypolicy/files/monetary20160127a1.pdf
[4] available on:
http://www.telegraph.co.uk/finance/economics/12141369/Dollar-tumbles-as-Fed-rescues-China-in-the-nick-of-time.html
[5] available on:
http://www.channelnewsasia.com/news/business/boj-kuroda-says-can-ease/2483412.html
[6] available on:
http://www.japantimes.co.jp/news/2016/01/30/business/economy-business/bojs-surprise-easing-step-powerful-risky#.Vq8vZPmLTcs
[7] available on:
http://www.bloomberg.com/news/videos/2016-02-04/boe-s-carney-decision-taken-amid-sluggish-growth
[8] available on:
http://www.telegraph.co.uk/finance/economics/12137120/Thwarting-the-European-hegemon-as-sterling-wilts-amid-Brexit-fears.html