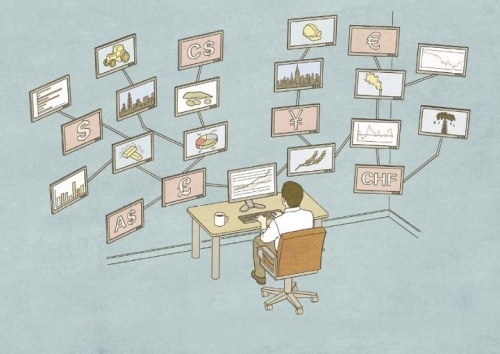 For any new venture to get in, be it a company launching
or forex trading , preparation is a critical factor. People who plunge into
forex trading without sufficient knowledge of the working conditions of the
market too often end up losing money. It is always never late to learn things
which you are supposed to know before putting your hands into it. For the best
approach in forex trading, build your knowledge first and acquaint yourself
with the quality information next. Time spent on learning the basics is never wasted.
Never invest money which you cannot afford to lose. You
should be well aware of the fact that trading
& investments are subject to market conditions and your trading may
well be a source of worry to you in adverse conditions. Identify your risk-profile and then invest.
As a beginner, do not have unrealistic expectations about
the returns in forex trading. Newcomers often mistake the art of forex trading
to the wagering of money in gambling. This is not a get-rich-quick scheme where
you can turn a millionaire overnight. Just as one enters the trade, he should
be clear about the take profit & stop loss levels.
Try to exercise patience and trade within your limit.
Never ever think that the opportunity is slipping your hands and you have
missed one big chance. No matter how well or poor the market performs,
opportunities galore in this trade.
Have a definite game-plan in fx trading and stick to
it. This game-plan may be designed on the basis of your previous experience,
the knowledge & information you have gathered or by the advice of an
expert. Deviation from the game-plan increases the chances of losing money.
Never put your money on trading based on rumours. A common
man invariably gets the reports late and by the time he enters the souk, the
market would have encashed the news.
It is always a good practice to analyse your trading log
which will not only help you during the time of tax returns but also can be
utilized for the purpose of self evaluation. It is a documented evidence of
your mistakes which needs to be corrected with the passage of time.
It is human to be emotional and yes, emotion is definitely a
risk factor in fx trading. Emotions, at times, are likely to overwhelm a trader and take over the directional control of money management and cause
severe loss.
Hanging
on to a losing trade and hoping to see it recuperate is
one of the top mistakes made by new entrants of fx trading. I have seen
people getting emotionally attached to a failing trade. Learn to ditch the trade,
which is on the losing side, ruthlessly.
Greed & Fear
are two overpowering emotional factors which are likely to preoccupy the
investors' mind and take over the control of money management. Greed thwarts the
traders from booking profits at the right time whereas the fear stops the trader at the initial
stage itself.
Never ever follow a group to take a decision to trade your money. This herding behavior
will lead you nowhere and losses proliferate in your portfolio. Have a sound trade plan & stick on to it.
Finally, working closely with an expert and taking his
timely advice will definitely help you build the confidence and also pay you
rich dividends in this endeavor.