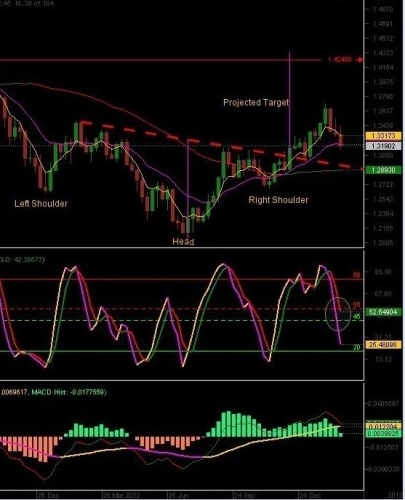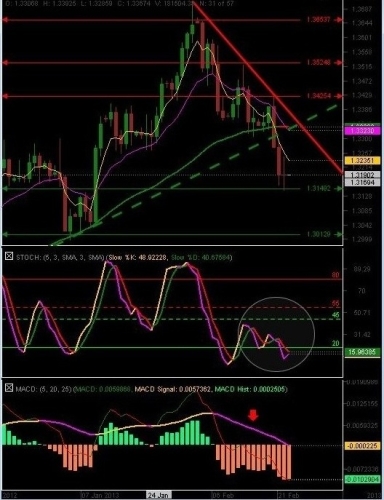 EURUSD First Chart Weekly; Second Chart Daily: Last Bar: 22-02-2013. EU almost closed unchanged on Friday after testing 1.3250 resistance level and 1.3150 support level.
ON DAILY CHART:
An ascending bullish trendline had been broken (on 21-02-2013), however, after the break the pair had
respected the support level and other cluster of supports (100 SMA, 50% fib level, 15 EMA on weekly and monthly chart). EU is capped by a descending bearish trendline. This month had been bearish for EU so far, however, we have 1 more week to go before the month ends.

The last 6 month has been bullish for EU. There is still a strong bullish momentum on weekly chart, however, that momentum is limited because there are not enough buyers left (The cycle on the monthly chart is high and is turning down).



ON THE WEEKLY CHART
There has been a validated inverse head and shoulder pattern on weekly chart and the pair is now trying to put in the first tradable wave low. If it breaks above 1.37110 it is likely it would go up to the projected head and shoulder target (1.42400).



Switching back to daily chart, If the descending trendline that is capping this pair as bearish is broken, we may see EU trade higher to test 1.37110....On the other hand, If 1.31450 is broken, next support is seen at 1.30240...The cycle is low; therefore we may see the pair trade higher on Monday (25th Feb) to find some new sellers. The momentum is down, and the 50 SMA is also turning down.

Trade Ideas: Bullish on smaller time frame (hourly) for short term till price reach 1.3250 (a resistance level) and/or the descending trendline on daily chart. At around the descending trendline or at 1.3250 look to go short again. Part of your profit (sell position) should come off at 1.3150.;If it fails to break that level (1.3150) by the end of this week it may go sideways for a while or trade higher to break the descending trendline and then trade even higher to test 1.37110 since it may just be the first tradable wave low for a validated inverse H&S on weekly chart. If 1.30240 is broken, then it would turn out to be a failed inverse H&S pattern.

Italian elections this week (Feb 25) should move this market.