Divergence:
A divergence is when a security and a
related, normally highly correlated,
momentum oscillator or alternative pair move in opposite
directions.




Normally A trader can look to two highly
correlated stocks, futures, commodities and currency pairs to see if a
divergence is occuring between two. For example we may see the inverse DXY
(USD index) to be rising along with ES_F (Emini SP500 futures) when this
occurs something has to change...


Divergences are a low risk
way of picking tops or bottom in the markets as they are easy to spot and
even easier to trade profitably.


In this guide we will concentrate on using
indicators for a specific FX pair and not talk about intra-pair
divergences.


Indicators:


To do this we will use momentum oscillators,
you can use anything from Stochastics, RSI, MACD (moving average
convergence DIVERGENCE) or even CCI.


Most strategies using indicators are LAGGING.
i.e. they require past price action to predict future such as a stochastic
crossover or RSI moving up under 30.


divergence trading are LEADING strategies.


Types of divergences:
---REGULAR and HIDDEN---
Regular:


Price and the indicator you use SHOULD go hand
in hand with each other, if price makes a new high so should the indicator
but this isn't always the case and this is the start of a divergence when
the security starts to show underlying weakness.


A bullish divergence would appear as when
price makes Lower Lows but the indicator makes a Higher
Low. Take a look at this chart for a visual representation.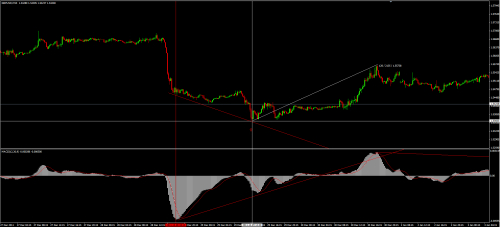 Here is the GBPUSD, You can see it fall
sharply but then it leads to make a LOWER LOW, however at the time the
MACD forms a HIGHER LOW, this is a bullish divergence and it leads to
200+pips with VERY minimal risk with stops under the lows.


A Bearish Divergence would occur in the
opposite scenario; there would be a Higher high in price
with a Lower high in the accompanying indicator.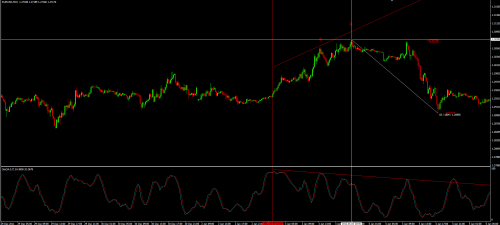 As you can see in this chart EURUSD we have
the stochastic indicator which shown by the red lines makes lower highs, while
crucially EURUSD makes higher highs. If you shorted this pair you got have got
over 180 pips with once again a VERY small risk (15-25pips)

Hidden:
A hidden divergence is very similar to regular but
are ever so slightly different and are far more rare and thus are easier to
miss.

A Bullish hidden divergence would happen is the
indicator makes lower lows while the security makes a higher low. This as
opposed to regular divergences trade with the trend and has momentum on its
side where as if you trade with regular divergences it is normally counter
trend trading or picking tops/bottoms.
Here AUDUSD with RSI. RSI makes a lower low BUT the
Aussie rises and does subsequently continue to rise up to 140 pips.
A Bearish Hidden Divergence is when price makes a
Lower High and the indicator makes a Higher High. These in my opinion are very
rare and hard to find, But I managed to on this USDCAD M5 chart with RSX. As it
was quite a low time frame and low volume time it was only for 36 pips but
still not bad.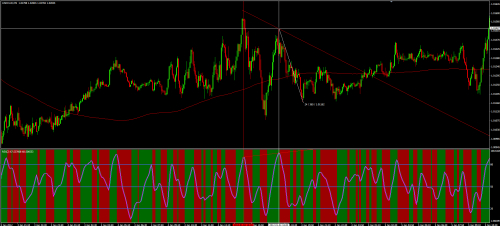 Trading:
Spotting them may be very easy but trading
them may be more difficult. These can be blindly used to trade but I STRONGLY
recommend combining these with other technical analysis methods such as
Fibonacci or trend lines

It is best to trade just after you think price
is going to turn in the favour of the divergence and trade with stops just
under the lows. If you look at the charts above you would have seen 150-200
pips from a mere 15 pip stop, that's very good R:R AND they are fairly commonly
occurring.

Also if you are going to trade with the trend
or hidden divergences you are going to want to use the indicators in another
way. For example you could spot a Bullish hidden divergence BUT you enter the
trade when the Stochastic crossover firming up your trade idea or when RSI goes
from under 30 back above it.

Conclusion:
To finish off, you need to take divergences as
just another weapon for your arsenal and don't fully rely on it.
Here are some final tips to help you out with
further trading of divergences.
Don't trade in consolidation periods or when
price is fairly flat.

Confirm the trade with other indicators
If you have to distort the charts to fit the
plans of divergences, it probably won't work, just wait for the next one to
appear and don't risk it
Connect only tops and bottoms of recent swing
move
Take your chart time frame into account, Don't
aim for 200 pips on M1 or look for 10 on a daily char
And finally, courtesy of the amazing BABYPIPS.com here is their
cheat sheet for divergences.


Any Questions are welcome.
Thanks, Adrian.