I use three trend following techniques for day trading that rely on three common indicators but in different ways for every method. The first method (
Day Scalpe
r) targets 50 to 100 pips every one to two days while the second method (
Catch a Trend
) targets 300-600 pips in weekly swings. The third method (
Late Swinger
) is similar to the second but uses different position entry methods in case I missed an early swing entry. Forgive my lack of creativity in naming these strategies.
Day trading requires patience and great emotional control, especially around news releases. Always remember that, in day trading, such spikes are quickly evened out by 'large' traders such as hedge funds especially if they are against the trend. Let's get into it. Due to article length limitations, I will cover Day Scalper separately and then the other two together.
Requirements
All 3 methods run on daily bar charts,

I trade the 6 major pairs,

I use the New York 'close'- this is at 17:00 EST (Eastern Standard Time) and 21:00 GMT to evaluate the market,

All entries must have a stop loss – changeable to breakeven and trailing profit if conditions allow it,

When it's time to close, I must close even if it is in losses,

Strict money management - which I will cover in the end,

The setup day is not the entry day. The entry is the following day (bar).
Method 1 – Day Scalper
I call this "day scalper" since it goes for few pips every 1-2 days. It has the potential to catch high volatility moments for very nice profits. Of the three methods, it is the most complex and also has the highest probability of getting stopped out as well so strict money management is required.
Indicators Used
18-Day and 9-Day Simple Moving Average (SMA)

1% and 1.5% Moving Average Envelopes (MAE based on 9-Day SMA)
These are standard JForex indicators. I use different colors for trend up and down to easily and precisely identify a trend change. The other option is to look at and compare SMA values by placing the cursor on the indicator.
Note:
All setups are done at 17:00 EST (21:00 GMT)
Buy Trade Setup Conditions
The 18-Day SMA (thick red-green line) should have turned up or be going up already and it's less than 1 month (30 days) since it turned up, you can consider up to 60 days if the trend is still strong.

The setup day CLOSE must be HIGHER than the LOWER 1.5% MAE (lower thin blue line).

The setup day HIGH must be LESS than half the distance between the UPPER MAE and 9-Day SMA with the ideal setup being below the 1%, upper MAE (upper thin red line). A close at or below the upper 1% MAE is valid.

If the market had broken past upper 1.5% MAE (upper thin blue line) in the last 5 days (highest high of the last 5 bars) with the distance from the highest high of the last 5 bars to upper 1.5% MAE being greater than 65% of the distance between 9-Day SMA and upper 1.5% MAE, do not trade. Wait until it trades back in the 1.5% MAE and then touches or closes below the upper 1% MAE.

Do not consider trades in case there was a dead heat in the last 5 days. – Dead heat means same open and close price.

Place a buy entry order at 2 pips above the setup day high, I am automating these strategies, so I use, (setup day high + defaultSlippage + spread).

Place the stop loss at setup day low – 5pips or (setup day low – defaultSlippage - spread).

Example of Day Scalper Buy Setup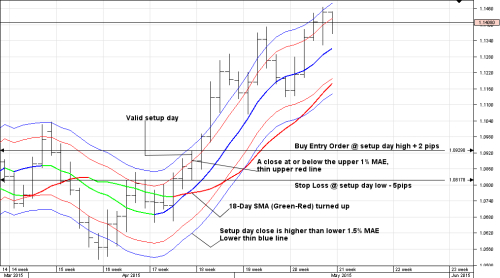 Trade Management
After your order is filled, you again monitor the market the following day at 17:00 EST.
Day 1:
Move your stop loss to current day's low – 5 pips. This will be the previous day when it clocks 17:01 EST.
Day 2:
If you have made over 100 pips, exit half the position and move stop loss to entry day low -5 pips (or – defaultSlippage -spread if automating).
Note:
The idea behind closing 50% the position at 100 pips is money management. I do this to get my initial investment back and free the equity for other trades.
Day 3+:
Trail the profit using previous day low (current day at 17:01 EST) until you are stopped out or the market rallies in your favor where you can close or move the stop further to lock in more profits.
Trade Example EUR/USD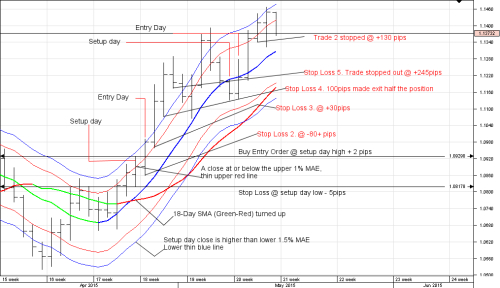 From the chart above, I made over 240 pips without having to constantly stare at the screen or follow news releases. Four days after I was stopped out, another buy signal was generated and it was stopped out 4 days later making another 130 pips.
Example of the Market Breaking past Upper 1.5% MAE – Do Not Trade Signal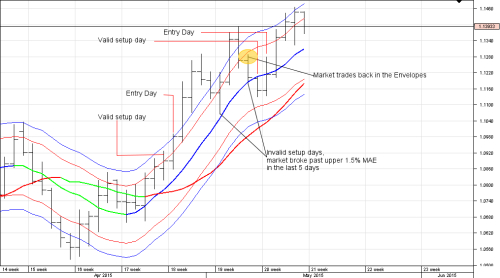 The image above shows an example of EUR/USD breaking past the 1.5% MAE – a sign of exhaustion and temporary reversal. After the correction occurs – trades back in the upper envelopes, it a confirmation of trend continual and we can look for new trade signals.
Example of "Dead Heat "– Do Not Trade Signal

"Dead heats" will occur when there are no enough orders to create a direction, if it occurs on a down trend, it means buyers are hoping for a trend reversal and sellers are holding their cards watching the market – confusion. In such occasions, should the buyers fail to change the trend, there is immense selling pressure – direction.
"Dead Heat" on AUD/USD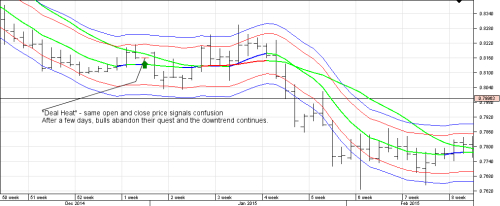 Example of Day Scalper Sell Setup
The same conditions as for buying apply, but they are reversed. To avoid repetition, refer to the buy setup conditions and the image below.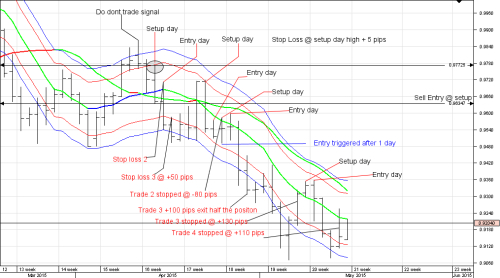 From the USD/CHF trades above I was able to get 200+ pips after subtracting a loss of -80 pips.
Conclusion and a Word on Money Management
While this is a fairly easy strategy to implement, it is not easy to follow. I have used it for years with decent profits but I also fall prey to emotion and move a stop loss or close a position prematurely. To beat this I am automating this and all my trading strategies.
As I said earlier, money management is key to success in forex trading. While not applicable to everyone I risk 10% of my live account across all major pairs. So if I am trading 5 pairs, each trades 2%.
Before rushing this into a live environment, please test it against all major pairs on a demo until you get a good grasp.
Example Using A 10K Account
You trade 2% which is 200 x leverage (200) = 40000, making a pip USD4 (40000 * pipSize (0.0001)). When you make 100 pips and close half the position, you will have made back your initial investment 100 pips x 4 = 400/2 = 200. From there on, the position is running on its "own money" not yours and it has freed the 2% to be used for another trade.
Next I will cover my Catch a Trend and Late Swinger strategies which utilizes only two moving averages and ADX to target 300-600 pips.