Introduction

One of the reason, I love to write articles in dukascopy contest, is to instill deep rooted habit by way of seemingly
right knowledge
passionately. So that even in my deep sleep I click right buttons. In that effort today's article is about Trends in Forex market. I myself am a scalper and now I am trying to develop into trend following scalper. In that sense I am trying how to identify and when to enter. Broadly this article will help people who are doing
Trend trading
. So let's begin.
What is trend

The trend is simply the general direction of market.

Markets don't generally move in a straight line but are characterized by series of Zig-Zags.

It is direction of those peaks and troughs that constitutes the market trend.

Trend Direction

An uptrend is a series of successively higher peaks and troughs.

A downtrend is just the opposite, a series of declining peaks and troughs.

Horizontal peaks and troughs would identify a sideways/range price trend.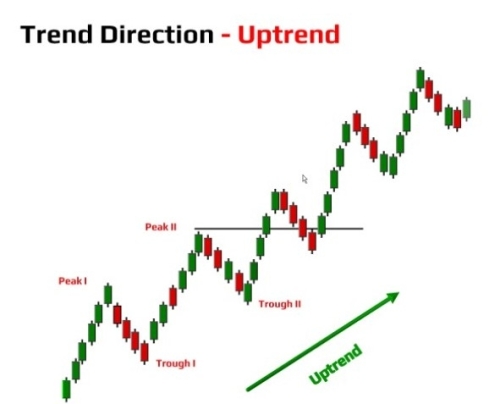 Pic 1 - Uptrend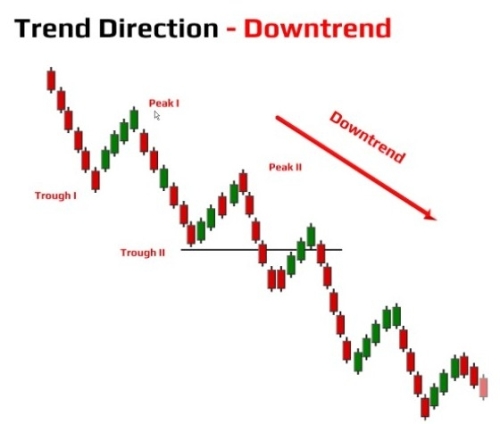 Pic 2 - Downtrend
Trade decisions
There are three decisions which I as a trader I have to make
Buy (go long) if it is in uptrend.

Sell (go short) if it is in downtrend.

Do nothing (do nothing) if it is in range.

Of course there are traders who are range traders and there are traders who like to look for overbought oversold levels to trade and who will look to go against the trend. But I am convinced that the
good money is made following the trend
. And that's the way I would like to trade.
Trend Clssifications
3 Time-frames I would be looking while trading the forex and that may be weekly trend, daily trend and 4 hour trend for swing trading. Or 4 hour trend, 1 hour trend and 15 minutes trend for intra - day scalping trade. So let's take the example of 4 hour, 1 hour and 15 minutes.
Intermediate Trend - 1 Hour
Near Term Trend - 15 minute
Each trend becomes part of its next larger trend.

Most trend following system focus on the intermediate trend.
Near term trend is used for timing.
If a trend is established, I look to
buy on support
(Near term trend or 15 minutes) in an uptrend or
sell on resistance
in downtrend.
Support in Uptrend

Troughs

Bottoms

Reaction lows

The level or area on chart under the market where buying interest is sufficiently strong to overcome selling pressure.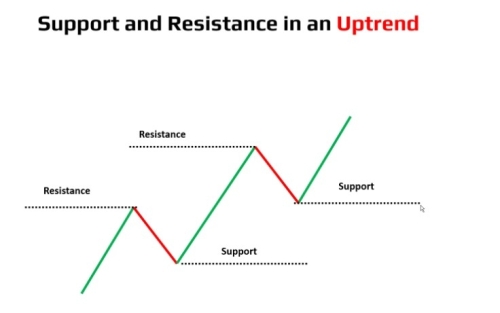 Pic 3 - Support in Uptrend
Resistance in downtrend

Peaks
Tops
The level or area on chart over the market where selling pressure overcomes buying pressure.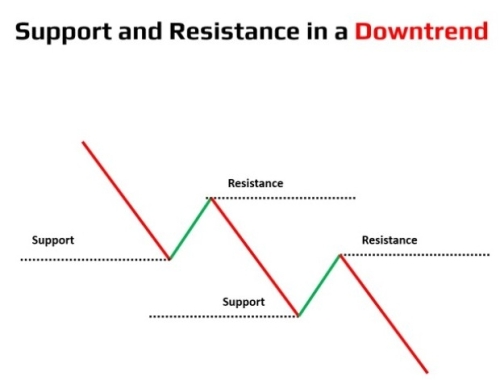 Pic 4 - Resistance in Downtrend
Another way I look to trade is to place buy stop order (in an uptrend) on a break of near term resistance by or sell stop order on a break of near term support by using limit order. So it is most important to identify trending market condition and the trend (bullish or bearish) in the beginning of trend.

An Example
Let's give an example of EUR/GBP on 20th Oct 2017 and it gave many opportunities after it hit resistance on daily Chart above 0.90 and retraced. 4 hour chart gave long term trend and one hour intermediate trend and we can establish sell trade entries on 15 minute chart every time it hits the resistance (On bounce). Or use sell stop order on every break of support during the day.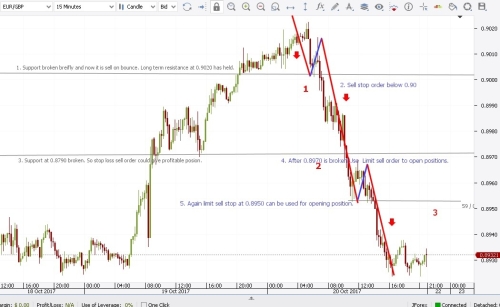 Pic 5 - An Example
I have marked 5 probable entries after resistance of 0.9020-40 hold on daily basis. And trigger point was 4 hour bearish candle (after series of 5-6 bullish candles) which took price below 0.90.
As it has established trend
, I was looking for selling EUR/GBP all day on 20th October. Below are the opportunities (though, I did not pick all, but was happy to pick some):
1st trade after bounce (limit sell order) from 0.90 and simultaneously sell stop order below 0.90(2nd trade opportunity) is placed.

3rd trade after bounce from 0.8775(limit sell order) and simultaneously sell stop order(4th trade opportunity) below 0.8770

5th trade on bounce from 0.8750((limit sell order) and simultaneously sell stop order(6th trade opportunity) below 0.8750

As can be seen this is how I look to trade on
trend opportunity
. It is not important that I ride whole trend from 0.9020 to 0.8930 in one go. I may look for opportunity to get 10-20 pips as I look to scalp the trades. It depends on what time frame I am looking for trades and based on that my profit target and stop loss level varies.
One important point of note here is,
Dukascopy Jforex 3.0 trading platform gives me option to draw support and resistance levels
and I can then get the
option to open limit order and stop orders within those support resistance levels from the chart itself.
So it is very convenient for me to do trend scalping at dukascopy Jforex 3.0 platform.
Conclusion
A trend has more probability to continue than to reverse. I like to keep treading in trend until it gives definite signal that it has reversed. In that sense the trend will likely to hit next support or resistance level. So I try to keep an eye on those support and resistance levels while taking trades in the direction of trend. Saying
"The trend is your friend"
never mesmerize me now and
"Never go against the trend"
is the norm I have accepted.
So I use to analyze market and
follow trend on different time frames
, and able to increase my profit making opportunities. And I try to stay away from market when they are not trending. Yet at times I try to test water with little volumes to have the feel the price action and look for the trend. And only when market is trending which I can feel, I do trade with defined volume for the account.
I do need to
remind myself always to trade with the trend
and keep on doing it for
long term to have continued success
. It is okay if I cannot do it perfectly all the time. I know I will be able to improve upon perfection one day. Till then picking up trades on trend is my motto. Do let me know if I am doing right?.
Thank you for reading.