China's second-quarter GDP soared at 6.7% slightly higher than the 6.6% growth rate analysts expected.
On the other hand, warnings over debt-fueled growth have become increasingly regular, which promptly caused S&P and Moody's reaction, cutting the country's sovereign credit outlook to negative in March:
China's Credit Rating by Moody's: Aa3; negative outlook; revised on Mar 02 2016;
China's Credit Rating by S&P: AA-; negative outlook; revised on Mar 31 2016.
Bloomberg News [1] reported that current Chinese debt levels:
highlights concern among global investors that the ruling Communist Party will struggle to overhaul Asia's
largest economy at a time when capital is flowing out of the country and debt levels have climbed to an
unprecedented 247 percent of gross domestic product - [regard chart 1 and infographic 1]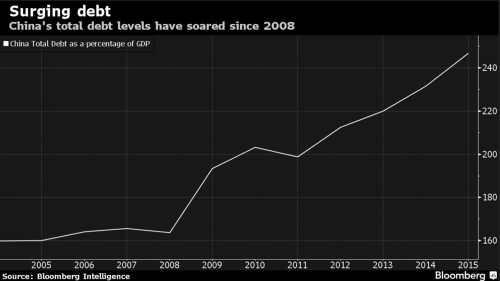 )
)
George Soros has already warned about China's risks to the overall economic stability, meanwhile Chinese supporters argue that the country is different due to its sheer size and the ability of a one-party government to exert an unprecedented control over the economy.
There are evidences of stresses, even if authorities continue to risk off any crack possibilities. China's financial markets keep bouncing amid concerns that authorities won't add more stimulus. The economic outlook keeps deteriorating as shown by the Shanghai Composite Index, which has been tumbling since August 2015 (chart 2).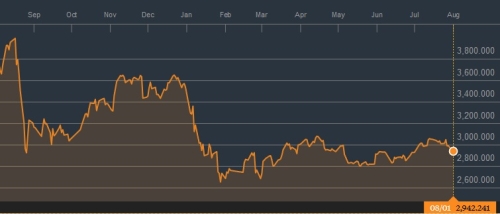 )


The most obvious sign of financial stress is in China's currency markets. China is playing a dangerous game with its currency moves that could send the global economy into recession.

According to Charles Hugh Smith (in an article published on Business Insider) [2] here's the larger context of China's debt/currency implosion:



from roughly 1989 to 2014 — 25 years — the "sure bet" in the global economy was to invest in China by
moving production to China.

This flood of capital into China only gained momentum as the yuan appreciated in value against the USD
once Chinese authorities loosened the peg from 8.3 to 6.6 and then all the way down to 6 to the dollar.

Every dollar transferred to China and converted to yuan gained as much as 25% over the years of yuan
appreciation. Those hefty returns on cash sitting in yuan sparked a veritable tsunami of capital into China.

(...)

Now that the tide of capital has reversed, nobody wants yuan: not foreign firms, not FX punters and not the
Chinese holding massive quantities of depreciating yuan.


Corporations are moving production to the United States regarding dollar's appreciation and cheaper energy prices, or to other Asian neighbor countries, such as Vietnam characterized by lower labor costs and depreciated currencies.

Some in the field argue that what we've assisted was the first stage of a multi-stage yuan devaluation. Adding the possibilities of Federal Reserve rate hikes and turmoil due to Chinese poor economic data, a target price to 8 to the USD acts as a golden ratio.

Craig Stephen, a MarketWatch columnist [3] points that in face of:



an inexorable depletion in foreign-exchange reserves, the only way to find balance is through a
market-driven exchange rate. This would enable "price discovery," based on anticipation of profit by
buyers and sellers of the yuan. The problem, however, is that this process can be brutal as the currency's value
is left to the market.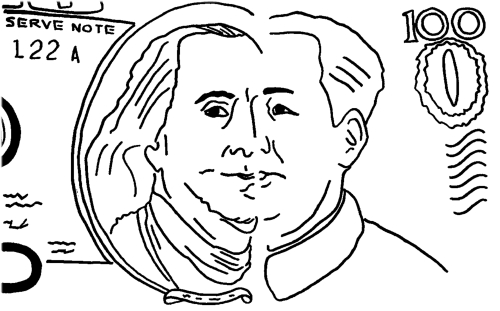 Everett Rosenfeld, a staff writer for CNBC [4] says that there's also the risk of other countries intervening in its currencies:



to remain competitive with China. The U.S. dollar would then spike on a relative basis, and that would in turn
swell the value of dollar-denominated commodities and corporate debt — which would likely grind global
growth to a halt.


China's economy continues to combat other significant headwinds such as the economic drag of too many factories pumping out more products than there is demand for.

U.S. Treasury Secretary, Jack Lew (reported by David Lawder, Reuters) [5] said on June 5th at Tsinghua University in Beijing, China:



[The] excess capacity is not just a domestic issue in China.
The question of excess capacity is one that literally has an enormous effect on global markets for things like
steel and aluminum, and we're seeing distortions in global markets because of excess capacity.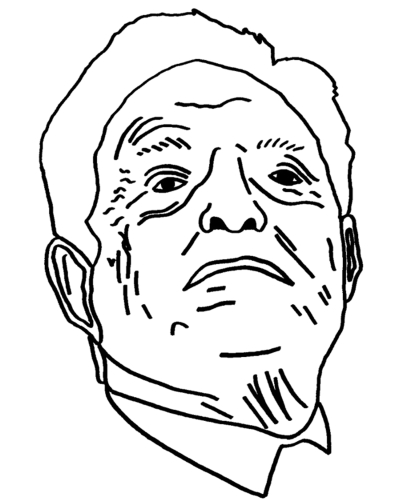 Both, currency manipulation and the glut of Chinese products are currently poisoning the overall economic stability and the relationship between economic blocs.

As usual, Soros's warning needs to be taken seriously. China's size means that it can accommodate several impacts, but in somehow is certainly different from all that has happened before, even in scale!

Chinese data figures are becoming increasingly doubted by economists and analysts. The recent 2nd quarter GDP figures are no exception and it launches newer doubts about how these figures have been reached in face of a lack of demand which prompted sequential falls in Chinese exports over the course of this year.

On the 5th of July 2016 China's Bureau of Statistics unveiled that is has revised up the size of the world's second-largest economy by adding research and development (R&D) spending into its GDP calculations - Chinese authorities are placing significant efforts in order to reach targeted economic figures.

For more data about the current state of Chinese economy, focusing analysis on rising debt levels, I leave here an URL http://www.bloomberg.com/quicktake/chinas-debt-bomb that will direct You (reader) to an article entitled, China's Debt Bomb, Danger or Dud?

















[1] http://www.bloomberg.com/news/articles/2016-03-02/china-credit-outlook-cut-to-negative-from-stable-by-moody-s

[2] http://www.businessinsider.com/china-currency-devaluation-just-getting-started-2016-2

[3] http://www.marketwatch.com/story/is-george-soros-right-about-the-coming-crash-in-china-2016-04-22

[4] http://www.cnbc.com/2016/01/07/chinese-yuan-heres-whats-happening-to-the-currency.html

[5] http://www.reuters.com/article/us-china-usa-economy-idUSKCN0YR098

[6] http://www.bloomberg.com/quote/SHCOMP:IND

[7] http://www.bloomberg.com/news/articles/2016-05-12/china-decides-debt-can-be-dangerous