What is it all About?
I have been trying to develop strategies in visual jforex – a visual platform to develop strategies. You can develop a strategy in less than 30 minutes but only after you play with the platform functionalities and know how to utilize the strategies. I will provide the basic functionalities
("Hello World" type)
to get anyone started and then to see the output (back test) of the strategy. And off course some tips, tricks best practices which I found useful while working with strategies.
The main theme I will cover in this article is- How to back test your strategies so as to save time and not wait for real market if your strategy will work or not. Although there are functional document provided by Dukascopy but I missed to notice back test features anywhere in the documents. I will provide one simple strategy - if RSI above 70, sell or if RSI below 30 buy and then test this strategy on beautiful back testing (called Historical Tester) feature at jforex 3.0 trading platform.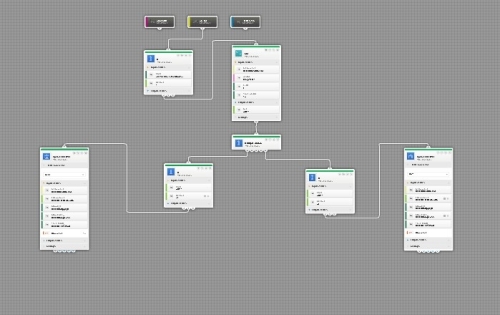 Create Simple Strategy in Visual Jforex
The above very simple strategy (Just for illustration purpose) to get you started. It has simple logic:
If no open position then go to next block RSI

RSI is calculated on 10 minutes for 14 periods and which gives output value as out11

Now next is multiple block which has 2 if block. If out 11(RSI value) is greater than 70 sell with 6 pip stop loss and if it is less than 30 buy 5 million of EUR/USD.

Now this strategy is ready and click on File>save draft
Next step is to create a Folder on your laptop. I named the folder as back test. Now click File> Export> JAVA(.java) and save it in backtest Folder.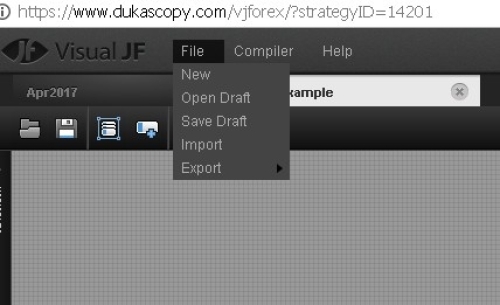 Historical Tester in Jforex 3.0 Trading Platform
We will now test this strategy in jForex 3.0 trading platform. Login to Jforex and open the strategy we just created (Navigator>Strategies>Custom>Open Strategy).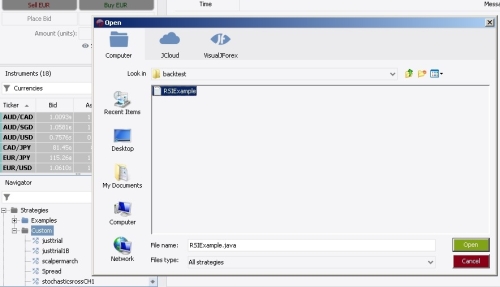 Highlight the Strategy and right click on it- Many options will be come up – select "Compile" and compile the Strategy. Notice that test option will be available only after Compile is done.
After compile confirmation(Check message), click on test and Historical Tester Tab will be opened. Now you are ready to test the strategy.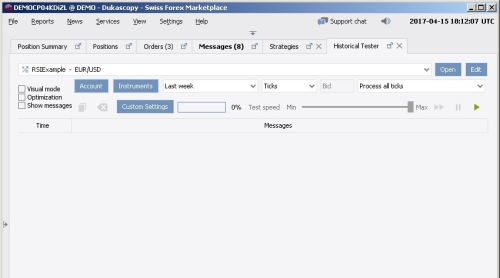 Notice that Order, instrument and Navigator panel is hidden and only "Historical Tester" tab is open. You can just tap on Arrow to unhide the Hidden panel. That is level of customization at jforex 3 which is very convenient for traders to focus on what they want.
Once here you can click on play button and testing will start. By default last week will be selected. You can select other options as required by you. The output of this test will be webpage which will be opened after test is done. For default setting I have got 36 trades opened and closed for last week (April 3, 2017-April 7, 2017) with open closed time etc and detailed analysis. So you have enough data to analise how your strategy will work in real time.
Let me briefly tell other options in Historical Tester.
If you tick Visual and play then chart will be opened and open and close position you can see while strategy is running.

If you tick optimization then you can select target price pip and stop loss range and see which combination is more profitable.

I believe this will get you started with historical testing and you can explore further options. Basic functionalities I have covered for you to understand.
Best Practices

I found Google chrome to be best compatible browser for developing strategies on visual jforex.

While testing the strategies make sure that the currency you select – by clicking "Instrument" is the same which you select in play popup window.

If you are running strategy on live account. Store the strategy on local machine (Storage- Local) and then select execution environment as Remote Run.

As far as possible select one currency as default currency in Visual Jforex in all the blocks and then you will be able to test for other currencies in Jforex 3.0 Historical Tester.

Developing Strategies in Visual Jforex is very easy. It does not mean you cannot develop a strategy which is out of scope for Visual. If you are good in programming (advanced developers) you can write programs too and use eclipse and netbeans for development. Follow
https://www.dukascopy.com/wiki/en/development/get-started-api/use-jforex-sdk/use-in-eclipse
https://www.dukascopy.com/wiki/en/development/get-started-api/use-jforex-sdk/use-in-netbeans
Wish you all the best with automated strategies.