About my auto-trading software:
WHAT ARE THE ADVANTAGES OF USING ?
- Removing the Influences of Human Emotion – It is a well known fact that traders are frequently influenced by emotions such as fear and excitement which may cause them to stray away from their original trading plan.
- Accuracy of execution – the computer is not affected by fatigue or other human vulnerabilities which may cause mistakes such as pressing the wrong button.
- High speed execution – a computer can monitor and trade multiple currency simultaneously and react much faster than a human trader.
- Your hands and eyes, always free - You can sleep and have trade.
- Very fast decision-making – auto trading strategies can quickly and easily handle complicated calculations required for decision making processes, whereas a human trader may encounter difficulties.

Version ONE:
pic_1. Example: Intraday strategy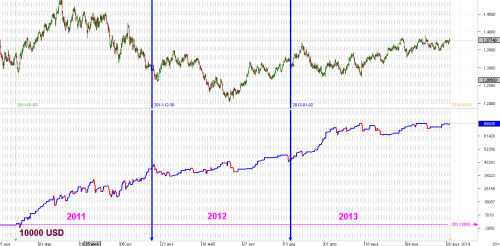 Intraday trading is a popular method involving the quick opening and liquidation of positions ( in period 1 - 24 hours).
Consequently, the intraday trader needs to be a patient, diligent individual who is willing to wait as the fruits of his labors translate to great profits over time. Many people pursue trading merely as an additional income source, and would not like to dedicate five six hours every day to the practice. I think: the good software, can be the good solution for many traders.
What is optimal trading parameters for many traders?

- small Stop loss
- big Take profit
- fast fixing profit, if market (if the market changes very quickly )
Optimal parameters for me:
Stop Loss: from 50 - 100 pip
Take Profit: from 50 - 200 pip
Trailing( for fix profit ) from 10 to 20 pip
pic_2. Parameters for use

Some of the features available in Parameters ( MM Percent ):
• money management: ability to set maximum or minimum percent % from equity. Position size will be calculated according to account balance.
also: I want using all trading time in week.
pic_3. Time parameters, for trading every day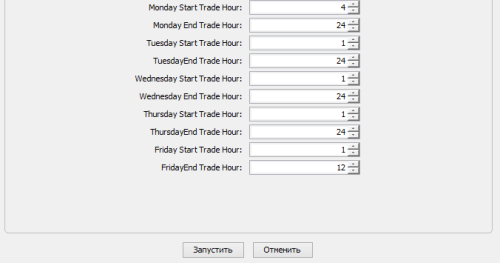 I use: Historical back testing with every TICK!
Style of strategy : not agressive,

Positions total 395
Closed positions 395
------------------------------------
in 3 Year period.
Trading moments:
a)
Hourly range for period 1H,
in Code:
barSpreadUP = bar_1.getClose()-bar_1.getLow();
barSpreadDOWN = bar_1.getClose()-bar_1.getHigh();

b)
pattern and combination with Indicators : WaddahAttar -1H , Volume - 1H, Bwmfi - 1H. CCI -1 min.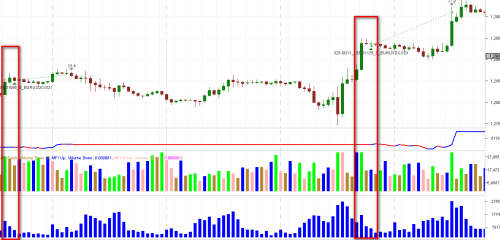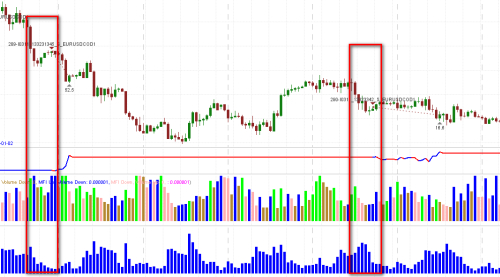 Stop losses in trading:

This approach, to be sure, is not HOLY GRAAL , but it is certainly a worthy option for profit from 5% to 20% month for one currency pair.
I remember:
Conditions in the demo account cannot always reasonably reflect all of the market conditions that may affect pricing and execution in a live trading environment.
Stay in The Know!
Trading foreign exchange on margin carries a high level of risk and is not suitable for all investors.
The high degree of leverage can work against you.
BUT: I LIKE FOREX TRADING and TO BE CONTINUED !!!
You: Automated or Manual Trading ? My Vote +1 for Automated trading!
HAVE A NICE TRADING!!!!
Best regards
Magic_FX