The recent fall in oil prices is causing a downturn in stock markets all over the world.
Oil companies facing negative balance sheets are being pushed into labour force cuts and to delay future investments.
Times are also though for US shale oil producers. They have once deposited hopes that Saudi Arabia could bring some balance to the market. After the latest "freezing" negotiation developments, their last hopes might have completely vanished. Reporting Ellen R. Wald, [1] Modern Trader Magazine columnist:
Saudi Arabia can produce a barrel of oil at a cost of about $2. Even the best shale producers cannot produce a
barrel of oil for less than $50 a barrel. (...)

OPEC is not coming to bail out the shale oil producers. (...)

Saudi Arabia does not feel their pain (...) [it] may even welcome these minor inconveniences (...) [moving national]
economy towards some diversification.

Times are tough for shale producers and bankruptcies and asset sales are increasing. (...) Any relief producers
thought would come (...) has not materialized.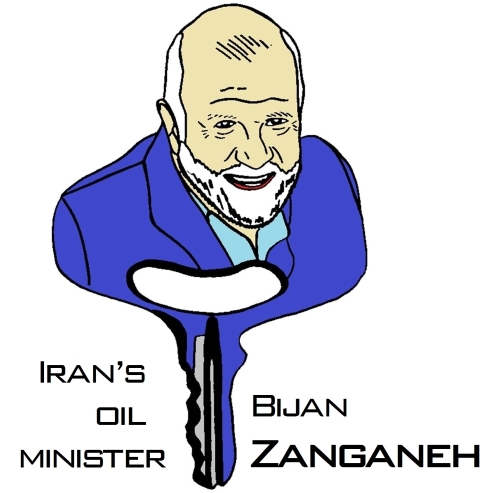 OPEC member Saudi Arabia and non-OPEC Russia reached a principle of agreement on February 16
th
to freeze oil production at January's levels. Joining the Saudis and Russians, OPEC members, Qatar, Venezuela and Kuwait also unveiled that they were ready to freeze output.
Iranian oil minister, Bijan Zanganeh said after a meeting in Tehran with other OPEC counterparts, that Iran was in favour of action to spike oil price recovery, though, reluctant about giving up its pre-sanctions oil quotas.
Analysts are convinced that in order to cap production, a much wider deal is needed.
Iran is the key in order to reassure a substantial deal
, which would indeed signal a an oil price recovery.
Russia and Saudi Arabia signalled a principle of agreement to freeze production at January's levels, 10.88 million barrels a day, and 10.23 million barrels a day, respectively. Meanwhile, Iran plans to achieve pre-sanctions production level, supported on Bijan Zanganeh comment,
a freezing proposal for Iran is "laughable".
IG Securities market analyst Junichi Ishikawa [2] argues that:
As long as there is no agreement on production cutbacks among oil-producing countries, oil-price uncertainty will
likely remain.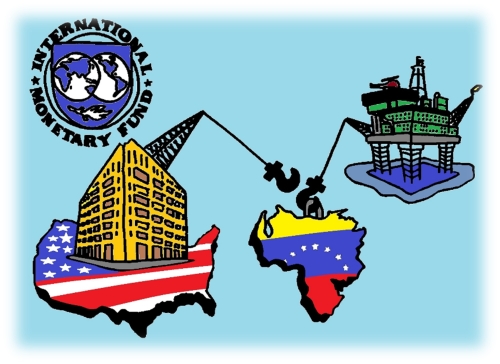 There's also a wide spread risk of sovereign debt crisis spoiled by low oil prices, throwing exporting countries into a fragile position, not even foreseen in the worst case scenarios.
Azerbaijan, that was hit by low oil prices, has asked IMF for a 4 billion USD bailout.
Nigeria asked the World Bank and Africa Development Bank for 3.5 billion USD loan to fill budget gaps sparked by tumbling oil revenues.
Not surprisingly, Venezuela is also at risk of defaulting on its international loans. However, due to political reasons an IMF aid is not likely to take place. An IMF request is "totally ruled out" according to Venezuela's foreign trade and investment minister, Jesus Faria.
Nonetheless, Alberto Ramos, [3] chief economist for the region at Goldman Sachs Group Inc. Venezuela and Ecuador, points that:
It's possible that over the next few years you may see some other Latin American countries knocking at the
IMF's door.
Even almighty Russia is forecasting a budget deficit around 3% of its GDP for 2016, based on oil price at 40 USD a barrel.
The struggle between OPEC and non-OPEC producers and the oil oversupply is seen as the most important factor that keeps oil prices in the doldrums. However, other events related with the world's economic outlook are also weighing on a cheaper oil.
The Federal Reserve backed up the US economy with three successive QE programs after the 2008 financial crisis. An increasing volatility surged on oil prices after October 2014, when the Fed ended the 3
rd
round of QE, sparking a price fall from around 95 USD a barrel (early October 2014) until a 45 USD a barrel (January 2015), as shown in the following chart.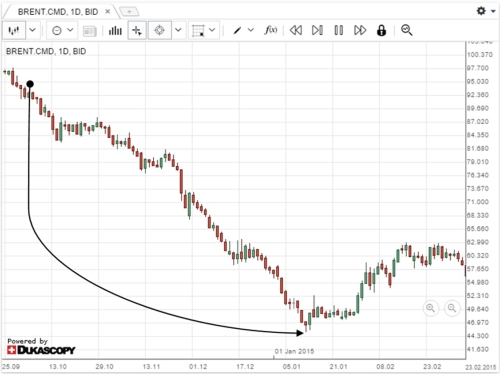 Another falling wave was flashed after-market consensual trend among Fed's decision to start hiking rates at the 4
th
quarter of 2015. It has triggered a massive drop from 50 USD a barrel in early November 2015 till January's 2016 low, 27 USD a barrel, as shown in the following chart.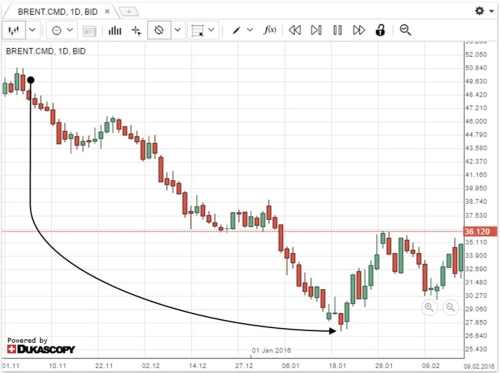 Risk of deflation, due to the recent low oil prices are bouncing European Central Bank and Bank of Japan growth outlooks. Recently announced easing policies
generates a sense that oil prices are working as a referee in the actual global currency arena
.
There are signs of a bear foot print in the current fall of oil prices, showing that the market is strategically pressuring oil, with an aim for stagnate inflation. This fact discourages the Central Banks to increase interest rates in the near future. Moreover,
it seems that the market is currently pricing oil in such a way that it can accommodate its best concerns: low interest rates
.
China's revised growth prospects are also weighing on oil prices. William Dudley, [4] New York Federal Reserve President commented:
Obviously, this is difficult to manage because it's a big, complex economy so I would not be surprised if there were
a few bumps... but I think that I'm quite optimistic that this transition can be managed.
We have been watching lately the rise of oil inventories, in the meantime, negotiations to cut production have not yet presented enough reasons to believe that we've reached an oil price turning point.
Facing the current oil market scenario it is expected that stocking will continue. With this in mind, the answer that we're all trying to find is: until when?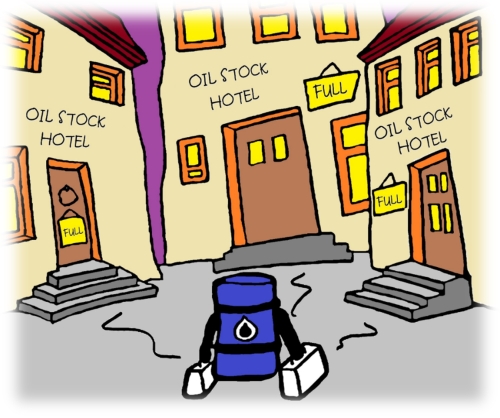 [1]
http://www.investing.com/analysis/the-saudis-and-the-shale-producers-200119138

[2]
http://www.nasdaq.com/article/dollar-flat-against-yen-euro-despite-brighter-mood-20160218-00019

[3]
http://www.bloomberg.com/news/articles/2016-01-29/commodities-shock-may-push-latin-america-back-into-imf-s-arms

[4]
http://www.reuters.com/article/us-usa-fed-dudley-idUSKCN0W33BI