Social Signal Trading
The Social Signal Service allows Traders to follow (replicate) the trading activity of Signal Providers and/or selected participants of the Dukascopy Signal Provider Grand Prix
General terms and conditions of the service
The user of the service may subscribe to multiple Social Signal Providers simultaneously.
Activated Social Signal Subscription implies that trading activity of the Signal Provider is replicated on the side of the Subscriber, resulting in opening/closing/submitting trade orders. Settings are broad-based for every Signal Provider and apply to all trading instruments. There is no option to subscribe or unsubscribe from selected instruments or to apply specific settings to different instruments.
By default, Subscriber's orders and positions originating from a Signal Provider are considered as "followed" ones. This implies that any modifications (cancelling, changing, or adding parameters, etc.) made by the Signal Provider will be replicated on the Subscriber's account.
An order/position will be considered as "un-followed" whenever Subscriber performs any modification to the positions or orders from the Signal Provider's activity. Starting from that moment the particular order/position will no longer be followed and no modifications made with that on the side of the Signal Provider will be replicated on the Subscriber's platform.
Whenever, due to any circumstances, if order is not executed in FULL amount (partially filled) at the Signal Provider's side, the Signal is still sent for initial order amount (not partially executed amount) on the side of the Subscriber (both opening and closing orders).
Whenever the Signal Provider gets a margin cut action (both due to insufficient equity or due to weekend leverage procedure), all of the Conditional Orders, Active positions, and BID/OFFER orders associated with the Signal Provider's subscriptions will be immediately closed at current Market prices and subscriptions will be suspended.
Execution prices of market orders of the Signal Provider and Subscriber can differ, and market order execution is not guaranteed on the Subscriber's side.
When the Subscriber changes subscription settings, new settings will apply to newly submitted orders - all previous positions/orders will follow the previous settings.
When unsubscribing from a Signal Provider, all followed orders/positions will be automatically closed at current market prices.
Dukascopy Bank does not charge any commission for use of the Social Signal Service, if it is not specified otherwise.
The signal service is provided on an 'as is' basis and available only to Dukascopy Forex Community (DFC) Members
Subscription
The Social Signal Trading service is available only to Dukascopy Forex Community members Registration/Login. In order to start using the Social Signal Service, Subscribers should obtain a Signal Provider ID. Signal Provider ID is a combination of characters which is unique for each Signal Provider.

Signal Provider ID can be obtained by clicking one of the "Subscribe to signals" button available in Trader Contest TOP lists and in the trader profiles:
A pop-up window with a Signal Provider ID and further instructions will appear: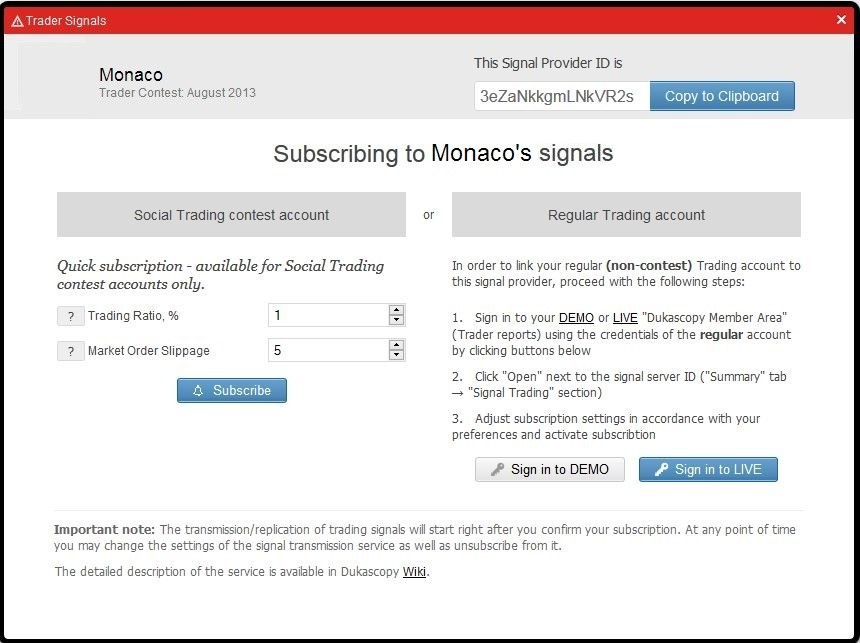 After clicking on the "Sign in" button you will be redirected to the "Social Signal Trading" section of your Account FO reports (you will be required to input your trading Account username and password):

The server signal ID will appear on the text box. Click on the button Open
For LIVE accounts – Signal Service Terms and conditions will be shown, which will have to be read and accepted in order to start using the Signal Service: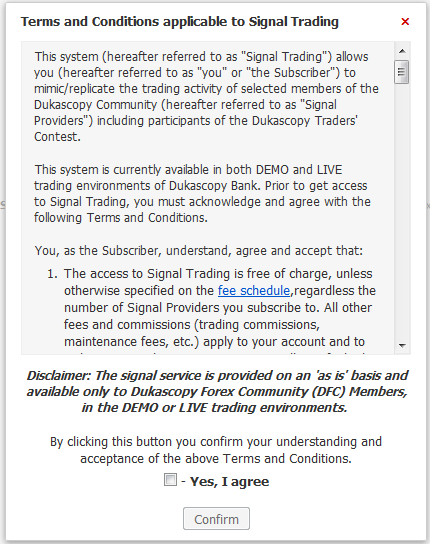 You can subscribe to as many signals as you wish.
Settings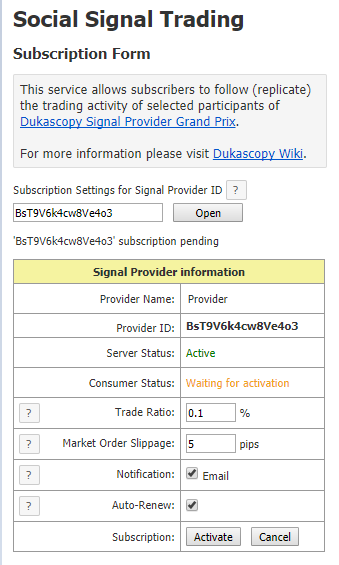 Default settings for trading Amount and Slippage for market orders can be changed at any time.
Trade Ratio determines the proportion of each Signal Provider(s) order to be copied on your account. This ratio is expressed in percentage. Trade Ratio is the key setting which defines the risk level for Signal trading.
The Trading amount is converted by the set ratio of the default Trading amount on subscriber's Platform. The Default trading amount for all Signal Providers is 100,000 in primary currency. This means that if subscriber's trading amount is set to 1%, then for each 100,000 traded by Signal Provider, subscriber will be trading 1,000 in the primary currency.
As an Example: when the Provider makes a trade for 250,000.00 EUR/USD, the subscriber will receive trading signal for 2,500.00 EUR/USD.
Market order slippage setting applies only to Market entry orders initiated by Signal Provider(s), and provides possibility to set the maximum price difference in pips from the execution price(s) obtained by Signal Provider(s).
Subscription status notifications are sent to your registered e-mail address when the Subscription is activated, Subscription is updated and Subscription is cancelled or suspended.
Auto-Renew: Automated "re-subscribe" option enables subscription to be automatically renewed as soon as selected Signal Provider registers for the next contest period keeping all previous settings of the subscription. This feature makes sure that none of the signals from subscribed provider will be lost during the contest monthly transition period
After you have input your settings, click on ACTIVATE button to validate your choices.
Settings Confirmation step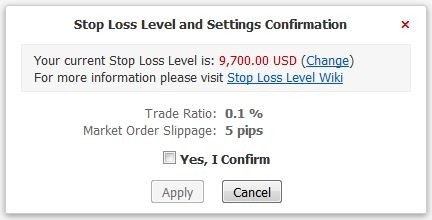 LIVE Account subscribers will be required to set-up their Account Equity Stop-Loss level and confirm the Subscription settings.
Equity Stop Loss: Traders and clients have the ability to set a stop trading feature based on the level of equity rather than the amount of loss. They define an absolute level of equity from or under which they want the account to be stopped, and their exposures closed. The equity stop is in the account base currency, and acts as a trigger should the equity reaches, or goes under the value of the equity stop. Upon trigger, any exposure is closed at the market and the account is blocked, preventing any further trading until further client notice.
After successful settings confirmation your subscription to the Signal provider will be immediately activated, and your account will start trading activity based on the received Trading signals.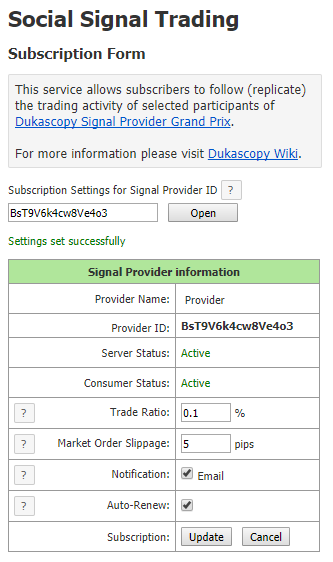 Unsubscribe
Simply click on the CANCEL button for the flow you want to abandon, and press OK in the confirmation window.
As soon as you unsubscribe from a trading signal, all positions initiated while you where following this particular signal will be immediately closed at current market prices!