Hello,
I have few orders (i noticed 8) incorrectly handled by JForex3 platform.
Here is how one of them looks like in UI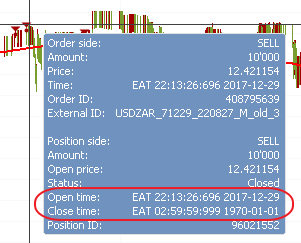 - order is "Closed", but "Close Time" is 1970
- when exporting orders using [
this strategy
] (this is the way i've noticed that problem)
- .... there is
no
information about filled 'close' orders for that position
- .... it shows - overwhelming profit (i'd love that to be truth

)
    pos#:        96021552 CLOSED
    Action:       <SELL> USD/ZAR
    Created:      2017-12-29 22:08:27.361
    Amount:       10 000
    Profit$:      9985.03 $
    Profit.:      124211.5 pips
This is how that position appears on WEB UI

- - -
How this can be fixed? Client-side order tracking gets really crapped because of that problem.