Canadian Dollar has shown a strength on account of Rising inflation and constancy in GDP growth. Bank of Canada might think about rate hike if inflation continues to rise. But on the other side HKD has strenghtened more than CAD so CAD/HKD is in downtrend.
TECHNICAL TOOLS: BOLLINGER BANDS, ICHIMOKU CLOUD, TVS, RSI.
CHARTS: WEEKLY AND MONTHLY
BOLLINGER BANDS: CAD/HKD is in downtrend after it has reached its upper levels.
ICHIMOKU CLOUD: CAD/HKD is in downtrend.
RSI: It is falling from higher levels.
TVS: Volumes in negative.
WEEKLY CHART: It is falling from upper levels after touching trend line of resistance.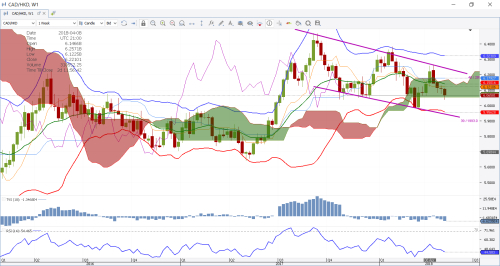 MONTHLY CHART: It is in sideways trend.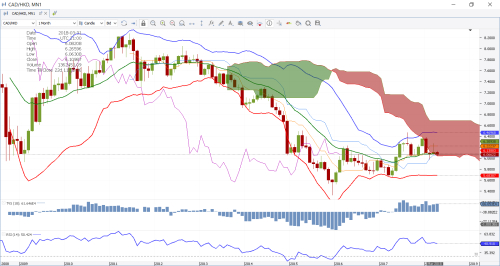 I expect a further fall in CAD/HKD till its next support and from there it can see some correction.