Looking at the monthly and weekly chart of NZD/CHF you can see that the price is currently at the previous demand area back in 12.2009 and 09.2010, which turned into area of supply in 04.2011, then back into area of demand in 11.2011 and 02.2014 and then back into area of supply in 03.2015. It seems like market is testing this area again.
There is a double top on the daily, showing the bullish momentum is running out of steam, as well as, the high test bar on a week starting 04.09 with the next week's bar taking the low of the bar signalling the reversal is likely.On the 4 hours chart you can see that stochastic indicator (14,3,3) is in the overbought zone with the average crossing, as well as, the hidden bearish divergence. The slow stochastic indicator on 1 hour chart (21,9,9) shows that the pair has been in the overbought zone for a while with the average crossing signalling the move to the downside is soon likely to happen.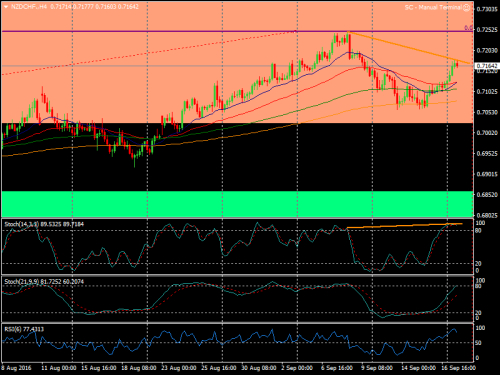 I think that on the 1st of November the price for the pair should be ranging around the Fibonacci level of 0.5 at the price of 0.63928.