Cable looks like it's setting up for a break downward. The pair is no longer in an uptrend. The trendline supporting the latest rally has been broken in July. We're also no longer seeing a sequence of higher highs and higher lows.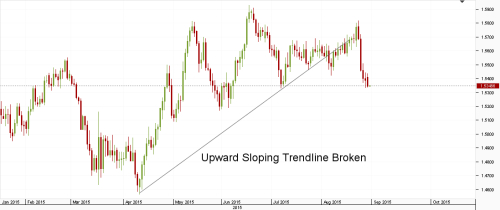 During July and August we've been in somewhat of a holding pattern. The GBP/USD bounced between 1.53 and 1.58. This is a relatively tight range, especially when compared to the other majors like the EUR/USD and USD/JPY, both of which saw over 700 pips swings during the same timeframe.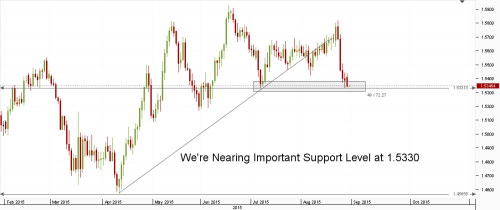 We are currently nearing the important swing low at 1.5330. A break below here may jump-start a new downtrend for GBP/USD. But where will the down move take us? I'm gunning for the area near the 1.4565 swing low. Tight ranges are followed by strong trends so we should see at least a 500 pips move in the Pound. Hence why I'm placing my target at 1.4720.