Technical tools: simple moving averages (30, 100 and 200) and the relative strength index.
Aussie's downtrend triggered by November's US elections is being reversed during this first month of 2017. The next 4-hours chart shows AUD/USD making a U-turn with SMA's well balanced for a possible extension of this current upside strength.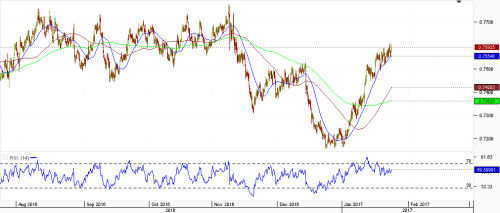 Australia's CPI rose 1.3% year-over-year in the 3Q 16 amid higher commodity prices. The forecast of 1.6% for the 4Q 16 also on a yearly basis is set to be confirmed and updated later today, on January the 24th. This will possibly provide conditions for the Reserve Bank of Australia to stand pat in the following meeting, compelling the currency to claim more gains.
Daily SMA's are well entrenched, as shown in the next daily chart. The switches that occurred during the past two months have not yet ran its full track for a clear signal condition. Although the daily RSI is sneakily approaching the 70 mark. It may sustain its momentum during the following weeks, with the currency searching its path till the 0.77 area.
It seems that the pair is mirroring some of the moves recorded last year. But this time, gains are being accomplished in a shorter time period. After some gains the currency shall slump with the same pace as it has jumped.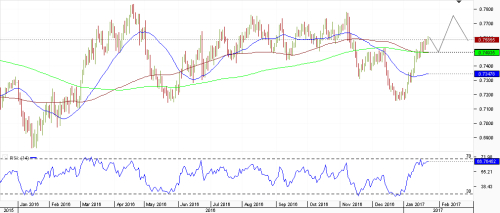 For all these factors, my expected target for the 1st of March, 12:00 GMT: 0.7575.