CHART SCALE: Weekly
INDICATORS: Parabolic Sar, Money Flow Index, Linear Regression Slope
RESISTANCE LEVELS: 1.031
SUPPORT LEVELS : 0.97
PAIR ANALYSIS :
The USD/CHF currency pair pattern is in a trendless behavior as indicated in fig 2. The figure can suggest a possibility of a retracement considering the support line (Fig 1) and the key area at 0.97. The Linear Regression Slope at -0.002, the Parabolic Sar support the trendless tendency. In consideration of the support line there is the possibility of a slightly bullish opportunity. The possible decision of a new interest rate decision with a +0.25% could suggest the bullish domination but the BNS could support the CHF depreciation.
A bearish crossing of the key level price at 0.97 can facilitate a bearish domination.
A bullish crossing of the 1.031 level could facilitate a bullish monopoly.It can be evaluated a forecast level price at 0.99332.
FIGURE 1 shows the trendlines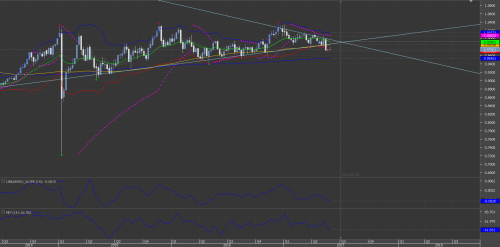 FIGURE 2 indicates the tendency