CHART SCALE: Weekly
INDICATORS: Parabolic Sar, Money Flow Index, Linear Regression Slope
SUPPORT LEVELS : 15.1067
RESISTANCE LEVELS: 14.087
PAIR ANALYSIS :
The HKD/JPY currency pair pattern is in a slightly bearish pattern but it could be possible that it can be dominated by a trendless parallel channel considering the two keys level price at 14.997 and 13.1697. The Linear Regression Slope at -0.02, the MFI and the Parabolic Sar can support the validity of the trendless tendency. A bullish passage at 15.1067 can validate a bullish behavior. A bearish crossing at 14.087 it facilitate the bearish monopoly. The JPY speculation could suggest also some take profit for the fiscal Japanese conditions, so it is possible a secondary bullish retracement around the support line. Also the Low Bollinger Band could be utilized as possible buy.
It could be opened a buy position with TP at 14.291 m
It can be formulated a forecast level price at 14.35168.
FIGURE 1 shows the trendline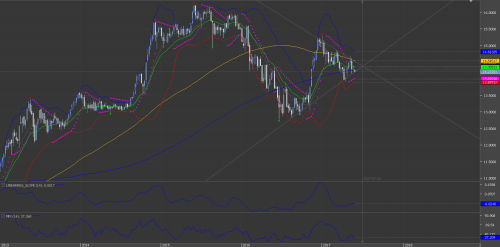 FIGURE 2 indicates the tendency