CHART SCALE: Weekly
INDICATORS: Parabolic Sar, Money Flow Index, Linear Regression Slope
RESISTANCE LEVELS: 1.56829
SUPPORT LEVELS : 1.36992
PAIR ANALYSIS :
The EUR/CAD pair is in a slightly bearish behavior after the retracement the resistance zone as indicated in fig 2.
The Linear Regression Slope at 0.003, the MFI and the configuration of the Parabolic Sar seem to support the bearish tendency.
The chart analysis also seems to suggest the possibility of a secondary bullish and bearish retracements at the support line and at the resistance zone. This area can be considered as a possible trendless objective 1.51087.
The recovery of the CAD economy in consideration of the commodity rally forecast can suggest the slightly bullish objective. In this context can be a key level price the secondary resistance zone around the 1.46131 level.A bearish crossing at 1.36997 can validate a significant bearish domination. A bullish crossing at 1.5683 can facilitate the buy leading.
It can be evaluated a forecast level price at 1.54908.
Good trading to the Dukascopy Community.
FIGURE 1 shows the trendlines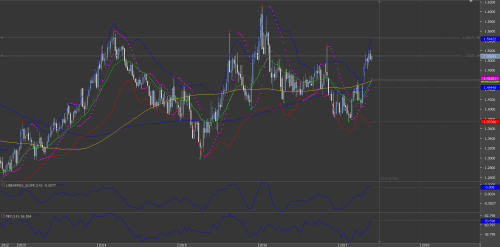 FIGURE 2 indicates the tendency