CHART1 TimeFrame: Weekly
INDICATORS: Time Marker, MACD(12,26,9), BBAND(25,2,2,SMA), SMA10(Blue), SMA60(Magenta), SMA120(Blue), SMA250(Golden)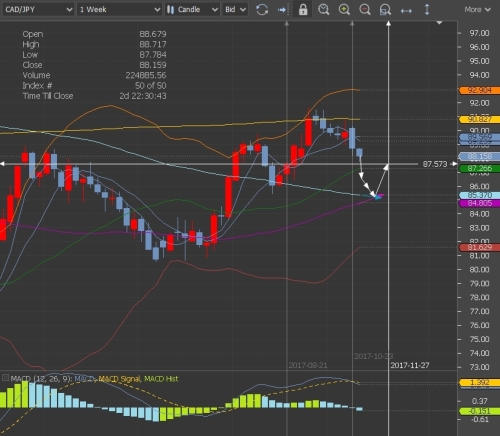 In weekly chart, 2 facts are obvious:
1.1) SMA60/120/250 are in mixed arrangement, but SMA60 is rising and it may cross up SMA120 soon.
1.2) MACD DIF has crossed down DEA, it may drop continuously is above 0-Axis but it is still weak.
My predictions from Weekly chart are:
1.3) After it reaches middle rail of channel, it may rebound in daily level, but it may continue drop to SMA120/60 for support.
1.4) It may drop 3 weeks and then rise for 2 weeks. I use candle at 2017-08-21 for estimating target price.
1.5) Target price = (87.573*110 + 86.887*10)/120 = 87.516
CHART2 TimeFrame: Daily
INDICATORS: Time Marker, Price Marker, MACD(12,26,9), BBAND(25,2,2,SMA), SMA10(Blue), SMA60(Magenta), SMA120(Blue), SMA250(Golden), SMA300(Magenta, 2 pixels), SMA600(Blue, 2 Pixels)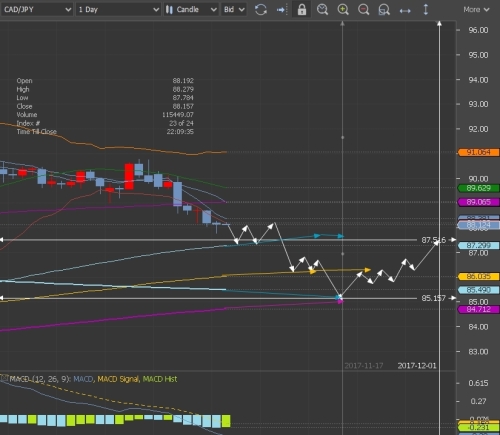 In Daily chart, the estimated trail is drawn in white arrows. The key price is marked, and possible retracements are also drawn.
The next chart (below) is for easy reference to latest bid price: