AUSTRALIA
Australia Trade Surplus Widens 2,646% MoM In May 2017.

Australia's trade surplus widened 2646 percent to AUD 2471 billion in May of 2017 from a downwardly revised AUD 0.09 billion in April.

Australia Holds Cash Rate Steady At 1.5% In July

The Reserve Bank of Australia left the cash rate unchanged at a record low of 1.5 percent during the meeting held on July 4th 2017.

Australia Jobless Rate Down To 51-Month Low Of 5.5%

Australia's seasonally adjusted unemployment rate unexpectedly fell to 5.5 percent in May of 2017 from 5.7 percent in April 2017.

UNITED STATES:
US Manufacturing Growth Slows To 9-Month Low: Markit

The seasonally adjusted IHS Markit final US Manufacturing PMI came in at 52 in June 2017.

US Factory Activity Growth At Near 3-Year High: ISM

The Institute for Supply Management's Manufacturing PMI in the US rose to 57.8 in June 2017 from 54.9 in May 2017.

Fed Ready To Reduce Its Balance Sheet Soon

The Federal Reserve is ready to start reducing its USD 4.5 trillion asset portfolio within a couple of months

and the effect of such normalization on financial markets is expected to be limited, minutes from last FOMC meeting showed.
TECHNICAL ANALYSIS: AUD/USD is in uptrend on weekly chart and on monthly chart its next resistance stands at 0.81523..
TECHNICAL INDICATORS: ALLIGATOR, DMI, AC.
WEEKLY CHART: AUD/USD is in uptrend on weekly chart.
ALLIGATOR is awakening.

ADX rising.

DMI+ and DMI- are in buy trend.
AC is in negative zone, columns are red.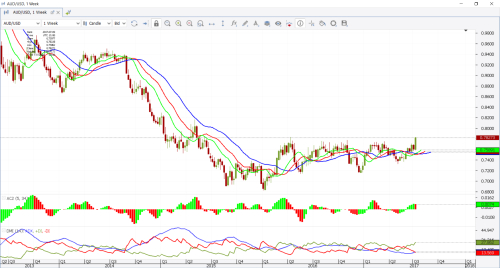 MONTHLY CHART: It is in uptrend.
ALLIGATOR is sleeping.

ADX is falling.

DMI+ and DMI- are sell trend moving towards each other and may cross in buy mode.
AC is in positive zone columns are red.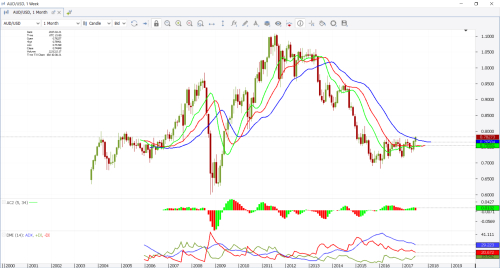 Price action suggests more growth in AUD/USD and also it is supported by fundamental factors. Technical indicators suggests some correction and after it will reach its resistance so my target is at 0.79526.