Australian economy is doing good but just released economic data is little below market expectations. On the other side Bank of Canada unexpectedly rose it rate hike in 6th September 2017 meeting as economy is doing exceptionally well. Last quarter GDP growth was 4 %. Inflation is rising up as retail sales rising. So I expect AUD/CAD will touch its lower support and from there some retracement will be seen so my target is 0.99262.
Technical Analysis: AUD/CAD is in downtrend on monthly and on weekly chart.
Tools Used: Ichimoku Cloud, Fibonacci Retracement.
Charts: Weekly and Monthly Chart.
Weekly chart: It is near its previous support.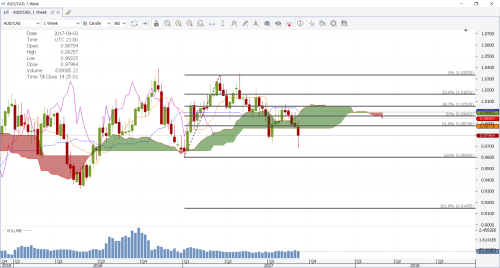 Monthly chart: