The Australian economy is continuing its transition following the end of the mining investment boom, expanding by around 2½ per cent in 2016. Exports have risen strongly and non-mining business investment has risen over the past year. Most measures of business and consumer confidence are at, or above, average. Consumption growth was stronger towards the end of the year, although growth in household income remains low.
Weekly Chart
Bollinger Bands: The Bollinger band width is suggesting the AUS.IDX/AUD will remain sideways for couple of weeks after showing a strong rally from 4700 to 5800.
Fibonacci Retracement: If there is a correction we can look to enter into buy positions around the levels of 5650 which is also 23.6 % Fibonacci retreacement.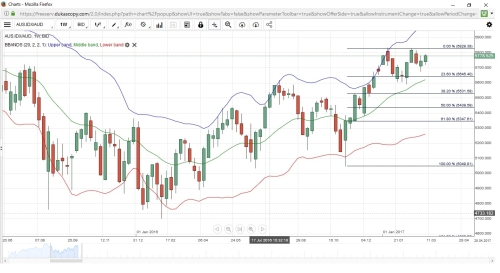 Daily Charts
EMA: The EMA 10 and EMA 20 crossovers are also suggesting a sideways trend with a upward bias.
Trendlines: It will be crucial for the AUS.IDX/AUD price to break above the overhead trendlinefor a sustained move on the upside.