SGD/JPY has lifetime high around 92.80. After that it went into downtrend, There was double top formation around 72.400. After that it started uptrend. Now after correction last week it is rising again. Its next resistance is around 85.00. I expect it will touch that.
TECHNICAL INDICATORS: STOCHASTIC MOMENTUM INDICATOR, TREND LINES, FIBONACCI RETRACEMENTS.
CHARTS: WEEKLY AND MONTHLY CHART
WEEKLY CHART: Its next resistance is at 85.00. Support levels are around 80.100.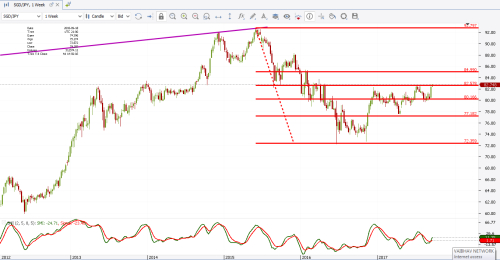 MONTHLY CHART: