Recently published economic data of Australia is showing good economic growth but Reserve Bank oF Australia maintaining a cautious look but if dta shows strong growth obviously they will need to hike interest rates. Bank Of Canada unexpectedly rose interate rate in September meeting.So AUD/CAD is in downtrend. As it is reaching its next support I expect a retracement from that level.
TECHNICAL ANALYSIS: AUD/CAD is downtrend on weekly and monthly chart.
TOOLS USED: BOLLINGER BAND, COMMODITY CHANNEL INDEX CCI, MACD, FIBONACCI RETRACEMENT.
CHARTS: WEEKLY AND MONTHLY
WEEKLY CHART:
AUD/CAD is at lower level of Bollinger band.

MACD is converged.
CCI is falling.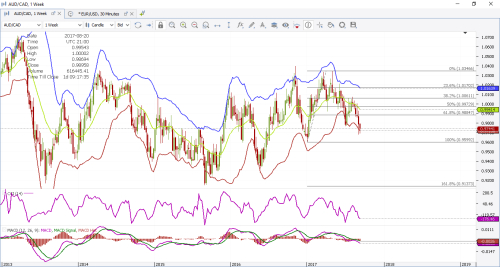 MONTHLY CHART:
USD/JPY is below the middle level of Bollinger Band.
MACD is in SELL mode.
CCI is falling.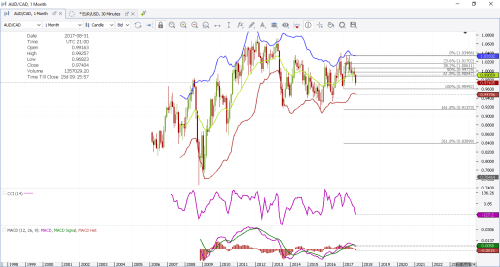 Technical indicators suggest there may be some retracement in AUD/CAD.