Since the beginning of the year, the New Zealand Dollar has rallied 4.25% against the Canadian Dollar in a steady upwards channel, the majority of this analysis is centred partly around this rise, and how it may be coming to an end. With the NZD/CAD trading at 0.8570 when writing this, it represents an almost 10% rally since the last major swing low on the 4th of September.
I believe that in the short term the exchange rate is partially overvalued and when looking at the 1st chart below I will show you why I believe this.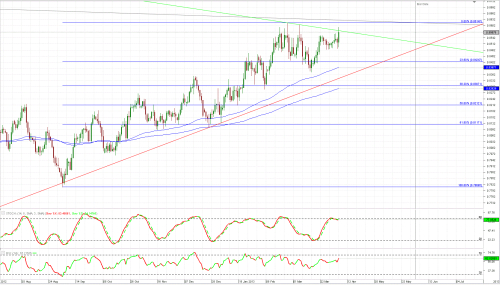 This chart depicts the daily exchange rate for the past 9 months or so, and from this chart you can see that the slow stochastics are overbought, and while not fully crossing over, every time it has been in this zone the pair has fallen 150-200 pips. Price has also reacted to the Green trendline and price closed below that level to end the week.
the 100 DMA and 200DMA are 170 to 270 pips below respectively and I believe the FX rate could fall to this level.
This final chart is the 4 hour chart showing more of the price action, support and resistance levels.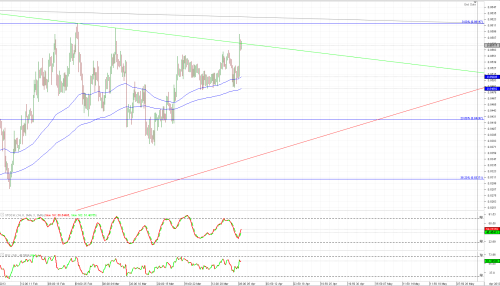 This chart is more forward looking and you can just about see the vertical end date on the far right. I expect to see the NZDCAD fall towards the 23.6% Fibonacci level at 0.8425, however around that level there is a red support line which will act as support for the medium term.
However all things considered here is the list of Resistance and Support;
R2 - 0.8615 - Previous high
R1 - 0.8575 - Trendline
S1 - 0.8425 - 23.6% Fib level
S2 - 0.8400 - 100DMA + psychological level.
S3 - 0.8310 - 38.2% Fib level
Considering all these levels, I have a price target of 0.8375 for the beginning of June 2013