You will often hear the maxim "Don't be married to your positions". In simple terms, sometimes you are going to choose the wrong direction. That doesn't mean that you have to be unprofitable. What it means is that you have to be willing to admit you are wrong!
My trading in the competition for the first 4 days has been an example of just such trading. I have been of the opinion that the EURUSD was going to fall to the 1.3150 area. It hasn't, yet, but I haven't been unprofitable either. Take a look at my trading log
here
.
You will see several posts where I state that I am looking for the pair to fall. However, you will also notice that on several occasions I question the tenor of a trade and the direction I need to trade. In the following chart you can see the last two trades I took.
Even though I am trying to ride the price action lower, I was willing to accept that I may be wrong in the short term. The long term doesn't matter, because many things change in the long term, and I may change where I think the pair is headed. There is no magic formula, but a willingness to accept that you may be wrong is a healthy thing to have.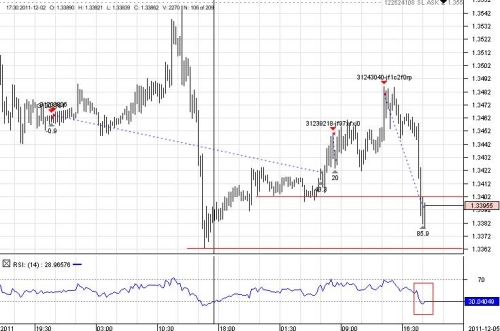 I use the following plan to move my positions along as price action supports or nullifies my trading scheme.
Use longer term charts and fundamentals to form a generalized idea about the direction you want to trade, one where you think the pair is headed. I like to look at 1 day and 1 hour charts for this. I'll also consider retail positioning at this point but only if it is deeply entrenched.
Then I move to the lower charts, generally 15 minute and 5 minute charts. Here I identify areas of support and resistance that are also validated by OB/OS RSI, long wicks on candles, specific candle formations, and custom indicators.
I then decide if I am going to be trading reversals or breakouts. I prefer reversal trading because if you are wrong, you are entering the trade at the breakout. I would rather be wrong at a break out, I find them easier to to get out of. (just personal preference)
Lastly I look at retail positioning, and indicators to support the trade I am looking at getting into. You wouldn't want to take a short position if the 5 min RSI is very low, waiting for even a little bounce can add 10-15 points to a trade.

The first trade above was a breakout trade and I had to ride that pullback before I was seriously profitable. The second trade was a reversal trade at the 76% fib line of the big move down immediately to the left of my entry. I even commented when I took profit on the first trade that price was headed higher.

It just happened that 1.3480 was spot on, and it doesn't always work out like that. After all, the pain on the first trade would have been significant had the pair gone to my stop on NFP volatility.