Maadesvaraa_dayabaradenu
posted an article : 3 May
There are plenty of websites publishing and forums discussing
about forecast on currency pair's possible moves. Though some of them make
deliberate method to explain reasons for current situation and possible
reaction for upcoming events but most of them put very complicated, colorful diagrams,
trendlines, moving averages etc. which appears to be sophisticated analysis for
new comers. By which they will try to attract many visitors to their web page
that gives them benefit of revenue generation by advertisements. To name a few
of the websites are Actionforex, Forexmillion, Forexcycle, Forexstreet, etc.
and still many. The only intention of these website is to attract maximum users
and from where the traffic is coming from.
Inexperienced traders who are having less than 2 years of experience,
in the beginning of their career they will try to find what others are talking
about the currency pairs and economic events. They will always keep a watch on those
above mentioned websites. After reading those analysis and predictions they
will have something in their mind it can be some target numbers for e.g. some
predictor says Eurusd will reach so and so levels after the economic events and
similarly others will give their own opinions.
I am very much sure after reading those predictions. Somewhere
in your brain some numbers will get embraced or printed. Which will often comes
and goes, it will interrupt, confuse or may give you overconfidence decision
making ideas, and you will probably think that price will not break that
particular level (that is actually opinion of an analyst). All these thoughts come
to your mind while trading is going on.
I will show with some real examples how traders are expressing
their frustrations and what reactions they are getting. I believe similar
experience might be happening to lot of new traders.
Real example-1


Real example-2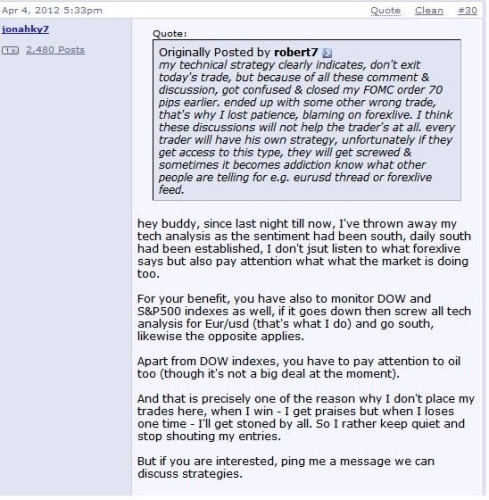 Real example-3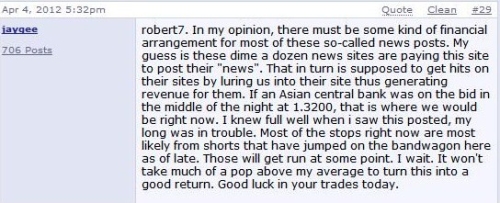 Do not you think it is some kind of psychological issue? I definitely
think it is simply a psychological issue which will tend to make flawed
decision even though your own technical and fundamental analysis is perfect. The
reasons for the belief may be you believe those websites are perfect, you think
that they are best in the industry, or sometimes their predictions match the
market scenario but not always.
Not just that traders visit only the websites but also the traders
will be hanging out in forums which meant for discussing Eurusd, Gbpusd pairs
etc. I have seen many such discussion forums that are utterly nonsense
discussion will be happening, few traders will be distracting many other
serious traders in the forum, some fellow shares he made 1000pips in 2 days,
someone will predict eurusd will move 200pips in next London session, all these
are completely senseless comments, many new traders take that comments into
considerations and they will get spoil their day. You will completely go out of
focus in your trade. Sometimes it becomes addiction to visit analyst websites
and forums which will take few weeks time and effort to get rid of it.
Things you should keep in mind that websites and forums are
there to publish very general information and they are just there because they
make money by advertisements on their website. Therefore never trust such
analysis or prediction. You cannot take
that into your mind. I suggest never read
it at all, if you read it once also it is still a problem as I said it is a psychological
phenomenon that Works through in your subconscious mind and affects your
decision making.
Now the question is what reading habits traders should
develop and ignore? I definitely think you should develop habit of reading
where the exact macroeconomic events and news are published. You should be updated
when and what will happen in the coming weeks, the exact timings according to
your country time. There are paid services for keeping track of macroeconomic
events and news. You may become member of it. The one I know is talking-Forex
and other is Bloomberg many might know it but costly.
In conclusion I do not say all websites are making irresponsible
analysis and prediction for e.g. a news analysis post in your broker's website
will be benefits to read, your broker might have hired a best qualified analyst
to write it. Similarly analysis published in top bank's websites will be
useful. Finally you will have to make your own judgment after you visit the
website and forums about its credibility of contents and discussions.