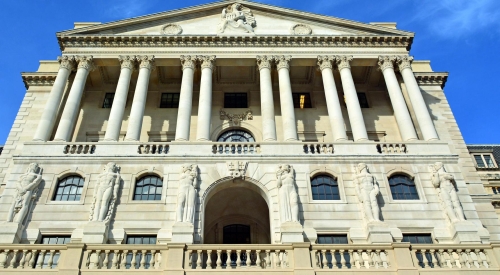 1.0 Introduction
GBP has depreciated in the 7 months up to February substantially. This was most conspicuous on the GBP/JPY pair which
was down by over 20% and GBP/USD pair which has dropped by over 12% and reached a 7 year low at 1.3835. Afterwards
the GBP has bounced back up to around 161 and 1.44 and is currently trading at around 159 and 1.41 respectively.
The two main factors determining it's further trend direction for the upcoming months will be the potential Bank of England's interest rate decision as well as the referendum taking place on June 23rd and being decisive on whether United Kingdom will stay or leave the EU.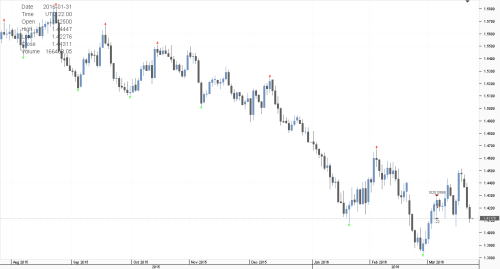 1.1 EU Referendum
The Fitch Ratings agency has issued a report stating that Brexit would "drive short-term disruption and long-term risks" and that the "precise impact would be highly uncertain".The referendum factor is solely political and unpredictable, although BoE Governor Mark Carney has reassured that additional liquidity will be provided to the banking sector before and after the referendum in order to avoid any potential insolvency problems. However, as the campaign unveils we will probably see many turnarounds in polls and predictions and this will inevitably influence GBP exchange rates. However, it's worth noting the words of Governor Mark Carney who said that "the risks linked to a British exit from the European Union had created a 'referendum premium' in sterling".
1.2 Interest Rate Decision
The second factor concerned with interest rates seems more predictable as it is dependent on the state of the British economy with inflation at the forefront. However, as in the last couple of months everyone was trying to guess when will the first interest rate hike take place (after 7 years being at 0.5%) to everyone's awe last meeting of the Monetary Policy Committee (MPC) on February 23rd has brought new light into the matter as it has issued a statement that a cut in interest rates is not out of the question. This comes as a big surprise as interest rates have been at record low of 0.5% since 2009 (in aftermath to the financial crisis) and rather a movement the other direction was anticipated. At this meeting Governor Mark Carney has made it clear that there is still room for further monetary policy easing in case the global slowdown would impact the British economy. Thus, instead of seeing an interest rate rise we may actually see 'cutting interest rates towards zero' if economic conditions deteriorate. He said that growth and inflation had slowed in an 'unforgiving global economy' what makes countries vulnerable to shocks. However, apart from adjusting interest rates other facilities may be in use, such as increasing the asset purchasing program from the current 375B pounds or extending the time frame for inflation to reach the target of 2%. These other facilities may be put in place beforehand and an interest rate cut seems rather a last resort as it has also been mentioned that if interest rates were to go into negative territory it could actually hinder the recovery of the economy. However, even thought the option of a rate cut may be taken into consideration and is not as farfetched as still a couple of months ago, Mr Carney made it clear that at the moment due to steady domestic growth and low unemployment a rate hike is still more probable than a rate cut.
2.1 Inflation
UK's economy seems to be on a steady growth path with GDP around 2% YoY. The still low interest rates are expected to boost borrowing and thus, increase consumption and investment fostering economic growth and have done quite a good job so far except for getting inflation on the right path of the target of 2% annual growth. CPI on YoY basis has ticked back up from negative territory in November to 0.1% and edged up by one tenth percentage point in subsequent months to reach 0.3% in January. But the clue to the potential rate hike may be on the labour market as Governor Mark Carney has made it clear in his previous statements that an increase in wage growth is a prerequisite for any potential rate hike.
2.2 Labour Market
The labour market is doing unbelievably well. Employment has seen strong growth and has reached a record level of 31.8 million people employed what brought employment rate up to 74%. Estimates show that 588K jobs were created in the past year and there are currently 750K job vacancies. The unemployment rate has dropped to 5.1%, lowest level in over a decade.
Latest forecast from The Chartered Institue of Personnel and Development sees wage growth to stay at merely 2% throughout 2016, much below the previous BoE forecast of 3.5%.
So why is wage growth so important? Increase in employment was not enough to impact inflation. Consumption was staggering for a long time even though employment was increasing. Therefore it seems that a rise in wages would finally boost consumption and allow inflation to rise. And only when the BoE sees potential higher levels of inflation on the horizon will there be an interest rate rise taken into account.
2.2.1 Reasons Behind This Anomaly
There is not one clear answer. As to why increased employment is not pushing wage growth upwards. Many forces are at play.
First off are the immigrants to blame. Usually they take up the lower paid jobs, so on one hand they fill in the demand for work and allow the British economy to foster without suffering from any workforce shortages, but on the other hand this doesn't allow for the wages to grow that much as the supply side is abundant.
Secondly, a possible factor is that employees do not change jobs that much. Change in employment is often accompanied by higher remuneration. Lower turnover on the labour market means less people are getting a pay rise.
Thirdly, many older employees postpone their retirement and choose to work longer for various reasons, such as increasing their pension or better health. This has actually been an important factor in the years 2012-2014 when it has suppressed wage growth below BoE forecasts.
Another factor is that some sectors have seen massive redundancies, such as the steel industry. This means that many highly skilled workers with high wages were laid off. This huge loss of jobs has been offset by the creation of jobs in other sectors. However, the new jobs are usually with much lower wages than the ones that are being replaced. One might argue, however, that after all there are other highly specialized jobs created as well, like in IT sector. But it may not be the case as the lack of replacements would also explain the slow rise in productivity.
BoE enumerates one more factor which has contributed to slow wage growth, that is weak headline inflation. "Real wages- wage inflation minus headline inflation- have risen owing to the weakness in the latter, raising disposable incomes but creating less of a reason for workers to demand pay rise."
"Mr Carney also posited that the non-accelerating inflation rate of unemployment- the level of unemployment below which inflation rises- has fallen because of labour market reforms and changes in the nature of work." This might actually be one of the main factors. A recent survey has shown that ironically one of the main reasons behind the low wage growth may be the rise in minimum wage last October. Due to this some employers in order to adapt to higher costs in some departments had to choose between either laying off staff or limiting pay increases in other departments, with the latter being more widespread. This rise in employment costs might actually be unexpectedly one of the key factors to the weaker wage growth. Additionally employment costs for employers have risen due to implementation of the auto-enrollment of workers into the company pension scheme.
3.0 Conclusions
This article aims to give insight into the main factors which in my opinion will have decisive impact on the GBP currency exchange rate in the upcoming months. By analyzing these two factors thoroughly each of us can make an appropriate decision to what position and when to open. In my opinion GBP will depreciate and the GBP/USD pair will fall back well below 1.40 level.