Intent
I have had the pleasure of training several traders over the course of 2 years. I have noticed first-hand the frailties of replicating my trading style on others. Instead of sharing my diverse trading strategies, I would like to set up a consistent weekly blog that presents a view (my view) on various FX pairs.
My hope is that some of you will benefit from this - whether it reinforces your thoughts/trades or presents you with an alternative precautionary view. As I hope to do this weekly, I would relish any constructive criticism and thoughts which I can address or incorporate into my future posts.
Happy reading!
Kick-off

There are broadly two clusters of trading styles - break-out trading and range trading. The emphasis of my blog posts will
be on range trading strategies. I find range trading elegant; it has
pre-set take profit levels and stop loss levels.
As the slide below illustrates, the key ingredients of range trading involved three steps:
1. Identify ranges
2. Rank these ranges in a specific order
3. Apply simulation and scenario analysis to identify risk/reward ratios
To set the scene, the following analysis has identified ranges in trading days - day, weekly and monthly. My preference order is that the monthly trend is the dominant range followed by weekly and then lastly, the daily. It is worth noting that dominant ranges are usually the lagging indicator but when a special condition is met (as shown below), trading between these ranges can be quite predictable.

























Macro theme: USDX weakness


The US Dollar Index is showing continued signs of weakness; not helped by the decision against QE tapering. As shown by the chart below, the US Dollar Index is failing to hold weekly support at 80.55. It is of significance that volatility divergence exposes a 7.8% decline; significant downside.
As the US Dollar Index is a geometric-weighted index of a basket of currency pairs (including the EUR and the GBP), it would not come as a surprise that the EUR/USD and the GBP/USD will broadly mirror the movement of this index.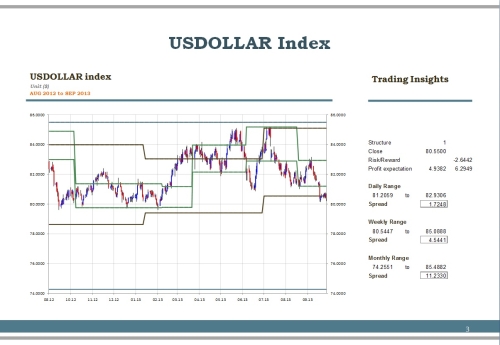 Trade Set-up: Long GBP/USD
Let me first start by saying the EUR/USD has a similar set-up but I have decided to cover the GBP/USD this time around. The chart below depicts the GBP/USD from Aug-12 to Sep-12. The chart depicts my favourite pattern where time and price volatility is heteroskedastic. In simple terms, this pattern has historically proven to be a good time to apply directional trading.
With a weekly resistance at 1.5760 and the GBP/USD currently trading at 1.6013, we have a very nice buy trade set-up.
Just to recap the trade set-up:
1. Long above 1.5760
2. Target Profit at 1.6783
3. Stop loss at 1.5386
I utilise several risk measures but for simplicity, a risk/reward ratio of 1.2289 is a good ratio (>1) and hence I am comfortable to make the following trade.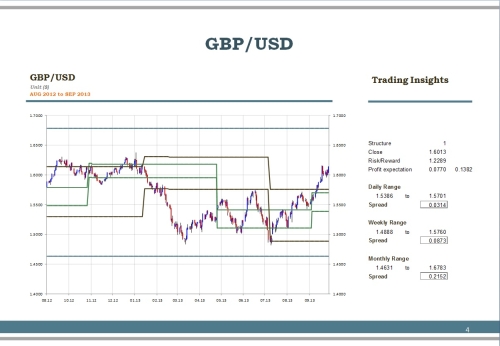 Conclusion
I am favouring long positions in the GBP/USD based firstly on the USDX weakness as well as the GBP/USD favourable risk/reward ratio.
Disclaimer: I have been long the GBP/USD, GBP/CAD and EUR/USD from the end of Aug-13 and remain long.