As everyone knows, the latest version of the Visual JForex (build 1.1.224) was launched last May 1. In this new version, several bugs have been fixed on Interface, Processor and Server Side. CDLDOJI pattern indicator was added to the Indicators Library.
So with this tool brand new, there is no better time to begin writing an article about the potential and somehow also a help to those who want to start but are still a bit lost. Even myself, I am a little used to this kind of tools I had some difficulty in building my first strategy. So in addition to all the help that is now available on DFC about Visual JForex, I will write a series of articles that may help overcome some difficulties that I also had.
_____________________________________________________________________________
Firstly what is Visual JForex, and it's for?

Visual JForex
is a
Drag and Drop
tool that allows all members of DFC, to create automatic trading strategies.
This tool has effective and intuitive GUI functionality. With is d
rag and drop technology,
most of the work is done with a couple of mouse clicks.
On this page you can see the main features of this tool:
http://www.dukascopy.com/swiss/english/forex/Visual/features/
_____________________________________________________________________________
After click in the link above, you will be redirected to the page shown in next image. Click on LAUNCH Visual JForex and the tool interface will appear in a new window. The first step is taken, we can view the tool and all its features and options.


image1 - Visual JForex Getting Started page
2 - Inside look of Visual JForex interface:
The Visual JForex environment was designed for those who do not know any programming language. This tool was made as a constructor, and uses drag and drop technology for easy building simple and complex strategies. You just need a simple click of a mouse to have in the workspace all the blocks and variables that you need to start your strategy. In the picture below you can see the three Visual JForex main areas. On the left we have the variables area. There are two categories of variables: user-defined variables and system variables. Systems variables are filled in by the system itself, so it is impossible to change their values. In the middle is the workspace, where the blocks are placed and all the connections made ​​between them so that the strategy works. On the right we have the blocks area, here we can choose between indicators, strategies and components.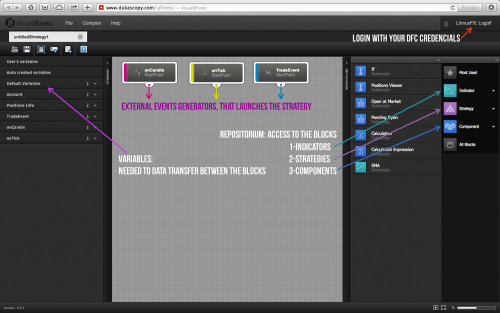 image2 - Visual Jforex Interface

3 - Visual JForex help
Now that you know how to start the tool and what are the main areas, my advice to anyone looking to build strategies with it, is to start by gathering all the available information about
Visual JForex
in the DFC. The main help can be found through the
Online Helper
and
Video Tutorials
.

image3 - Visual JForex Online Helper

4 - Building our first strategy in Visual JForex
After this small approach to what is Visual JForex, let's start by defining how we will develop our first strategy. Although, this tool use the drag and drop system, so you can more easily develop automated trading strategies, but we must not forget that the first step is planning our strategy. If you are thinking about opening the Visual JForex workspace without the strategy you want to implement well-structured, then the more certain is that you're going to fail. So, for our first strategy is successful, we will define forehand all the variables, blocks, cycles, components and indicators required. Only then is it possible to use this tool perfectly. If we start with "empty hands", only test, we will lose twice as long and in the end we will not have the expected result.
To begin, I propose the development of a simple strategy that uses the indicators RSI and Bollinger Bands. Our strategy will open a short position if the current price is above the upper band and RSI>70. On the other side will open a long position if the current price is below the lower band and RSI<30. Strategy will open only one order at a time with a TP and SL defined and will work in a 5 minute chart.

So, let's start by defining all the blocks that our first strategy will need. Thus we have:
Indicator Blocks - 2:


1 - Bollinger Bands
1 - RSI


Component Blocks - 8:



6 - Logical - IF statement

2 - Trading - order Open at Market

Like most of you, I also had my difficulties in building my first strategy, why and how in this article I will not be able to explain step by step the whole procedure, I leave here a picture of how the blocks are of our first strategy . In the next article I'll explain how to obtain the desired result.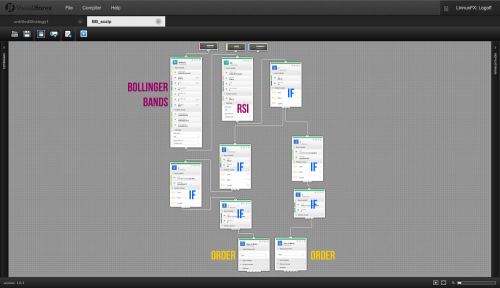 image4 - My first strategy in Visual JForex

FINAL WORDS:
I want to leave here an exercise until my next article:
As there is nothing better to learn than to practice. So, anyone interested can try my example of the first strategy and see if you can get a similar result, or conversely, get the same result but in a different way. It would be nice if you post here your questions and results, because there must be more than one way to do this simple strategy.
To conclude, with reference to my last article, I hope that with Visual JForex the Strategy Contest can begin to have new strategies with consistent earnings and to stop having so much "copy paste".

LM