Introduction
In this article USDCHF will be analyzed both fundamentally and technically and as known nothing is impossible in Forex so different scenarios will be drawn to express about the most probable scenarios with the USDCHF.
What is affected the move of USDCHF nowadays:
Fundamental analysis:
USDCHF is affected now by two different policies by both The
Swiss
National
Bank (SNB)
and United States Federal Reserve (FED) and also affected strongly by The
Swiss
National
Bank (SNB)
intervention in Forex market which strongly hit CHF, finally CHF and other currencies is affected due to strong growth in US in the last months which make US$ to be favored.
Different policies by SNB and FED:
SNB intervened in Forex market several times, every time, it said that it will intervene if necessary to avoid any strong gains for CHF against currencies especially against EUR.
In different, US FED has just raised interest rate for the first time from ten years, FED delayed its first rate hike more than once in order to prevent broad US$ gains which may dampen US growth, this time rate hike is very near but if something horrible hit markets again, more rate hike may be delayed more.
SNB negative interest rate:
SNB slashed interest rate below zero (negative) in order to weaken CHF especially against weak Euro, SNB tend to slash interest rate after failing strong gains of CHF especially after removing 1.2000 cap of EURCHF last year.
SNB intervened in Forex market different times before and after 1.2000 cap without announcing, but this can be seen from strong price action after clear support breaking to limit more CHF gains.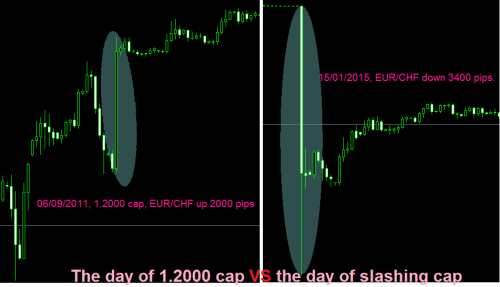 US growth still so strong in last quarter as it growth increase 3.7% in last quarter VS 0.6% quarter before, last US growth Q/Q were as follows (4.6%, 4.3%, 2.1%, 0.6% and 3.7%, 2% and 0.7% last quarter), US growth still moderate and accepted for FED.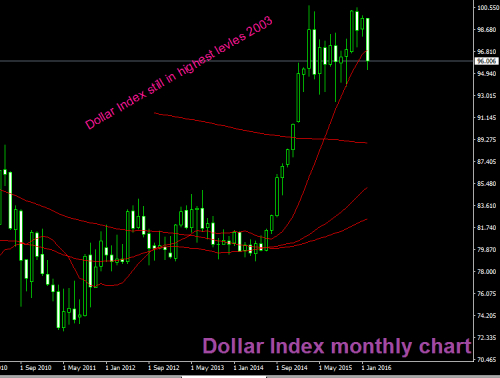 Technical analysis:
USDCHF still moving around 1.000 for the fifth month, pair still in range between 0.9600 and 1.0300, pair still unable to break through the range, in monthly chart, 0.9600 seemed as ultimate support for the pair in the midterm view, 0.9800 still supported the pair in the weekly, 1.000 still the critical area between bulls and bears, 1.0300 still the ultimate top till now as it the last high before SNB slashing 1.2000 cap last January,2015, pair may continue to play in the range if no critical events happened.

USDCHF will stay move in a range between 0.9600 and 1.0300 without any break up or down, this scenario may have probability 50%, USDCHF may continue in range if US FED is not able to raise rates more due to economic problems.
USDCHF will break higher 1.0300, this scenario may have probability 30%, pair may extend gains above 1.0300 especially if FED raises rates 2-4 times as expected initially.
USDCHF will break lower current range aiming 0.9200-0.9400, this scenario may have probability 20%, pair may drop below 0.9600 if FED revised view about future of interest rate or if improvement happen in EU economy as CHF is strongly correlated to Euro.
Conclusion:


USDCHF still affected by different SNB and FED policies which supported gains for USD against CHF, technically pair still expected to move higher to test 1.0300 again.