USD/JPY has been trading sideways for the most of February this year. In absence of immediate triggers there were not many reasons for the big moves in USD/JPY. So I thought it's best time to analyse the USD/JPY for the big moves ahed.
A look on Fundamentals.
In recent months the labor market has continued to strengthen as well as economic activity is expand at a moderate pace. Job gains have remained solid, and the unemployment rate is staying near its recent low. Household spending is rising moderately, while business fixed investment is on a bit softer side. Measures of consumer and business sentiment are also improving after a long time. Recent indicators of activity in the housing sector were generally positive. Starts and permits for single-family housing and sales of existing homes rose moderately in the fourth quarter, and real residential investment bounced back after two quarterly declines. The outlook for the business sector is improving. A number of national surveys of sentiment among corporate executives and small business owners as well as information from participants' District contacts is indicating a high level of optimism about the economic outlook. Many participants are indicating that their business contacts attributed the improvement in business sentiment to the expectation that firms would benefit from possible changes in federal spending, tax, and regulatory policies.
On inflationary front PCE inflation is moving closer to the Committee's 2 percent objective. The 12-month change in headline PCE prices increased further, to 1.6 percent in December, as the effects of the earlier declines in consumer energy prices waned. If we look at other measures of inflation, It is also providing the additional evidence that inflation is approaching the Committee's objective; for example, the 12-month changes in the headline and core CPI, the median CPI, and the trimmed mean PCE price index has also moved up from year-earlier levels.
A look on technicals.
USD/JPY has been trading choppy for most of the week ending today. It is trading in the range of 112.5 to 113.75 which is quite narrow and thus we can consider the current week as a week of extremely low volatility. The only significant movement was after the release of FOMC minutes of January 31-February 1 meeting when it slided down after relatively dovish outlook of FOMC paricipant members.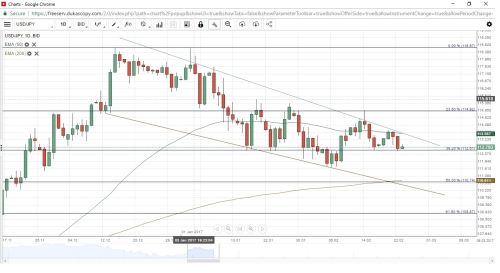 On Daily chart the price range of 112.5 has siginficance as it's also the 38.2 percent Fibonacci retracement of 'Trump rally' from the levels of 102 to 118.7. A clear break below will open the space for further down south till the levels of 109 which is also the 61.2 percent Fibonacci retrecemtnt of the 'Trump rally'. So I think it's better to wait for a significant technical development or else any new fundamental development to take place before we enter the trade.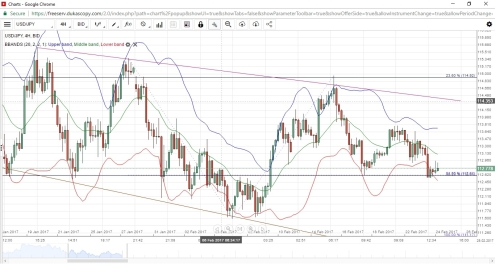 If we look at USD/JPY 4 hour ch arts we can see a lower high lower bottom formation which is also indicating a further break below. It won't be possible for the USD/JPY to resume uptrend unless it's able to close and hold convincingly above the levels of 114. Till then we can adopt the strategy of sell on rise.