There have been a problem on my first article so i decided to reload it. I have to link out my photos to be sure it can be viewed. Please right click on the links provided at the top of the image and open on a new tab.

So here is a snapshot of the strategy that we will use lets call it " THE TWIN ALLIGATOR STRATEGY" . Just to be catchy

Fig. 1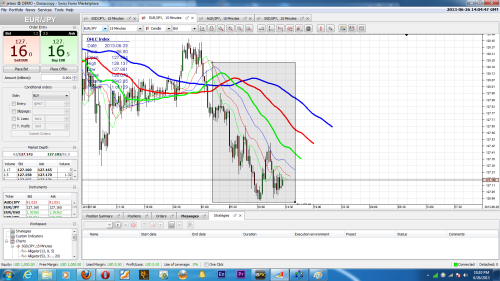 Perhaps this will be the first time this indicator will used in this way or plotted. Actually its a multi timeframe strategy. There are similar mtf alligator indicators but its is plotted on a different windows so it will be useless if used on this strategy .There is nothing magical about theses indicators. It just show us which way to trade. We will only use two alligator indicator ( by Bill Williams ). The thin alligator use default settings , the thick as we see one uses different settings. Its is the alligator in the 1 hour time frame recalculated to to fit the 15 min time frame. Ill be providing templates later.
Trading Tip # 1. Trade with the Trend.
Notice the highlighted area on fig. 1 . the thin alligator lines are far from each other. ( BW term is alligators mouths are open) and the thick alligators mouth is also open. Meaning that our trend is in bias with the trend on the 1 hour tf.
Look for sell setups if :
a.) the thin alligator is below the thick one and
b.) the alligator mouths are open.
Trading Tip # 2. Keep it simple.

Again please look at the hihlighted part of figure1 it really looks simple right. So well avoid "complicated market". So what does it look like? You might say it the bad part of the strategy. But for me its the beauty of it. Knowing when your strategy will not work on a certain market condition is an advantage. Any market is tradable but for this one this strategy surely will not work.
Lets call this situation "the death roll". You see when alligators had a bite of their prey they do the death-roll to kill it. And it surely it effective. So as the same in our gators most of the time after the trend they do this. And it will sure kill sure account in no time if u trade this kind market using this strategy.(original term of BW is the alligator is sleeping). Enough explanation! Lets just avoid this kind of market OK

Just don't trade if its complicated .
Trading Tip # 3. Be consistent.
Consistency requires planning. No one can be consistent without a plan. Here are some that must be included on your plan for this strategy.
1.Trading time : 00:00 GMT to 12:00 GMT only ( I live in the Philippines this is the best trading time for me) .This i s important. if someone want to be a daytrader he/she must backatest the strategy on his own chosen trading time not the whole 24 hours of forex market.

a. look for entries within this time period only.
b. ignore setups if outside of my chosen trading time.
2 . Chose 1 currency pair . It will be hard to analyze the strategy's performance if you move from pair to another. Yes it can be applied to other pairs. I have back tested this strategy on a eur/jpy pair for about 100 trading days.from 2013.02.24 to 2013.06.27 on 00:00 GMT to 12:00 GMT only and the results are:
71 wins
15 loss
3 max consecutive losses
no. of days without signal 36
note: this is on 1:1 r/r ratio. 1:2 r/r ratio provide much better results
Trading Tip # 4. Use a sound risk/reward ratio and money management.
Now this depends on your preferred risk appetite. Personally I like 1:2 risk/reward ratio you may use what appeals to you more depending on your personality. 1:1 , 1:3 etc.

Now about risk management.The most advice given is " never risk more than 2 % of your capital." Again this is not a general rule. But you have to decide before you start to trade a certain strategy, how much will you risk. Ask yourself. Can my equity handle the draw downs, and more importantly can I, you emotionally handle the draw down that a given strategy may give?
There are many position size calculators on the net. a serious trader surely have one.Im actualy using one built in to my trading platform as an indicator. unfortunately its not jforex. Ill share it here if im able to convert it to jforex indicator.
Back to my strategy. My preferred risk reward is 1:2. I will only risk 1% of my capital per trade. Lot sizes are pre-calculated and printed on paper for faster execution. These are my entries and exit. The example is for a sell setup. I learned this entry strategy from Mr, Navin Prithyani. There are also other entry signals to use like stochastic and macd.but for now well focus on this one.
Fig. 3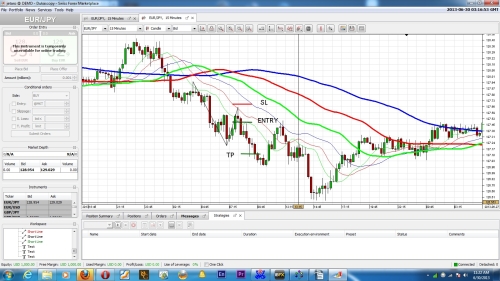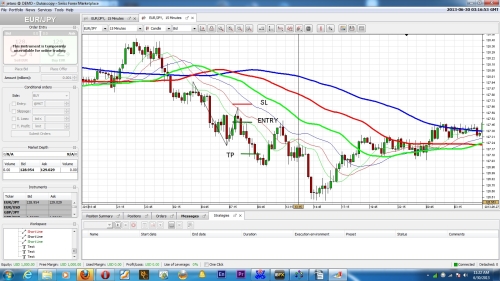 This is just a preview of the strategy. More details will be discussed on my next article like other entry techniques re-entry, invalid setups, adding positions, the no trade zones, when to shift to 1h tf and many more.
templates :
jforex http://www.4shared.com/file/7OJz04jw/15_min_gators.html

mt4
http://www.4shared.com/rar/sj5194qy/twin_aligators.html