Trading High and Low Situations part 2
Part 2: The Trade
Once you are satisfied with your analysis it is time to enter the market, and take your pips out.
You know where the pair should be going, but before it hits your target a lot may happen.
The short-term news, the immidiate direction of the pair may all interfere with your preferred entry point,
so where do we enter.
lets pull down our chart to four hours: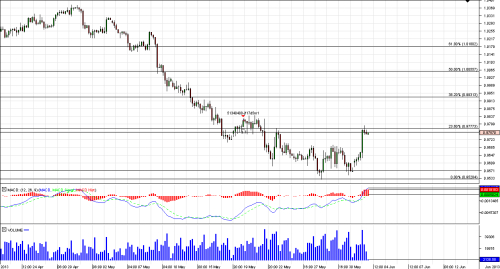 As we can see, AUD/USD has already hit the 23.6% Fibonacci level resistance from the latest move down as seen on the weekly chart and is retracing slightly from that.
The MACD indicator suggests that the pair is bullish, but Volumes are low. so there seems to be no real attempt at breaking this level at the moment.
This may indicate that there is no buying interest of this pair at the moment, so we probably should wait and see what will happen over the course of the next day or two.
If volumes increase and the pair will head up it will tell us that the pair will attempt to make an upwards brakeout
If volumes increase and the pair pushes lower this will indicate that it will want to retest our support level on the monthly and weekly charts around 0.955 -- in this case we should wait and see if this level holds the pair once more, and enter from here.
And now comes the most important part of our Trade: The Entry Point
For this we must revert back to the weekly chart: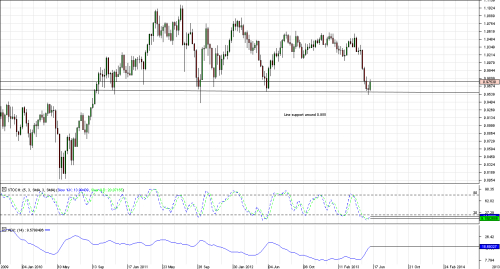 Here we see our support line around 0.955, and the forming of a Wedge Pattern.
If the pair will break the 23.6% Fibonacci resistence from where it has just bounced, and move above it,
then we must conclude that the pair is now bullish.
And if it moves down again to retest the support at 0.955-- and this is very important!:
We must wait and see if it holds because as we can see on the weekly chart, the line of support has been pierced on all occasions, with a lowest low of 0.9385!
It is very probable that this support line will be pierced again and we do not want to be stopped out!
So, this is where we enter the market:
Either,
we buy AUD/USD at 0.978 - 0.98, as it breaks back through the 23.6% Fibonacci line - intending to move further upwards, and we set our SL at 0.955 - where the line of support is,
and we set our TP at 101 - 104, whatever we prefer to do - we can get out at the retracement target of 61.8% - which is normal upward retracement for a pair if it will continue on a downward move afterwards,
or we can stay in for the ride to the border of the wedge pattern if we perceive the pair as bullish.
(you can check your weekly RSI indicator, for instance, after you have entered and are unsure of when to take profit, or your own preferred technical indicators, of course)
Or,
we buy AUD/USD after a retest of the lows and set out stop-loss below the lowest point around 0.9380, you take profit remains unchanged

Don't forget that you can use this method on all pairs, and - as we will see in my next Article - on all Time-frames
Well, thats it for now. Thank you for bearing with me, and I hope this is useful to you - in your trading
I wish you all the best of luck, in fulfilling your hopes and dreams, and making the Forex magic happen!
Bye for now
AdamFx42
p.s. It took much longer to post this article than intended due to technical difficulties, and in the meanwhile AUD/USD has found new lows at 0.9330 roughly -- now bounced up to 0.96
In the Next Article I will talk about using High and Low situations on Lower Time-frames for the Dukascopy Trader's Competitition:
Next Article: Making Money with High and Low Situations in Trader's Contest