Trading big figures in the fx market can be very interesting. By big figures I mean those round numbers, divisible by 100 pips, like today on 3rd of august the level of 1.4300 for EURUSD. Basically 2 common behaviors can be found around those areas:
Attractors
As a lot of traders place there stop buy or stop loss orders at big figures, high attention is payed to those levels by the big players in the market, who may have an advantage to move the market in this direction. Often a movement can be seen like the morning of 3rd of august, when the EURUSD fluctuated around lower levels during the hours before european market opening hours and then suddenly at around 9 GMT, when the traders put enough liquidity into the market the price jumps sharply to the "big figure" level: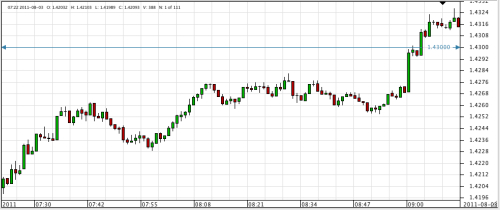 Forex dealers activities
When looking more into detail, a second pattern can be detected: when the price jumps to this big figure level it usually comes back 5 to 10 pips below this level immediately afterwards. I read about this behavior first in the book with the lurid title "beat the forex dealer" from Augustin Silvani. He explained it with activities initiated by forex dealers who just want to catch the stop loss levels of their clients. Sure this is not the case with ducascopy, because they have no dealing desk to trade against their clients, but to me it sounds reasonable that there are a lot of trading companies that act this way and this can be seen in the market. On 3rd of august it was only 2 minutes after the first break of the big figure level, that the price came back around 6 pips (see screenshot above). As ion this day directly afterwards the price rose again, the whole pattern cannot be purely explained by dealing desk activities, but there are other days, where the pattern looks like this is really happening, like on 1st of august at the 1.4200 level, when EURUSD was approaching from above, touching the level and then just bouncing back: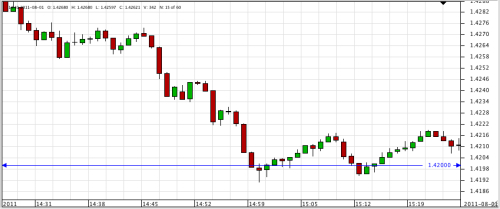 Trading strategies
Both above mentioned scenarios can be used for automatic trading. The big figure levels can easily be detected by taking the current price and rounding to the next 100 pips above and below. For attractor trading, a order could be initiated in the direction of the next big figure if the price is approaching in the according direction. For trading against fx dealers activities, the market would be entered at levels when the big figure is touched for the first time. Silvani proposed to enter at several levels, directly at the big figure, 5 and 10 pips away and take the win, when the price has moved 5 pips in the other direction of the big figure. As in this setup the win in pips is quite small, this strategy makes only sense for bigger accounts, otherwise the costs will kill the profit.
Your comments welcome :-)