It's a shame that many beginner traders overlook the importance of keeping a trading journal. Even some "experienced" traders refuse to do the tiny work that is required to log their trades each day onto a sheet of paper or in a computer program. I can guarantee you one thing: the beginners and "experienced" traders that refuse to keep a trading log are the ones that will – or already have – fail.'

Brian Thomas
After 5 years of trading Forex and getting nowhere, one day I made a conscious effort to journal my trades. I started to record my trades in Microsoft OneNote ®. As I started to record the 'why', 'when' and 'how' my trades were done, I started to get many insights
into my trading pattern. This realization motivated me to do a better trade journal because by now I can the potential of it to improve my trading. I tried journaling with other software's but it never felt complete. This led me to search for a better software that makes my journaling easier. My search led me to an online trading journal site.
The unique part of this online trading journal is that this journal enables me to study what happened before the trade that led me to a decision to make the trade. Many other journals in other sites only provides a summary of completed trades such as percentage of trades, profit trades, lost trades and onwards, but it never reveals why you made the trade in the first place and what clicked during the trade.
By using the money I obtained from winnings in Dukascopy competitions, I invested it into this paid online trading journal. I started to manually record every trade opportunity that I obtained from 1
st
January 2014 until 31
st
March 2014 into the trade journal I created in this site. By using the analytic's of my trade journal entries, I have come to many conclusions that are making my trading experience a better one.
I'll provide one of my findings here. Generally I'm a technical trader, so many of my findings are related to my trading style, but I think this will be useful for many traders. It's for you to ponder and maybe use if you find it suitable. Another point to note is I'm a long term trader, I typically hold trades for weeks.
FxMidaso First Law
I realize the importance of economic news as this is the time where most of the action occurs. As there are many news released every day, I started to record during which type of news my signals are generated and which are leading to profitable trades. Since I only follow EURUSD, I only recorded news related to US and EU. These are my findings: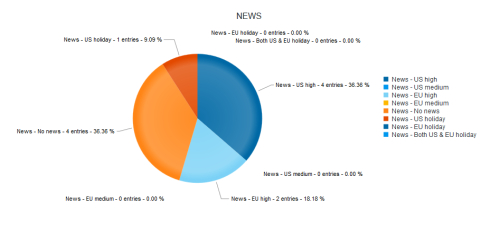 I made a total of 11 trades based on these signals, the breakdown is given in the chart above. The chart below
show the outcome of these trades and how many of them led to profit.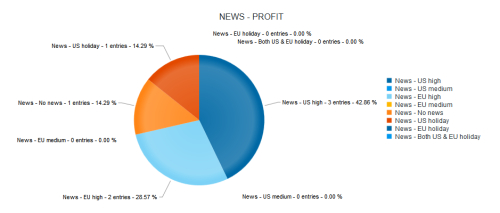 Based on the two charts above that I've created by using their services, these are my findings:
6 trades were made by using trading signals generated during US high impact and EU high impact news. 5 of the trades led to profit.
No trading signal were generated during US medium impact and EU medium impact news.
Only 1 trading signal was generated during public holidays or banking holidays in US and/or EU.
I made 4 trades based on signal generated during no economic news days and only one of the trades led me to profit.
Based on these findings from my trade journal, I have arrived to these conclusion:
I only need to pay attention to signals generated during release of US high impact and EU high news releases as these are the ones that provides me with profitable trades.
I don't need to use signals generated during other type of news.
I don't need to observe the charts for EURUSD at other times, I only observe them during release of US high impact and EU high news.

These findings have significantly reduced the time I spent in front of the computer, so i found time to write this article. It has also reduced the number of trades I'm making an as a result, percentage of profitable trades are also increasing as you can observe from my profits in April and May Traders Competition results.
Needless to say my trading journal is already giving me an impact to my trading style.
When are you going to start?

Don't you want to be a better trader?

What are you waiting for?