This article is about what currencies and other asset classes I think is going to be the most at risk and can offer us the best opportunities in term of risk to reward ratio in the year ahead. 2016 has caused a lot of trauma in terms of volatility and it also builds up extreme trends that I would consider extreme because they don't really fit between fundamental, technical and market conditions and that creates a lot of anxiety and it certainly curbs the potential for follow through. This kind of market conditions sends a clear warning that trends can reverse or at least give us a decent tradable retracement.
We're going to look at a possible rebalancing of these divergent aspects and I think this is going to feed into the trading opportunities that we have in 2017.
EUR/USD Trade Opportunity for 2017
The EUR/USD is the most severe or at risk currency amongst the majors as the parity level will act as a catalyst and ultimately this will become a self-fulfilling prophecy. However, what is more important is what will happen with EUR/USD after the parity level is reached? I believe that the answer to this question will reveal the EUR/USD trade for 2017.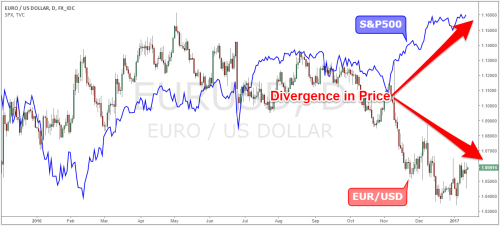 The monetary policy bearings that the ECB has taken are clearly quite dovish which is negative for the currency but everything has its limitations and nothing moves in a straight line. Even in the risk perspective, the Euro represents a very clear issue. There has been a lot of speculation that the euro is actually the safe-haven currency and this would be suggested when we look at the correlation between S&P500 and EUR/USD. Currently, we have a risk-on move in the S&P 500 and the EUR/USD seems to be dropping so this relationship calls into question exactly what currency is the haven and which is the high-return/high-risk currency.
In reality, Euro is the more risk demanding currency. If we're talking about a full-scale absolute demand of liquidity, we get into the scales of risk aversion there is going to be a little question that the dollar is actually the representative of that. So, based on the current divergence we can forecast a realignment in correlation where EUR/USD rallies and at the same time S&P 500 drops until they both converge.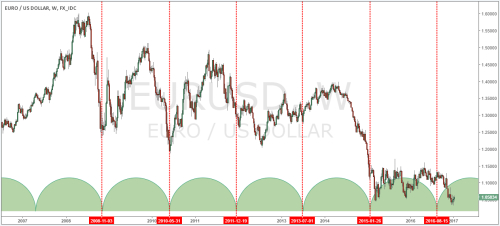 Cycle wise we can note a 19-months EUR/USD low to low cycle which has produced a reaction (see figure above) every time in the last 10 years. However, this is not a timing tool but more a framework from where we can build our case. In the short-term, I'm still favoring more downside that can push EUR/USD all the way to parity but time-wise this should happen until March. Based on the seasonality of the EUR/USD, March is an important turning point that produces a major swing low. My expectation is for the EUR/USD to continue rally, after March's swing low, through the entire year.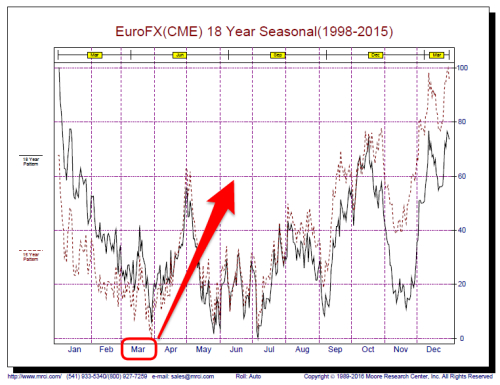 The EUR/USD technical pattern points towards the big psychological numbers 1.1000, 1.0500 and obviously 1.0000 as major support and resistance levels. However, if buyers are more aggressive we can see even a retest of 1.1600 by year end before the big picture EUR/USD bearish trend to resume in 2018.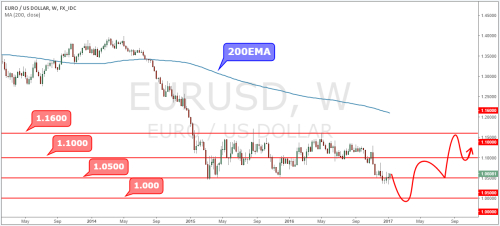 GBP/USD Trade Opportunity for 2017


There are several things that I think will actually make a long GBP/USD trade a good trading opportunity for 2017. One of the biggest factors is what the market is already assuming of the British Pound going into the new year. The British Pound is already under severe pressure and the sentiment is quite bearish. Based on the latest COT Report, we can note the fact that the Commercials have been aggressively accumulating long positions right after the Brexit event. In contrast, the Large Speculators are holding extreme bearish bets against the Pound which is always a great contrarian indicator.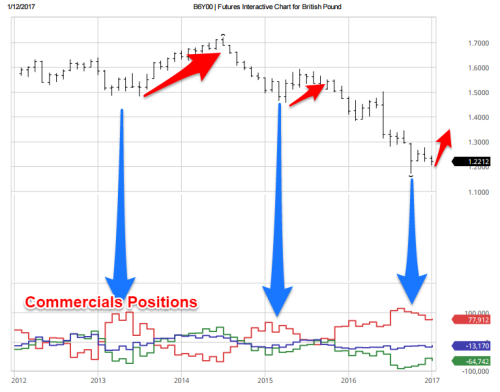 Over the past five years, we had two instances in 2013 and then again in 2015 when extreme bullish bets hold by Commercials was followed by a GBP/USD bounce which gives us confidence for the bullish GBP/USD case in 2017. The speculative positions are a fundamental influence in the markets because people are projecting into the future what their needs are, what their investments will yield and what risks they must avoid. When these overstretched assumptions are proven wrong there is an adjustment in price that results in volatility and trend.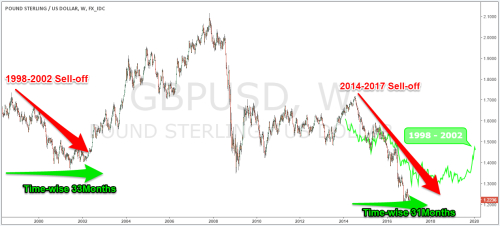 I hold a strong believe that the fractal nature of the markets is a reliable approach for forecasting future trends in the currency exchange rates and the GBP/USD recent price action resemble the price action from almost 20 years ago. The sell-off started in October 1998 time-wise lasted 33 months and currently the same sell-off started in June 2014 is almost 31 months in development. March is also a seasonal low and a turning point for GBP/USD exchange rate, so it will be more appropriate to try getting long around that time.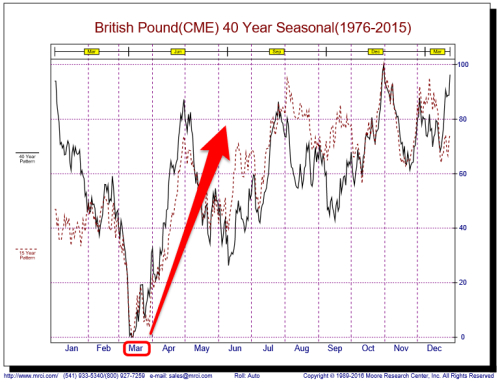 The British Pound can be the outperformer in 2017 against the greenback among the major currency pairs and it can be a better option than even EUR/USD.
S&P500 Trading Opportunity for 2017
Last but not least, I believe that S&P 500 will provide us with the best trading opportunity for 2017. I'm cautiously choosing my words very carefully when I say that we can expect a sell-off in the S&P500 rather than a crash and a full-scale risk aversion. Over the long-term we can see there have been some very substantial markets trends in the S&P 500 that have all sooner or later found a climax point to correct the previous cycle.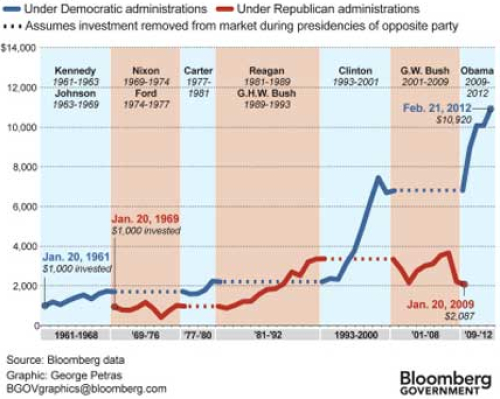 Another case to be made in favor of a S&P 500 sell-off is the fact that based on historical performance the stock market performs much better under Democrats than Republicans administrations. The so called "Trump rally" can be just a rally sell climax but for more confirmation we would need a break and a weekly close below 2110 support level. Price wise we're already in the 1 – 1.272 Fibonacci extension zone from where we can expect a reaction lower. The best strategy is to wait for the first sign of downside momentum and sell weakness rather than to try picking a top.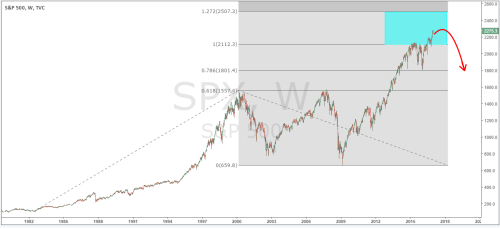 Conclusion
There are many things in 2017 that are going to be of considerable importance and one of them is definitely, when the third Fed rate hike is going to occur? But the market has already priced in another rate hike in 2017 in comparison with 3 rates expected by market participants. Either the market is still underpricing this reality or the Fed once again has overshot which is more likely and should have a negative impact on the US dollar.
We're also going to see issues with immigration which should be another major concern for the markets that we're going to see going forward. Trump's presidency and his economic plan towards protectionism are the things can be a major catalyst for big swings in the markets. We have to consider these issues to be active concerns for our trades because in reality they are the trigger point of the risk we're facing in 2017.
Best Regards,
Daytrader21