1. Abstract.
Today I want to talk about my trading history with the simple purpose of to share the experience and aim to all who loves read real stuff.
I will share the results of my live trading account before to join the community and demo contest account at this time to make the analysis and track my journey on trading the objective way.
With this information, I will able to discuss and remark why and how the evolution of the results and the importance of trading.
You can improve your results if follow the rules and recommendations, self-educating more time than trading.
In this article, I will share as well my thoughts at the beginning of my trading live account and the emotions among that trading time.
2. Development.
I will create two blocks of information, the first with my initial journey and the results of this job.
Then I will create the second block with the results of contest trading because this is manual trading with community rules.
2.1 Live trading results.
On January 2016, as most people or more like everyone one day I have received information about forex market, an unknown world for me. So I decided to make a research because I don't like put money on magic systems and I don't believe that easy work makes big money.
I was working on demo accounts by at least four months, learning the basis about the platforms and market moves.
At the end, I was thinking you are ready to try a real account with the complete understanding of risk, that means I can lose everything if I do not work property.
The pivot chart below can show you guys the results of the half year. Starting from April to September last year, the
complete mess up.
As you can see, every month I was losing and losing pips. The more I was trading, more was losing.
I was trying and testing one indicator, other indicators, trading many many hours per day.
Also, I was installed the mobile platform to check it every time. More than one time every twenty minutes or less.
I never did follow any rule or I do break all possible rules.
At the end I was tired and my health damage, because of trying to do my best and lose not only real money, loses my hopes.
As you can see, is impossible make any calculation. All or almost all was wrong!!!!
The profit and win ratio was negative, always as a crazy gambler.
2.3 Summary.
A short summary of this bad job.
Number of trades per day: 10 (average)
Preferred time frame chart: 1H, 30M, 15M
Preferred workstation: mobile
Following hours per day: at least half of the day.
Trading style: indicators only, no money management risk, poor follow rules.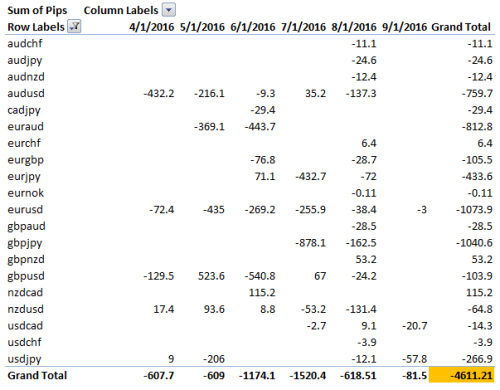 2.2 Contest trading results in this community.
The chart below can show the results on trading by the same period of time, but the results now seem to be best.
But note how the beginning was, the same that the past trading while I was creating a new style and follow rules.
The change was from October, the red results are less that the green or positive ones.
Weeks of bad trading days but weeks with more reliable ones.
The most important are to read books and practice the basis, give to the market the time and space to run, book or planning entries.
Let trigger the limits and try to cut a loss if you can determine if goes the wrong way, move the stop or close the order.
Manage property the risk and position size using your experience or a forex calculator.
Cut to many information like indicators, alerts, service signals, and only get the fundamental basis, avoid to work on high events,
Or if you can move stops at break even this can save a big loss.
This information was closed the last week, I don't know if the coming weeks will be profitable but with this records, I can tell and make a projection to this year.
3.3 Summary.
A short summary of change mindset and follow rules.
Number of trades per day: 5 (average)
Preferred time frame chart: Daily, 4H
Preferred workstation: office, no mobile trading.
Following hours per day: less than two or three, and one in the morning and other at night.
Trading style: Price action charts, booked entries, money management, break even option, I am not looking the best entry but I like to manage the position letting the market run at least one trading session time.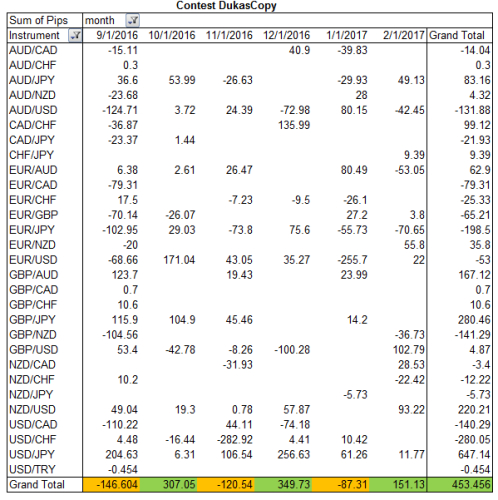 3. Conclusions.


Below my thoughts about this hard job, there are not magic system but if you have one share it

Analyze your trading and track it to find what is wrong.
Create and follow simple rules, like do not work on public holidays or special events.
The technical indicators are warning signals, the king is the price.
Book entries, and let it run at least one trading session. This is 8 hours as the minimum.
Support and resistance are the basis, these are zones and price could break or retrace it.
Manage the open position and calculate it before place a trade.
Trade less, read more and do other fun things. Don't forget lock in profit when you can because opportunities are many.