INTRODUCTION
Improving every day the perception of market moves and price behaviour, should be every trader's first planned target. The second one should be the amount of time to be invested to reach that target, because you must invest your time. Money will be, later, the thing you will use to operate your decisions in market.
One of most important things to do while trading is understand if there's a trend, when and where will come to an end. Then, as consequence, you will need to understand what will more probably happen. To do this you should read charts and prices like you are looking a 'time table': there is the time for the up-move, and there is the time for the down-move; in the middle, we have the third one: i call it "ranging". Each of these cycles, is in perfect harmony with the other two, and until one is not ended, the other will not begin.
Once a trader understand this above, as immediate consequence, he/she will see disappearing from his/her account statements a lot of loosing trades.
MY METHOD
I will share step-by-step my knowledge, using my favourite currency pair: GBP-USD (love-it or hate-it). What follows is more easy to understand than what actually is writing it down in so few words so i will ask you a bit of your time to follow all steps.
Weekly chart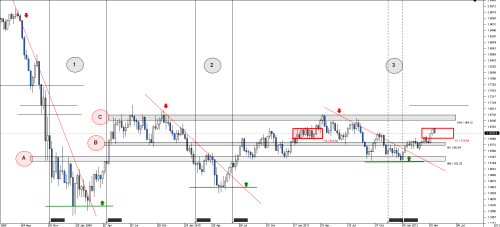 Red 'speed lines' shows that the down move came every time weaker than previous, while 1 and 2 are cycles where price traded below A and found every time stronger demand than previous low, until 3 where price have been completely unable to breake down, causing a strong up-move to 1.60 and to actual 1.63.
Another important factor is level B: only when price found a "sit" on B (1.58 area) had the power to reach again C (1.67 area) - We will meet this level again later calling it "B-1".
Weekly is the mother of all charts, only once you understood what is happening in weekly, you can then go for the other steps in faster timeframes. What comes out from this weekly study is that there is an increasing demand of GBP.
Hourly charts
A small premise: when using h4 TF i switch to OHLC or LINE charts, because candlesticks confuse my decisions since there are 3-4 (maybe more) different broker times so each of them have different h4 candles. What i need is to see where price is trading, not what kind of candle will print my broker. Just my point of view.
Chart 1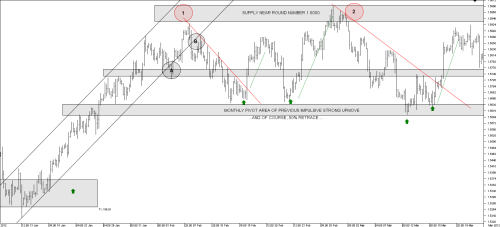 Chart speaks by it-self, showing a similar progression in price as we saw in weekly chart: supply near 1.60 becomes weaker after every approach, shown by 1 and 2. We see how speed decreases in 2 while moves up coming from 50% fib (and January MN pivot) shows to be always strong. And also another important thing to note is the perfect harmony between uptrend, ranging, downtrend: we have uptrend broken in A + B causing a ranging (seen in faster TF) then becoming a down trend 1. Once downtrend finished breaking up, caused an uptrend after a ranging and a re-test. etc.... up - breake - range - down - breake - range - up... on and on and on, every TF every day, every chart.
We could say that the whole move between 1.56 and 1.60 is a ranging but as you can see, i have a different point of view about this.
Chart 2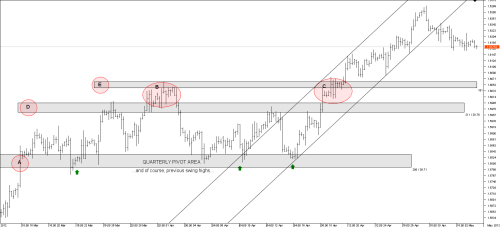 Progression in price: market noticed weakness in supply and so fresh new demand came in. Things became more complex at these levels, and i will say only most important things:
price broke with a strong impulsive up move A and immediately used that level as 'sit' to go again near 1.60. Meanwhile closed weekly-monthly-quarterly candles and A became quarterly pivot area (1.58);

every candle (from 1m to 1month) closed above 1.60;

looking at the whole picture, we should know the importance of 1.5800 area in weekly chart (which is the B-1 level above): looking for long positions had more sense until level was intact.
APPLICATION
This is actual h1 chart, today is 04-05-2012 and i'm looking for a trade before - during - aftern NFP.
Chart 1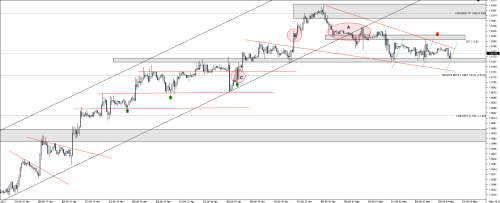 Strong up-move into channel; red speed lines now shows that supply was stronger until price was below 1.60; after breaking up, supply completely disappeared and price simply broke levels in levels without any kind of 'flags - triangles' etc..

At B: price found not easy to reach 1.63 and shown the very first sign of weakness when approaching 1.62;
Second sign of weakness, came in A where price broke the steep upward channel, slowing down the furious up-move;
After breaking A price found a 'sit' just few pips above C: only after the 'sit near C' we can draw another line showing increase of supply near 1.625 - 1.63;
Here we see exactly how after an uptrend cycle, there is a ranging cycle, which could be the anticipation for a downtrend cycle.
Only now is time to look in lower levels and understand where can be more probable to meet demand again and so close our shorts positions or look for new long positions.
Chart 2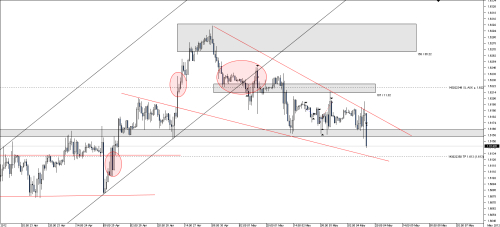 Previous chart shown my entry limit near C because i expected a move there, before NFP in late London morning, but didn't happen so, as we see here above i decided to open a short position because price shown weakness when approaching red line and price level A confirming the importance of this area. Until supply will defend this level, price will more probably go lower. At least to nearest main demand area.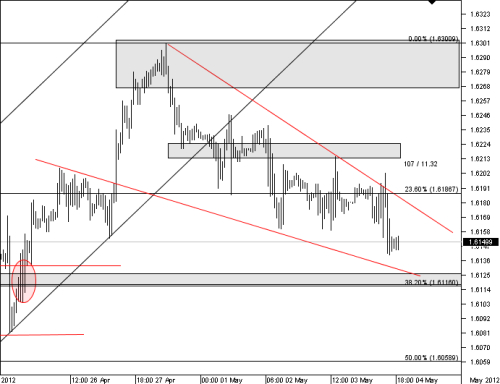 I planned my TP order, near 1.6130 (previous planned entry long) because i have many hourly reasons (C level + 38% fib retrace + red line).
(see chart here)
-------------------------->
And, of course, i have many weekly/monthly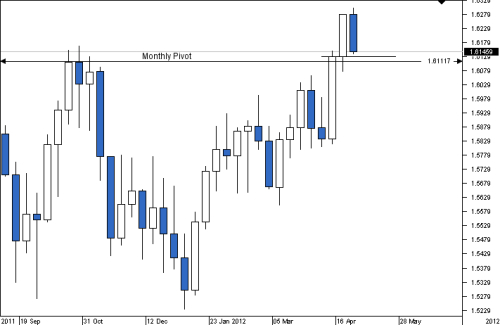 reasons (monthly pivot area, previous week opening price).
(see chart here)
-------------------------->
CONCLUSIONS
I decided this article thinking how many times a trader could find him self in confusion about price moves and unable to understand if and/or why a price goes more up, more down, or change direction.
I studied price and i knew where to look for a trade. This particular position paid me 25pips which means 'nothing' during an NFP us session, and this happened for 2 simple reasons:

GBP is still strong like a rock;
Market was selling heavy other weaker currencies (AUD for example) or buying something else against GBP (JPY for example).
An advice for beginners (and every reader): don't read colour of news, don't use web articles to understand what some "guru" say about a direction, and don't think or use your imagination to decide if price is going more up/down.
Spend your time to learn something from everybody to become able to do your own study! Use your time in the best way you can, because it's the most precious thing you have when trading. Only if you invest well your time, you will then invest better your money even you have 100$ or 1million $.
Wish you best of luck in your trading.