I wrote this article as a reaction to discussion below the community support blog with topic
"Prize fund increase and turnover changes for 2015".

I would like to share my personal view of social trading business model with all advantages and disadvantages. I will try to explain what problems we have to face it and I will offer a solution. As traders who are involved in this type of business we should have right outlook what is all about and what necessary components of social trading environment are. Key idea is very simple. Social trading is an exchange. The exchange where talented traders can bring their skills and sell them same way as a public company brings ideas for investors. Social trading provider creates environment as an exchange. He deserves revenue in the form of commission for offering this service.
The question is, why is this idea is so unique? Answer is efficiency. Costs you have to pay as an investor for over-performing assets are extremely low. If you compare social trading platform with similar investments as Pamm schemes or hedgefunds, then you can see huge difference. Investors receive 100% of performance with no high required investment. For traders is this solution even better. They can show their skills and they can get well paid "job" without any expenses no matter where they are. In general view it's very easy to understand that idea has solid value. Cost efficiency and technology brings easy access to business for both sides. (Signal providers and investors). But we have also few problems to face it. The smart investors are ready to invest only when they have chance to make money in long term run. They want to protect their funds.
Traders and Investors interests should be in 100% match.Where the profit comes from
As you can imagine the effort to run social trading platform is not cheap business. So let's see where the profit come from in general.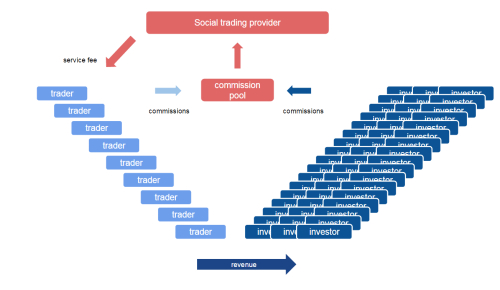 You can see on the picture above how the ideal business circle looks like. Investors get revenue in form of performance. Provider gets revenue in form of commissions and traders get their paycheck in form of service fee (Dukascopy evaluation model is money in prizes of the contest). Question is how this circle looks like when is broken.
Problem of bad set-up in social trading platform
In this few points I will describe why social trading platform is hard business for all participants. Just for this case I will show two tables. One of them is highest traded volume by live account investors in current month. This measurement indicates potential revenue for the investors.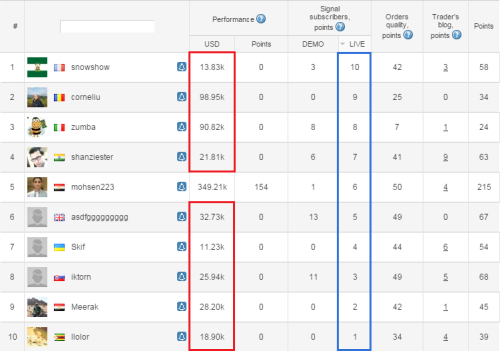 As you can see, only one trader from ten has positive balance. This situation indicates that investors losing money. In second test I would like to show you top 20 traders who had highest amount of subscribers in period of 12 months and 6 months.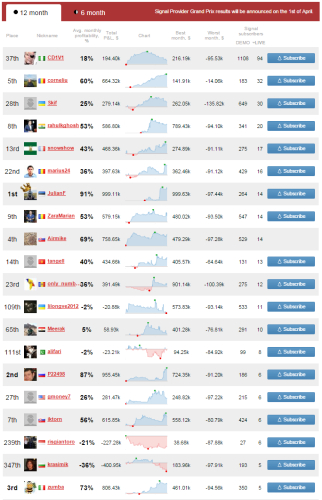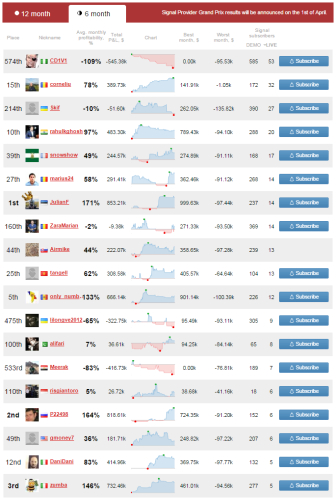 These two tables show us investor's ability to pick right signal subscriber. I would like to ask simple question. Is bad result their fault? Simple answer is yes. If investor is not able to pick right investment then it is his fault. No doubt about it. But other question could be. Are bad performance and inconsistent results traders fault? Well, maybe yes. In this case I have to blame myself as well, because I see my name at both tables. But we can find exact answer right below.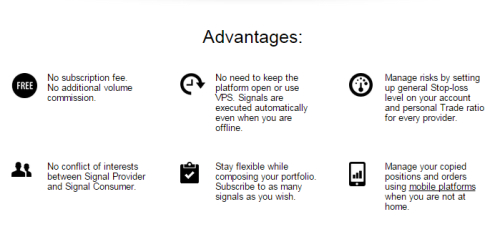 Let's see this.
No conflict of interest between Signal provider and Signal consumer.
Well, I would like to say that conflict is not right definition of this issue. Simple explanation is that traders are paid for
different thing
that investors need. So it might be a conflict. And this is reason why these results are so bad. If you even think that results are not so bad, then is probably time to stop read this article We cannot call these up and downs with falling equity curves with huge drawdowns call an investment even if we were very benevolent.
Solution
Solution is very simple. Dukascopy have to put together Investors and traders interests. Traders who are able to deliver
best results with safest possible way
in long term run
have to get best payment. Not just huge amount of money for lucky-ones from time to time. Investors need to be educated because these stats show very bad behavior of investors in first case.
I can share my opinion of necessary changes. If main interest is long term performance with focus on funds protection. This case should by solved by those actions.
Evaluation
Evaluation of signal provider's grand prix should by on monthly basis with amount of prize funds at least as traders contest. If we assume that social trading platform can bring bigger earnings to Dukascopy then rest of the contests, then grand prix should be a main contest. Total annual prize fund is 1 500 000 USD. Funding of signal providers grand prix is just 62 000 USD per year.
Global performance
Global performance is very important indicator of trader's behavior. As you can see in table "highest traded volume by live account investors" most of the traders end up with minimal equity at the end of each month. If there is any possibility to prevent this behavior, then global performance will rise. Investors will be more protected. They will realize that best opportunity is follow the leaders who are successful in long term.
Order size
This point has something to do with next one so I would like to explain the impact of this later on. I just wanted to note that maximum order size is well established but it's better to set out minimal order side as well. Just for example. 0.5 Million for one position.
Evaluation of risk profile
This is main point of this article and I believe this measurement can help erase almost all huge up and downs from top of the ranking table. Guys who are not able to hold their risk in limits will end up badly. So what this evaluation is about. Drawdown evaluation should have massive impact to rating for all contest periods. (1 month, 6 month, 12 month) let's call it E/D ratio.
E-
Equity
; D –
Drawdow
n in dollar representation is amount of equity growth (P&L) divided by amount of equity maximal drawdown. Let's see example.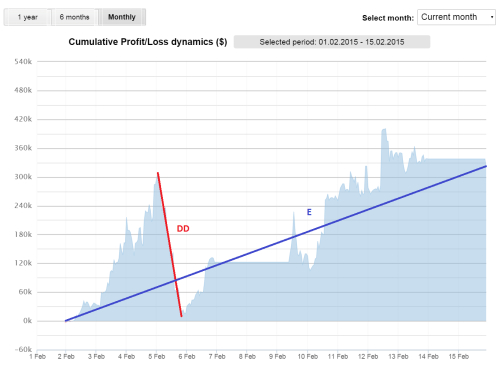 First Trader has ED ratio => 350/300 = 1.167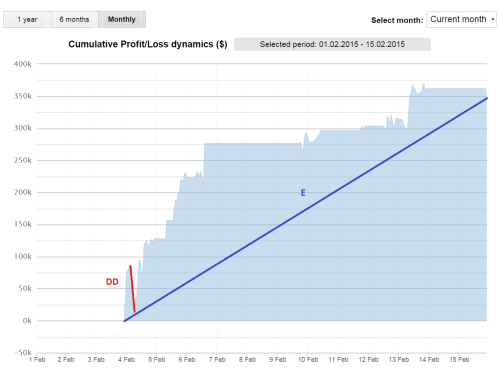 Second Trader has ED ratio => 350/140 = 2.500
You can clearly see who better trader is in this month. Trader who holds risk limits under control deserves higher evaluation. Exact formula will works in longer time periods even better. There you can calculate equity growth (P&L) divided by maximal DD in 6 and 12 months. In my view this is best the interpretation of risk parameters of trading system.
E/D points

Impact of bonus points in this case will be positive for traders who take care about risk. If maximal value of performance points is 200 then ED bonus should by 200 as well. These points should be calculated from beginning and all contestants will start from 0. After first day of trading you can see the impact and you can recalculate this value with daily updates. These points can get only contestant with equity higher than starting balance on the account. Range of the ED points can be in this scale.
ED ratio (0-1) = 0 points, ED ratio (1-2) = 50 points, ED ratio (2-4) = 100 points, ED ratio (4-6) = 125 points, ED ratio (6-8) = 150 points, ED ratio (8-10) = 175 points, ED ratio (over 10) = 200 points,
Risk management
– this is the big issue of whole trading contest. All you can do now is "all in all out" trade management and to be honest there is nothing more. We have to hold positions even if we know that drawdown will come. Much better solution is to allow increase and decrease of exposure on same pair during the trade as on classic trading account even if impact of conditional orders will affect standings.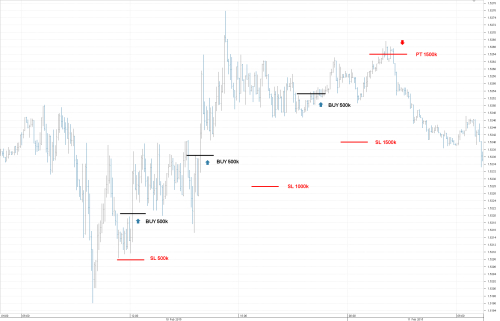 Professionals usually trade by managing of exposure. They start just with small amount and if everything works well its time to add exposure. Time to create space for running trade. This is way how we can build performance with small drawdown so I think is better to let us trade in this way. I believe this small advantage will have positive impact on global performance as well. This is only very short sketch of few improvements. Detailed solution has many other points, nuances and many variations. You can take this article as an answer to questions from discussion. Why are turnover requirements so high and why Dukascopy have changed those requirements? I think is because of ROI (return of investment). We all need to change our behavior.
Good luck,
Airmike