RSI OUT WITH BRIGHT TUNNEL

Getting started trading!

* Really love a job, finding herself in him; in itself that should be developed to explore aspects that make this journey is actually a summary of the cases. Trading alone is not only a method of making money, even for investors who gain large sums of money, perhaps the second priority. After the performance a lot of preparation to pre-meditative relaxation phase of the psychological and physical effort that requires a complete challenge. Trading, in fact, "I live to make money" or "Live" is the answer to the question. Living loves and is practical, folding sell.



* Trading is a very serious person and made a journey in self-confidence you want. The ego is only as good as a place to develop self-confidence, self-confidence after the feeding of the ground difficult.



* Do yourself a favor!

* Leave of thought!

* Fundamental analysis, forget it!

* Focus on technical analysis. Because a method which contains all the parameters. If you apply a'' win'' for a full technical Analiz.

Here the emphasis to create your own system. And not to betray strategy created! ...



Trading also important to fundamental analysis. Know what day to explain important news monthly. Weekly do your analysis. Anliz day lead to separation.

* Daily news in light of the technical analysis should be done.



* First, a large period of time is analyzed.



* A small time intervals Trading focussed on for sharp input and output levels



* And the winning time!



* My, my wife has taken into consideration also continue to be successful there are a few different things:



* All the process set in advance by carrying out research, not the process that are involved in a market snapshot, so it is time to think about what I wanted to do.



* Based on my research in my mind there is a clear profit objective and avoid to be hesitant about this goal, subject to the departure point for the market yönelmezse previously set. I see myself as a whole, so that the process of market opinion to myself and say I should stay true to my goal.
* I do not follow my position from moment to moment. Or loss of the market or cease-reach my final goal gerileyecektir. Process is split-second decisions and not to leave the show for the effort.
* I always keep calm and focused, chair lift, gerinir, takes a deep breath and move away from the screen. So I stay away from the worry and concern.
* Actions during the constructive speeches, I do myself. Preparations did I say that I have and my limitations. One of my actions may worsen, but it maintains in hand at the end positions of all the good I can best benefit from the possibilities and the risk-benefit ratio. If you lose the money market situation and try to understand why this is happening.
* All these steps are put together, creates a model positions in order to maximize profits. The real issue is to convert a habit of this model. I would like to be a part of this model is internalized.
* Now, strategy implementation.
* Note: Stay on the strategy.
To win this is a must!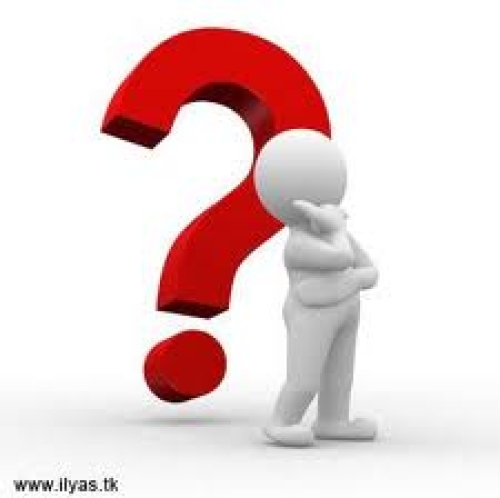 * STRATEGY
* Moving Averages and a successful strategy with RSI.Thirty-minute charts when used with a high percentage of success. Should not be forgotten, RSI (21) is the filter with.
* Any rules:
* Graphics: Thirty-minute
* Pairs: Fewer moving currency pairs should be selected. (EURUSD, GBPUSD, AUDUSD, USDJPY)
* Indicator: RSI (21), with 50 lines.
* Gauges: 18 and 28 periodic Exponential Moving Average (shown in red)5 and 12 periodic weighted moving average (shown in different colors)
* Red tunnel approaches, the process is preparation.
* Buy signal:
1)-RSI (21) indicator must be on line 50. Otherwise, the action is taken.
2) -5-weighted moving average, weighted moving average of 12 to break up.At the same time to cut up the red tunnel.
This conditions the reception operation is performed.
* Sales signal:
1)-RSI (21) gauge line will be under 50. Otherwise, the sales are made.
2) -5-weighted moving average, the 12-period weighted moving average break down. At the same time must cross the red tunnel downwards.These conditions are not trading takes place.
* Output signal:
* Entered in the position to end the trend of the signal.
* Buying Off Signal:A ceiling make money, 5 weight Moving Average 12 'passes the position under the window!
* Sales Off Signal:Make a base price, 5 Weight Moving Average 12 'passes over the position of the window!
. Note: The red signal, a leading precursor to the return of jam in the price.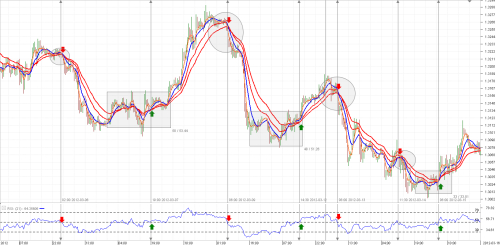 * Sell the red arrows.

* Make buying green arrows.