In my previous article, I outlined the key themes overriding the FX markets for the beginning and covered a few currencies. In this piece I will look at the remaining currencies.
AUD outlook


The Aussie is possibly one of the most interesting currencies to watch throughout 2015. With so much going on, the AUD stands to have quite a volatile year.
Many of the key drivers of the AUD are expected to have sizeable shifts next year such as US interest rates, or Chinese growth and given so many variables it will be very difficult to have a prediction for the AUDUSD in 1 year time.
Negative factors for the year ahead are as such. Looking at the 5 year real yield, we can see a strong and tight fit to the AUDUSD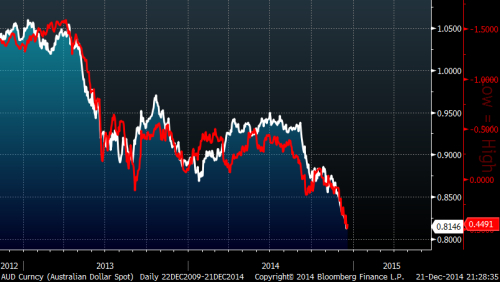 With higher US rates, and higher market risks (and volatility), the AUD's yield pick-up becomes less and less attractive.
Furthermore, Weak Chinese demand has led to far far lower demand in the construction sector in the domestic economy. This can be clearly reflected in the decline in Iron ore prices (below) which are down some 40% in 2014 and has a less than promising outlook for 2015.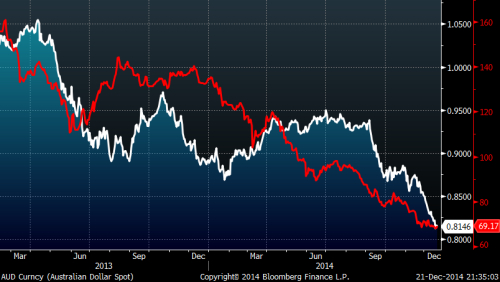 However it's not all bad for the Aussie. Lets consider for a minute we are a large (non-US) real money manager such as a pension fund. Looking at Australian debt, a 5 year bond denominated in AUD still yields around 2.5%, which compared to Japanese yields or German yields remains incredibly attractive. It's worth remembering the currencies that each of these bonds are denominated in, i.e. EUR and JPY. There is a good chance that given the respective monetary policies the EUR and JPY are going to underperform vs the AUD. So not only can you get 2% more yield, but you gain currency appreciation.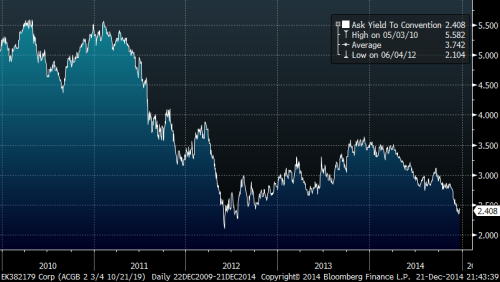 This potentially keeps a floor under the AUD as there will be a constant bid underlying, however it is important to remember relative importance, and if US rates rise significantly then the yield pickup in Australia will disappear fast.
Over the course of 2015, I expect more downside, targeting 0.78


NZD Outlook


The markets still price in some form of rate hiking from the RBNZ over the course of the next 12 months - yet I feel this is very unlikely. With growing uncertainty from China, persistent weak commodity prices (milk) and weakening inflation the RBNZ is starting to regret its hiking cycle.

And as previously mentioned there is likely to be higher market volatility next year and looking at the chart below we can see that with higher volatility comes a lower NZD, this is as its the highest yielding G10 currency, and if risks rise, then high yield is the first to go.

The technical outlook looks no more favourable either.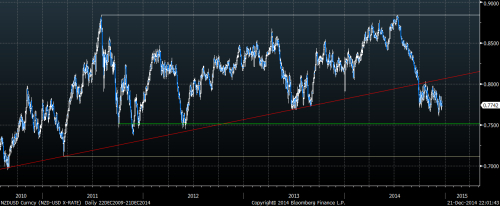 With a noticeable double-top formation, and breaking out of a large up trendline we can see a test of lower levels likely. Firstly support comes in at 0.75, however below that there is very little before 0.71.
As such my target is for 0.71


For the last few currencies, I will post one chart (the relationship I feel is most relevant)
Firstly USDCAD against US 5 year / Canada 5 year spread. As US rates have strongly risen, the USDCAD has followed suit, not least helped by weakness in oil prices for sure. But yield differentials often play the key role in similar economies, whether we consider NOKSEK or AUDNZD, yield spreads are by far and away the key.

Widening spreads would suggest the USDCAD is heading for 1.20 next year
USDNOK has been trading very closely to oil prices... unsurprisingly. And will likely do so going forward, especially with bothe the USD and NOK aspect we can expect this currency pair to have the highest correlation.

I would expect a mild bounce in Oil, and as such a move towards 7.2 in USDNOK


Thank you very much for reading and I wish you the all the best in 2015.
Adrian.