In this article I want to share with you my thoughts on current situation and possible future developments of four major currency pairs :
EURUSD, GBPUSD, USDCHF and USDJPY.
It is crucial that you have read my previous article
Trading The Levels Correctly
. If you have not done so this may not make sense for you.
Markings used in this article are as follows :
Green ellipse with a letter ( no number ) means that this is a level from where everything basically starts. It is a level that has had a fake breakout in regards to it. Green ellipse with letter and number represents a fake breakout. Therefore A1 is a fake breakout of level A. Blue lines are support and the red ones are resistance levels.
Purple dashed lines represent round numbers that are or might be important to particular currency pair.
Rectangles are used just to draw more attention to the selected area.

There are two charts dedicated for each pair - monthly and weekly. Let's go ahead.
1.EURUSD
1.1.EURUSD Monthly chart
Direction of a pair is clearly bearish. Price has gone through the very strong level 1.2402 ( C ) with an impulsive move. This level served as a strong support for 8 years in conjunction with 1.2500. Pair has made new lows, but has strengthened above the rather strong support. It has bounced off of this level, but is not looking very promising if we wanted to buy. Buy opportunity would be considerable once the price returns to this current support. Note how it also sits comfortably above 1.0500. If the pair is about to depreciate then the next support is 0.9550. Also I don't think that 1.0000 is going to act as a support as 0.9550 is a lot stronger level in this case. If the pair is about to go up then there is a strong resistance at 1.1770 and above that the level I mentioned earlier 1.2500.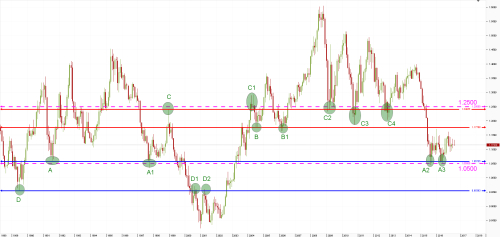 1.2.EURUSD Weekly chart
This chart gives us further clues what might happen to this currency pair. It can be clearly seen how accumulation of sell position has been taking place over the last one and a half year. Multiple fake breakouts to the upside of levels 1.1467 and 1.1534 serves as a good evidence to this. Presence of 1.1500 adds to the strength of this resistance area. It is still possible for the price to be pushed back to this level for another fake breakout. That would be a perfect development towards the sell opportunity. However if we want to go long we need to see some buying force coming in at the levels of recent lows ( A2 and A3 ). Another possible level is 1.0819, but I don't think it can provide a long term support.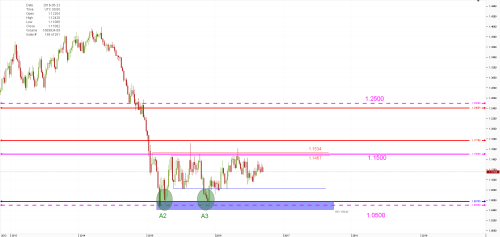 2.GBPUSD

2.1. GBPUSD Monthly chart
British currency is trading below the 30 year lows against the US dollar. Pair was sent through the all possible supports and also below the recent multi year low after the Brexit vote.
We have to notice how well GBPUSD is respecting round numbers. All the way down from 2.0000 there is an obvious interest around them. I am talking about the numbers like 1.7000, 1.6000, 1.5000 etc. Below 1.4000 there doesn't seem to be any support. Only possibility in my opinion is 1.2500 as 1.3000 isn't showing any strength. The month is not over yet; if the pair manages to close above 1.3000 there is a chance for some rally, other than that it should continue to the downside.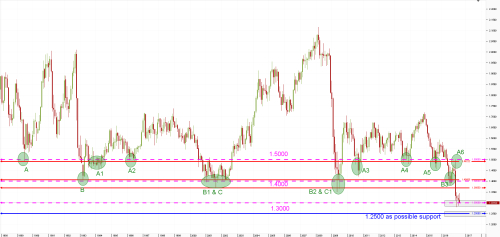 2.2.GBPUSD Weekly chart
Most likely 1.2500 will be acting as a very strong magnet and will pull the currency towards it. It is just a matter of time. There is a high likelihood to see something similar as we could observe at 1.5000 ( with A5 ) or at 1.4000 ( with B3 ).
Only way to start going up is to have a quick dip into the lows ( green rectangle ) and then reverse sharply. Even in this situation it would be a rally for a limited time. To have a good reason to buy with a long term perspective some serious bottom has to be formed at first.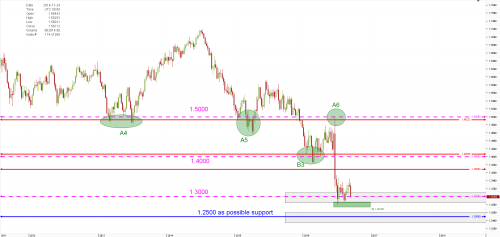 3.USDCHF

3.1.USDCHF Monthly chart
Over the 15 years USD had lost more than half its value against CHF and this tendency is still there. The pair is currently trading near its strongest resistance at 0.9972. The strength of this level is hugely increased by the presence of 1.0000. We can see that at A1 price was pushed through this resistance just shortly before a massive sell off caused by Swiss banks announcement to unpeg its currency from EUR. After this higher high a new lower low was made, but relatively quickly the price was back were it was before and the stops of sellers were taken out at A2. Also at this level additional long orders were initiated which allowed for market makers and hedge funds to accumulate large enough sell position.
Whether currency pair is going to make new all time lows is another question. There is some support at 0.9629 level ,but it is more likely to go down towards the strong support at 0.8698.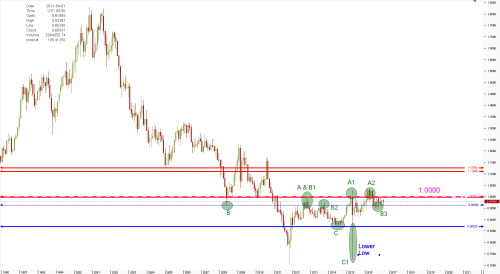 3.2.USDCHF Weekly chart
We can see some congestion at 96.29 level which may serve as a temporary support just to push price back into recent highs (red rectangle) or even higher just before going down again. We can also see how A2 exceeds A1, this gives us another two levels to look at in case of shorting. These are 1.0294 and 1.0328 levels, the last one being the current maximum.
I don't see any buying possibility, at least on these two time frames, but when it comes to selling we have to wait for rejection of any of these three levels: 1.0328, 1.0294 or 0.9972.
4.USDJPY
4.1.USDJPY Monthly chart
Probably the best currency pair to trade long term at the moment. It has very distinct and strong levels and is trading in a range. The absolutely strongest level on this chart is 123.15 in conjunction with the round number 125.00. It has been providing support and (mainly) resistance for 11 times over the 25 year period.
Pair is currently trading at a major support in 101.30 area and is showing some signs of strength. It is also supported by a presence of 100.00 level. This is an excellent opportunity to go long if level proves to hold although caution should be taken at 110.00 level due to strong resistance level.
However if 101.30 together with 100.00 fails we most likely will see a move down towards 79.75.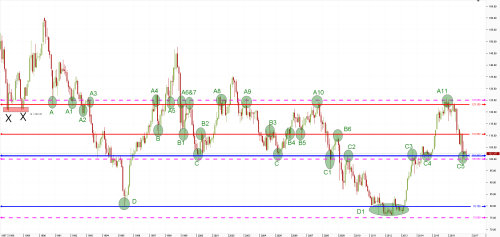 4.2.USDJPY Weekly chart
There is some sort of resistance formed after C3 occured, but as this is on lower time frame it will be most likely less important. In order for price to go up there will be at least one more retest of the lows or one more fake breakout below 101.30 level. I don't see any potential to the downside at this moment unless 101.30 and 100.00 fails.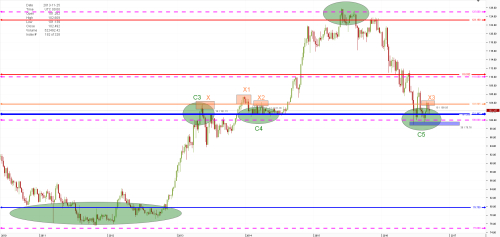 End note.
There are things that are necessary for the market to work -
buyers, sellers and levels
.
Levels show you were buyers and sellers are therefore giving you a chance to get on the ride with the ones who move the market.